Windmill working
Windmill film
Windmill working

Windmills use the power of wind to move the gears to grind the grain in order to produce flour. The film shows a mill in motion.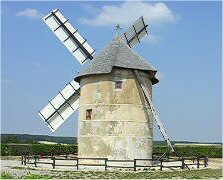 Click on the mill to download the film
* Related information: Bran

More information about wheat in the listing above.
Other interesting articles
This material is for informational purposes only. In case of doubt, consult the doctor.
"Botanical" is not responsible for damages caused by self-medication.