Chickpeas for weight loss
CHICKPEA IN WEIGHT LOSS DIETS
Are chickpeas suitable for a weight-loss diet?
Yes, chickpeas are highly recommended foods to lose weight and for people with obesity. They are an excellent food for heart health, to lower cholesterol and improve circulation.

Photo of chickpeas with seitan
Do not they contain a lot of carbohydrates?
There is the myth that chickpeas contain many carbohydrates but it is not true.
Chickpeas, like lentils or peas, are very suitable for diabetes, because they have a low glycemic index and a low glycemic load.
For example, people with diabetes tolerate a dish of chickpeas much better than a bowl of rice or pasta.
Nutritional value of chickpeas
They also have a high nutritional value as they are a source of quality vegetarian proteins and are rich in vitamins B and minerals (potassium, phosphorus, magnesium and calcium, iron and zinc).
Chickpeas to lose weight and gain health
Chickpeas are good for weight loss mainly because they are very satiating and because they contain many nutrients, such as folic acid, potassium, magnesium and vitamin E, all of them very interesting for heart health.
Chickpeas are very satiating foods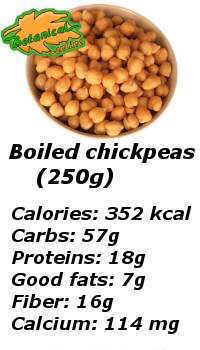 Boiled chickpeas properties
Like all legumes, they contain carbohydrates of slow absorption and a great contribution of fiber. These types of carbohydrates have the advantage of gradually pouring glucose into the bloodstream during their digestion. This is obtained by metabolizing the carbohydrates.
This control of the sugar in the blood that produces the fiber and the hydrates of slow absorption maintains the feeling of plenitude for a long time and, on the other hand, its contribution of fiber collaborates in its satiating effect. For this reason it is very interesting to include chickpeas in diets to lose weight.
In addition, chickpeas are one of the most beneficial foods for people with diabetes because they manage to lower cholesterol and improve circulation.
How many calories do the chickpeas have?
A bowl of chickpeas contains about 350 calories (kcal). Taking into account the satiety that it contributes, and the high proportion of proteins, fiber, vitamins and minerals, is an adequate quantity.
Chickpeas for anxious eating
Chickpeas are a food used to peck between hours in people with anxiety problems with food and problems to lose weight.
Comparison of chickpeas and rice
A dish of cooked chickpeas (250g) with vegetables, contains approximately:
57 g of carbohydrates: it is a high amount, the chickpeas are the vegetables with the highest proportion of carbohydrates, after the peas. However, their glycemic index and load are low, so they do not raise sugar nor produce hyperglycemia.
16 gr of fiber: it is a very high amount of fiber that will help to slow the digestion of the carbohydrates, besides providing satiety.
18 gr of protein: as much as a serving of meat. And as an advantage, chickpeas have many more minerals than meats, which makes them highly recommended for bones.
Is it better to eat chickpeas or eat rice?
To establish a comparison, the same amount of cooked rice has 37 gr of carbohydrates, only 2 gr of fiber and 3.5 gr of protein.
That is, much less fiber that would affect a much faster absorption of carbohydrates. Rice also contains less minerals than chickpeas.
In conclusion, legumes are much more nutritious than rice, and chickpeas are much more advisable for diabetics than rice or pasta.
Are chickpeas always good for losing weight?
There are many traditional kitchens that cook chickpeas with unhealthy food, plenty of animal fats, such as sausages and other processed meats. It is not convenient to eat the chickpeas in this way.
The healthiest thing is to consume the chickpeas with vegetables, for example, with the typical recipe of chickpeas with spinach.
Other myths about chickpeas
Unfortunately, we have reached a nutritional point where many people doubt whether, for example, eating chickpeas will make them sick or fat, and no one is surprised by the consumption of junk food, such as pastries, cookies, cold meats and juices that many people take daily, a problem which is worryingly raising childhood obesity. There is the sad existence of numerous cases of children with fatty liver.
All the myths surrounding healthy legumes should be removed, in order to consume them without fear: Legumes are good for diabetes, it is false that they have many calories, and it is not true that they have many antinutrients.
There is no reason to stop consuming or moderating such healthy foods.


More information on chickpeas.
This article was endorsed by
Elisenda Carballido
- Dietitian nutritionist. Postgraduate in Phytotherapy and master in Nutrition and Metabolism.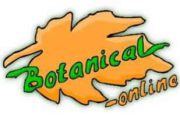 Written by
Editorial
Botanical-online team in charge of content writing