This article was endorsed by
Montserrat Enrich
- Journalist specializing in edible wild plants and plant uses.
Castanea sativa
Characteristics of chestnut tree
Common English name: Chestnut tree, Sweet Chestnut, Marron
Common name in other languages:
German: Kastanien

Danish: Kastanje

Polish: Kasztan

Spanish: Castaño

Catalan: Castanyer

Italian: Castagno

French: Châtaignier

Basque: Gaztañondo
Scientific name: Castanea sativa Mill (Fagus castanea L. / Castanea vesca Gaertner)
Family: Fagaceae
Habitat: It has been said that sweet chestnut or European chestnut is a tree that comes from Asia Minor. From this place it was introduced by the Romans in many Mediterranean countries because its fruit were used to produce bread to feed his troops and to provide fodder for their horses.
This has explained why it has spread and naturalized in many regions of Mediterranean Europe and in many parts of England, France and Central Europe.
However, more recent studies point to the likelihood that its area of origin could be much broader, since there has been found fossilized remains in the Iberian Peninsula from more than 2500 years old.
It is also cultivated in Azores, Madeira and the Canary Islands, Algeria and Morocco.
Features / Description of chestnut tree: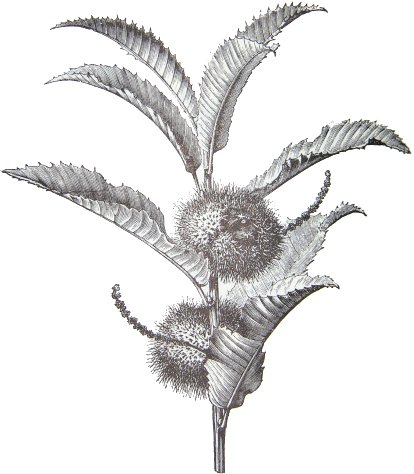 Drawing of leaves, flowers and fruits
Deciduous tree that can reach 35 m. high.
Trunks thick grayish with brown bark having many fissures forming spiral designs.
Leaves oblong-lanceolate, up to 25 cm long, pointed and serrated. Flowers in erect catkins, not pendulous like most Fagaceae.
The male flowers are located at the top of the cones with a large number of stamens with a yellow color and unpleasant smell. Female flowers green, located at the bottom.
Fruits (chestnuts) are clustered in groups of 1-3 in domes covered with thorns. It flowers in July and the fruit is collected in October.
Traditional uses of chestnut tree
Chestnut tree has been used traditionally to treat diarrhea and cough. In external use for wound healing
MEDICINAL PROPERTIES OF CHESTNUT TREE
Healing properties of chestnut tree: a plant rich in tannins
The chestnut tree is a plant that contains many tannins. Tannins are components which, when used improperly are toxic, however, used in the adequate proportion, provide medicinal properties. They are considered as astringent, bacteriostatic, expectorant, sedative and antitussive.
This can be exploited in the natural treatment of ailments such as:
Internal use herbal preparations with chestnut tree
External use herbal preparations with chestnut tree
The astringent and bacteriostatic properties of this plant are suitable for external treatment of respiratory diseases or for the care of the skin or scalp. It can be used for the following anomalies:
Pharyngitis: Chestnut tree gargles help reduce inflammation and relieve pain (gargling performed with the infusion of one teaspoon of dried leaves per cup of water)

Wounds: The same preparation, applied on the wounds, protects against infection and helps healing.

Mouth sores: In the treatment of mouth ulcers, specially canker sores, its bacteriostatic and astringent properties help to cure them (Make mouthwashes with the infusion of 4 or 5 tablespoons of dried leaves per liter of water.

Problems with sore teeth and poor adaptation to dentures: The above treatment is suitable to help settle the false teeth and cure minor inflammations or sores that false teeth or dentures can produce in it.

Food odor: (Make a decoction with a handful of dry brown bark per liter of water for 15 minutes. Wash the feet with the liquid to reduce excessive sweating especially in summer, for athletes, runners, cyclists or all those people who tend to have much feet perspiration)

Natural shampoo for blonde hair: With the decoction of 6 tablespoons of crushed leaves per liter of water for a quarter of an hour, you can make a shampoo for blonde hair. It provides shine and strength; and your can obtain very bright copper reflexes.
Contraindications and toxicity of chestnut tree
Its high tannin content can cause stomach irritation in people with sensitive stomachs.
There is evidence it can increase stomach acid so it is not suitable using internal preparation in people suffering from heartburn, flatulence, stomach ulcers of similar conditions.

More information on the chestnut tree.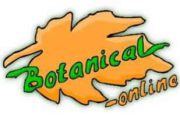 Written by
Editorial
Botanical-online team in charge of content writing