Nutritional properties of turmeric (Curcuma longa L.)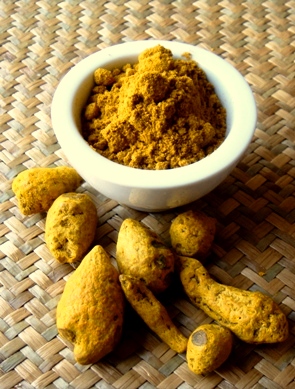 What is turmeric?
Turmeric, stick, saffron or yuquilla root (Curcuma longa) is a popular aromatic spice in the traditional cuisine of South East Asia, where it originated. Its name derives from the word "kurkum", which in classical Arabic means "saffron" and this name is due to the intense yellow color it has. For example, turmeric is the main coloring of Curry mixture.
The plant part used is its rhizomes, which are usually used ground as a spice and a dye.
Botanically, turmeric belongs to the family of Zingiberaceae and, sensed as its name, is from the same family as ginger. In fact, turmeric and ginger are very similar, and was it not for the striking bright yellow color of turmeric, these two spices could be confused easily.
In the European Union, it goes under the number of additive E-100.
What flavor is Turmeric?
Turmeric gives a peculiar spicy, slightly bitter, soft and warm flavor to dishes. It also has an intense bright yellow color that illuminates and gives life to the recipes.
Benefits of Turmeric
Protects the liver. Numerous compounds found in turmeric protect the liver. Furthermore, studies on turmeric conclude that it is effective in reducing cholesterol. According to Traditional Chinese Medicine, turmeric clears the liver, which in turn dominates the tendons, causing increases the flexibility of ligaments.
Carminative. Turmeric is a spice that helps digestion. Hot spices like turmeric are very important in hot countries to help digest food, and the use of these spices is shown the wisdom of the people.
Emmenagogue. Turmeric has been used to regulate menstrual cycles.
Antiseptic. It has bactericidal and fungicidal components, which have proved effective even when small amounts of extract are administered.
Antioxidant. The bright color that this spice has just announces its antioxidant and anti-aging properties. Vegetable pigments (dyes) are natural sources of health and antioxidants.
Anti-inflammatory properties. Curcumin is a compound with anti-inflammatory properties.
To prevent Alzheimer's. It has been observed that populations that consume copious amounts of turmeric in their diet have a lower rate of Alzheimer's disease.
Arthritis. In people with rheumatoid arthritis, turmeric has improved flexibility and reduced inflammation of the joints.
* More information about the medicinal properties of turmeric.
How is turmeric used?
Turmeric is an aromatic spice that can be taken in several ways:
In exotic rice or to flavor pasta, quinoa, amaranth, etc. It may be added when boiled cereal, oil and salt; or add to stir-fries. A very typical dish is rice pilaf, prepared with turmeric or curry, and one of the most popular dishes of Eastern restaurants. It can also appear in noodles or noodles and wok (stir fry).
Combined with seitan, tofu or tempeh. A delicious way to vary the taste of our vegetable proteins. It combines perfectly with seitan and vegetable stews. We can also use to prepare homemade veggie burgers with an oriental flavor
Breaded and fried. Adding turmeric to flour, tempura or overflowing food curry powder, you can prepare delicious recipes. To give a more spicy touch, it is recommended to combine with cayenne pepper.
Butter. Turmeric is a regular coloring of margarine and butter. At household level, herb butter can be prepared with turmeric and crushed fresh herb leaves, ideal for a snack.
Meat and fish. Turmeric is also used in such preparations.
Teas. Turmeric can be used to prepare tea. It combines well with cloves, cinnamon and star anise.
Fresh. In countries where it is native, fresh varieties of turmeric are consumed in soups and stews. It has a mild taste that combines with all foods.
Spices to match with turmeric
Salt is an essential touch to dishes with turmeric, because it counteracts the bitter taste. People with hypertension or fluid retention should avoid salt intake, and they are recommended to combine it with seasonings like thyme and more pepper.
Cumin goes well with turmeric. In India, Dal Lentils are prepared (lentil pink variety) with cumin and turmeric, a hot plate, with color, smell and intense flavor. You can also use this combination to prepare humus. Turmeric and cumin are an excellent combination, used in many kitchens.


More information about turmeric.
This article was endorsed by
Elisenda Carballido
- Dietitian nutritionist. Postgraduate in Phytotherapy and master in Nutrition and Metabolism.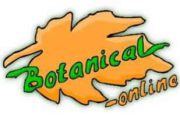 Written by
Editorial
Botanical-online team in charge of content writing