Health benefits of coriander – Coriander sativum
PROPERTIES OF CORIANDER
Characteristics of cilantro
Common English noun: Coriander, cilantro, dhania, Chinese parsley
– Spanish: cilantro (leaves), coriandro (fruits)
Scientific noun: Coriandrum sativum L.
* See: Cilantro in other languages
Family. Carrot family – Umbelliferae
Habitat: Native from Asia and Africa, it can be found as a cultivated plant because of its fruits as a species or medicinal plant.
Characteristics of cilantro plant:
Annual herb of the carrot family – Umbelliferae– up to 60 cm. Erect, glabrous stems with a strong scent. Compound leaves, bipinnate or tripinnate; the lower ones with longer stems and with narrower segments than superior ones. Whitish flowers in umbels, with till 8 rays. Very scented fruits.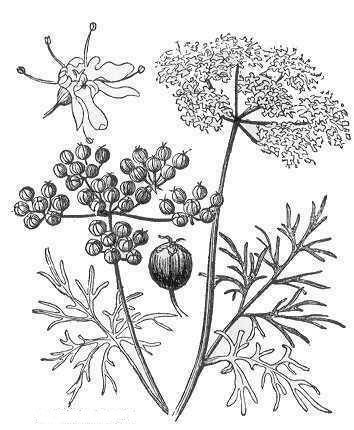 A detail of the plant with the flowers and the leaves
Cilantro components
Acids:
linoleic, – antiarthritic, hepatoprotective, anticancerigenous, hypocholesterolemic.
oleic – anticancerigenous, hypocholesterolemic., antialopecic.
palmitic – hypocholesterolemic, antioxidant, antialopecic
stearic – hypocholesterolemic (Fruits)
petroselinic
ascorbic – antibacterial, antiulceric, antiatherosclerotic, antihypertensive, antiinflammatory, antioxidant, antiscorbutic, hypocholesterolemic, anticold, antitumoral, vulnerary.(Leaves)
Essential oil, rich in:
Cineole: antibacterial, anti- rheumatic, antiseptic, antiulceric, choleretic
Borneol: antibacterial, antiinflammatory, antispasmodic, hepatoprotective.
Camphene: antioxidant, expectorant
Citronelol: antiseptic
Coriandrol: anticonvulsant
Geraniol: anticancerigenous, expectorant, antiseptic, antimelanomic, antispasmodic..
Limonene: antibacterial, anticancerigenous, antiespasmodic, expectorant.
Linalool: anticancerigenous, antiespasmodic, antihistaminic, hypnotic.
Alpha-pinene: antibacterial, antiinflammatory, expectorant, anticancerigenous.
Beta-pinene: antiinflammatory, antispasmodic
Beta-phelandrene: fungicide
Minerals: Calcium (leaves and seeds) potassium, magnesium, phosphorous, sodium (leaves and fruits) manganese (fruits)
MEDICINAL PROPERTIES OF CORIANDER
Digestive infusions of coriander
Carminative: Very useful to expel the gases of the digestive tract, avoiding flatulence and aerophagia. Infusion of half a spoonful of fruits. Drink a cup after the main meal in case of aerophagia. An infusion of fennel and cilantro can be carried out to expel the flatulences (half a spoonful for each glass of water – Take a small cup after the meals.)
Stomach: To facilitate the digestion or in weak or nervous stomachs, it exercises a digestive and tranquilizing tonic function, avoiding the spasms and the dyspepsia.. Borneol and linalool are responsible for this last property. (The same previous preparations serve to this purpose.). it is, at the same time stimulant, reason why it should be used when the patient presents appetite disorders,such as lack of appetite, or even in more serious pathologies as anorexia. (A couple of cups a day, before the meals with the infusion of a pinch of fruits for each glass of water)
Liver: Very appropriate if a case of hepatic insufficiency or with sensitive or nervous livers. Infusion of half a spoonful of fruits. Drink a cup after the main meal.
Bad breath: When one has the tendency to have halitosis,o bad breath it is very useful to introduce some seeds inside the mouth and chew them during a good while. This resource is very used in India, where at the end of meals it is habitual to give those sitting at the table a small cup of dry seeds of this plant.
Anorexia: It is stimulating,reason why it must be used when the individual presents problems of lack of appetite, even in more serious pathologies like anorexia. (A pair of small cups of the infusion of a tiny amount of fruits by water glass per day, before the meals)
Coriander infusions for respiratory diseases
Respiratory tract: The infusion of a pinch of fruits for a cup of water is beneficial for the affections of the respiratory tract, especially to expel the mucus, so that it exercises a expectorant function. It is equally appropriate to combat flu. (A little cup distributed along four or five daily doses after the meals).
Detoxifying properties of coriander
Depurative: In general, because of the composition of their fruits and the essential oil (see components), besides the specific properties previously seen, it possesses a depurative power of the organism, being very appropriate for the treatment of cholesterol – oleic, linoleic, palmitic and stearic acids
The presence of many components with antioxidant properties will be effective in preventing the formation of tumors.
In the same way its antibacterial properties impede the intestinal rotting, being this plant very interesting in the prevention of the colon cancer or other cancerous processes of the digestive tract, especially the tumors of the stomach.
Stimulant properties of coriander
Coriander as an edible plant
Cookery herb: The fruits of the dry coriander are used as a condiment to season many meals, either salads or meats. Some people consider it very strong flavoured, so we should use it with moderation at the beginning to avoid the initial rejection.
Its fruits are omnipresent in the Indian cuisine, where they are part of many preparations, from the well-known curries, until all type of pastries.
The leaves are also essential in many dishes either Indian, Mexican or in Latino American cooking.
In the Chinese or Japanese cuisine, coriander is known with the name of Japanese parsley or Chinese parsley.
In Cyprus it is habitual to use it in salads or as a spice in sausages. As a spice, coriander takes part in the Ayurvedic diet.
How to pick-up and store cilantro
The fruits will be picked up in the months of July and August. The leaves should be taken fresh. The fruits will be dried off in a dark place and they should be preserved in little bags.
Is cilantro a safe plant?
The fresh plant in contact with the skin can be phototoxic, that's to say, it increases photosensitivity. Cilantro possesses some contraindications, toxicity and side effects that should be taken into consideration before using it.
Botanical classification
Kingdom
Plantae
Division
Magnoliophyta
Class
Magnoliopsida
Order
Apiales
Family
Apiaceae
Gender
Coriander
Species
sativum


More information about cilantro.
This article was endorsed by
Vicente Martínez Centelles
- Founder of the web and director. Teacher of natural sciences, expert in plants, natural remedies and botanical photography.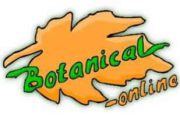 Written by
Editorial
Botanical-online team in charge of content writing