Medicinal properties of Foeniculum vulgare
Common noun:

 Fennel, Sweet fennel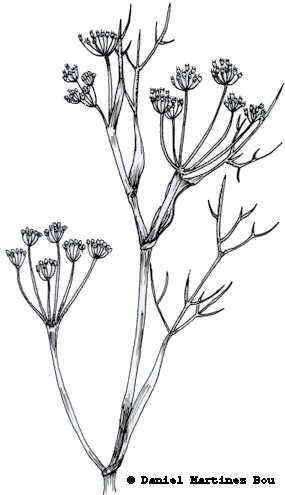 Botanical illustration of fennel,
Scientific noun: Foeniculum vulgare Miller.
Family: Carrot family- Umbelliferae or Apiaceae
Habitat: By the side of the roads, paths, fields or near the sea.
Characteristics of Fennel plant
Scented plant of the Carrot family – Umbelliferae – up to 250 cm.
Erect, hairless grooved stems.
Compound leaves, green- greyish, triangular shaped, with numerous filiform leaflets.
Yellow flowers, in umbels till 8 cm wide, without bracts or bracteoles.
Ovoid fruit, keeled.
Picking-up and storing fennel
The leaves and floral tops should be picked up in summer. The fruits before they mature completely and the roots in autumn. They will be dried off in the shade be kept in hermetic glass recipients. The roots will be dried off in the sun and conserved in cloth sacks.
Composition: Active components of fennel
The main components are in the fruits., well-known commonly as seeds. We could mention the following ones:
– Amino acids: Alanine(it increases the defenses of the immune system); arginine (Very necessary for the muscular growth and mending of the body tissues) histidine(vasodilator and gastric juice stimulative.To fight against the anemia, the arthritis and very useful for the ulcers)
– Acids: Ascorbic (vitamin C); aspartic (Amino acid very interesting in the expulsion of ammonia); glutamic (anti-ulcerous, tonic.. It increases the mental capacity); linoleic (Vitamin F)
– Cineole, anetol, estragol, beta-sitosterol (Used in perfumery)
– Fats
– Fibers
– Calcium, cobalt, iron, magnesium,etc.
Medicinal properties of fennel
Internal use remedies with fennel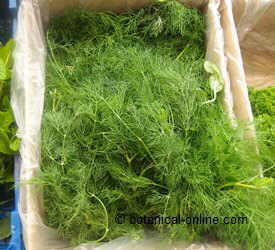 Fennel leaves in a market. They are used as an aromatic herb.
Fennel for Bloating and Flatulence
– Carminative, tonic, stomachal and digestive: It favors digestion, reduces stomachache or abdominal pain, contributes to expel flatulence and aerophagia and opens the appetite (Infusion of 5 gr. of dry fruits for cup of water. Drink 2 cups a day) (in the event of inappetence to take a cup of the infusion half hour before the meals)
Diuretic properties of Fennel fruits and roots
– Diuretic: It increases the elimination of corporal liquids, being very appropriate in cases of cellulite, obesity, rheumatic illness (Arthritis) and heart illnesses associated with the accumulation of water in the body. (Decoction during 10 minutes of 2 ounces of fresh root in a liter of water. Drink a glass after the main meals) (Infusion of 5 gr. of dry fruits for cup of water. Drink 2 cups a day)
Fennel for the respiratory system
– Bronchial and antitussive: In case of bronchitis or cough, as well as when one has a pain in the chest, it is very appropriate this plant for its expectorant values (2 drops of essence dissolved in sugar after the main meals. Take this remedy during 3 days as maximum)
Other uses of Fennel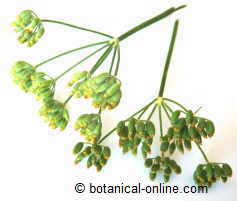 Fruits of fennel
– Emenagogue: It favors menstruation and alleviates the pains associated with it. (The same preparation mentioned previously)
– Anemia: (Infusion of a spoonful of dried plant per cup of water. A couple of cups a day) (maceration of about 150 gr. of dried seeds in a liter of white wine for ten days. Drink a glass before eating)
– Anorexia: Anise digestion stimulates the appetite to be getting adequate loss of appetite or anorexia. (Infusion of half a teaspoon of nuts per cup of water. Take a couple of cups a day)
External use of Fennel
– Eyewash: For irritations of the tired eyes (Squeeze the tender plant and apply some juice on the eyes with a gauze). This is a good remedy for conjunctivitis. For retinal detachment or glaucoma you can use the decoction of 40 gr. of seeds per liter of water. (Wet your eyes with a towel)
– Palliative: It is a lenitive for the stomach pains (Apply a cataplasm of boiled leaves on the stomach)
– Relaxant: (Pour an infusion of a couple of liters of water with 50 gr. of fruits in the bath) it will produce a remarkable relaxing effect to our body).
– Hair tonic: to strengthen the hair and to contribute to preserve it from baldness (Carry out frictions with the resulting liquid of the infusion of dry leaves).
– Alzheimer disease: Fennel has antioxidant properties very useful to avoid the damage that free radicals inflict on acetylcholine. In external use, we can make use of essential oil frictions (Friction on the head with diluted fennel oil) or in the water of bath (add a few drops of tincture in the water of the bath)
–Bad breath: To combat bad breath it is useful chewing some seeds of this plant after meals.
– Appetizing: It helps digest food better, expels the gases and awakens the desire to eat (infusion of 20 g. of dry fruits per cup of water. Take a cup of tea half an hour before meals)
Another uses of Fennel
– Food: Eat the fresh heart in salads that can be combined with other vegetables and plants that increase their properties. Their foliate sheaths can be cooked as vegetables, with potatoes, with cabbages, etc.
– Perfume industry: Its great content in essences makes it very appropriate for the extraction of raw materials that are used in the perfumery industry.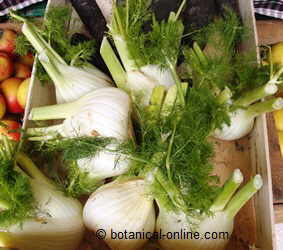 Fennel bulbs. Only cultivated varieties produce bulbs
Toxicity of Fennel
The essential oil, mainly for their composition in anethol and the estragol, taken in big doses has a narcotizing effect, producing breathing problems, hallucinations, convulsions and heart arrhythmia. The same effect can bear the ingestion of fruits in superior doses to those recommended previously.
Bergapten produces photosensibility effects, when exposing to sunlight. In order to avoid sunburns, it is advised not to expose to sun for long or avoid going to mountains when having a treatment of this plant.

More information about natural medicine.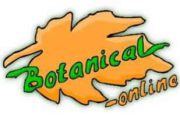 Written by
Editorial
Botanical-online team in charge of content writing