MEDICINAL PROPERTIES OF ALFALFA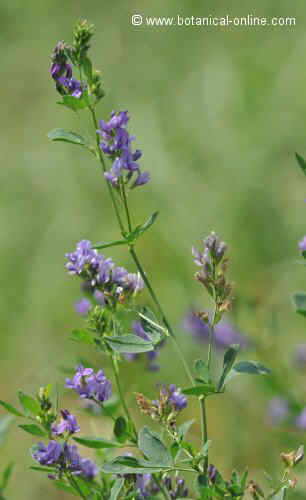 INTERNAL USE PROPERTIES OF ALFALFA
Alfalfa, a plant for metabolism
The wealth of this plant in amino acids and minerals and turns it to vitamins into a very interesting remedy for the metabolic anomalies. Between all the properties related to the metabolism we could mention the following:
Diuretic properties: The capacity of this plant to increase the elimination of liquids has been proven; it favours the treatment or the improvement of many metabolic upheavals in which the retention of water plays a very interesting role: kidneystones, diabetes, cellulitis or edemas.
The amino acids arginine and asparagine, along with potassium, calcium and magnesium and ascorbic and caffeic acids are the main components that carry out is function. (Drink 40 g of juice of fresh leaves daily)
Alfalfa, an alternative to hormonal treatment
Hormonal Properties: The presence of components with hormonal properties, especially isoflavones (genistein, daidzein, diosgenin, biochenina, coumestrol, etc) provides it of very suitable properties for certain disorders related to hormonal problems, such as endometriosis.
At present these phytoestrogens are used essentially for the treatment of the inflammation in the too abundant menstruations caused by endometriosis (Eat alfalfa buds some days before menstruation) (Preparations in the form of dust or tablets exist in the market: they can be taken with the same purpose according to the conditions of the prospectus)
The use of this plant is also recommended during menopause. Being an herb with estrogenic properties, it may be useful to overcome shortfalls of hormones that occur during this period. At the same time it can help to ease many of the symptoms that occur during menstruation. (Eat alfalfa buds some days before the menstruation) (Preparations in the form of dust or tablets exist in the market: they can be taken with the same purpose according to the conditions of the patient's leaflet)
Alfalfa, an aid for digestive process
The presence of many enzymes helps the digestive process and allows a greater assimilation of food. Fats are metabolized more easily. It was found that the regular inclusion of alfalfa sprouts in salads improves the health of the stomach wall, being of help in case of stomach ulcers, heartburn or gas.
Alfalfa, to diminish cholesterol and favor blood circulation
The presence of saponines and its fiber richness reduces the absorption of the cholesterol in the intestine. Its wealth of coumarins, with antiplatelet properties, help prevent blood clots in the arteries, and consequently promote the prevention or treatment of arteriosclerosis. (10 minutes infusion of a spoonful of dried plant per cup of water. Take 2 cups daily) (Add sprouts to salads)
Alfalfa contains a lot of vitamin C and iron
Its richness in vitamin C has been used traditionally to combat problems related to lack of this vitamin. The use of fresh juice or its tender leaves in salads has been an effective weapon to prevent scurvy. This property could be exploited to improve symptoms of certain diseases such as flu or colds.
In general, it has many minerals, proteins and vitamins that can be very useful as a general restorative tonic. It can be used in case of general weakness, convalescence, thinness, anorexia, lack of energy, intellectual fatigue, etc. Thus, for example, contains plenty of calcium and lots of vitamin D that are necessary to prevent or treat bone abnormalities in case of osteoporosis, fractures, etc. Its rich in iron so it can be used to treat anemia.
The inclusion of alfalfa sprouts or young leaves of this plant cooked as a vegetable in the daily diet may help fight many of these anomalies. If there is no tender plant, infusions of a teaspoon of dried plant per cup of water for 10 minutes will produce positive effects.
Alfalfa for the circulatory system
Alfalfa is rich in vitamin K, in the form of phylloquinone. This vitamin, also called antihemorrhagic factor is necessary for the liver to produce prothrombin hormone involved in blood clotting. The lack of this vitamin causes clotting problems that manifest as bleeding, bruising, etc. It is ao rich in ascorbic acid that contributes to the same purpose. The use of this herb can help solve or improve blood clotting problems such as:
Nosebleeds: In case of heavy and frequent bleeding from the nose (epistaxis), consumption of 50 grams of fresh juice of the leaves, divided into two doses, will help stop the flow of blood.
Bruising: produced by the accumulation of blood (hematomas) as a result of any damage or bodily disorder. Perform the same previous treatment.
Vaginal bleeding: See the preceding paragraph on metabolism.
Hemorrhoids: Its use can help stop the bleeding of hemorrhoids. (50 grams per day of fresh juice of the leaves, divided in two doses)
Urinary system: The anti-inflammatory and diuretic properties of this herb are used for the treatment of urinary tract infections like cystitis anomalies (Inflammation of the urinary bladder), nephritis (inflammation of the kidneys), kidney stones, prostatitis, etc
External use remedies with alfalfa
Hemostatic: It can be used externally to stop the flow of blood from the nose (a cotton ball wet with the liquid from the infusion of a spoonful of dried plant per cup of water) or to treat bleeding hemorrhoids. (Make sitz baths fluid infusion of dried plant)
Vulnerary: Used externally, can be applied to bee stings or other insects bites to decrease swelling and reduce pain (Grind a handful of seeds and mix with water until it becomes pasty. Place in a poultice on the sting)
Anti-inflammatory: Its anti-inflammatory properties help reduce inflammation caused by circulatory inflammation in arthritis or osteoarthritis.
Other uses of alfalfa
Edible plant: the tender leaves of this plant can be eaten as a vegetable. The seeds, ground and roasted, can be ground to produce flour with which you can make bread.
Also, because of its richness in protein, minerals and vitamins alfalfa is one of the ingredients in many food products and dietary supplements for adults or energy foods intended for children. Well known in the American market was a product called "Pablum" which had great success in the first half of the nineteenth century.
Formed from numerous cereals (oats, corn, wheat, bone meal and alfalfa), for its vitamin and protein content, it was very helpful in a time when food had major shortcomings, including the prevention of scurvy and vitamin D deficiency. It went out of the market in 2005.
Forage: The main use of this plant as a forage plant for livestock feed or for the manufacture of animal food. It is very nutritious for the animals and at the same time is one of the species with higher production of those cultivated by man. It withstands droughts easily taking advantage of their long roots that are able to sink to deeper soil layers (specimens whose roots reach 10 meters deep have been found)
Improvement of soil: Alfalfa is a legume and, therefore, has the ability to fix atmospheric nitrogen through their roots. This capability makes the soil where this plant grows better, so it is often planted as a way to provide natural fertilizer to the land.
Is alfalfa a safe remedy?
People who present systemic erythematous lupus or allergy to the plant would not have to use this plant.
In suitable doses contraindications have not been described, although allergic reactions have appeared in people who have taken supplements contaminated with microorganisms.
Harvesting and storing alfalfa
Alfalfa leaves destined to be dried will be harvested in summer.They must be dried in the shade and keep in a dry and shady place in small bags or crystal jars.


More information about alfalfa toxicity.
This article was endorsed by
Vicente Martínez Centelles
- Founder of the web and director. Teacher of natural sciences, expert in plants, natural remedies and botanical photography.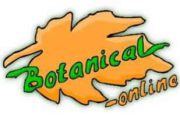 Written by
Editorial
Botanical-online team in charge of content writing