BENEFITS OF SPROUTING ALFALFA SEEDS
What are alfalfa sprouts?
The germinated alfalfa sprouts are a food which is obtained by germinating the seeds of alfalfa.
Alfalfa (Medicago sativa) is a plant with excellent nutritional properties. One should not forget that livestock remains all winter feeding mainly on alfalfa, which can give us an idea that alfalfa is a plant with very good food properties.
Among the properties that alfalfa sprouts give us, we have the following:
Alfalfa sprouts to diet
One of the first advantages of alfalfa is its low calorie content. Alfalfa sprouts contains more than 90% water, very little carbohydrate and it has practically no fat.
All this makes it very suitable as food to prevent obesity or weight loss diets.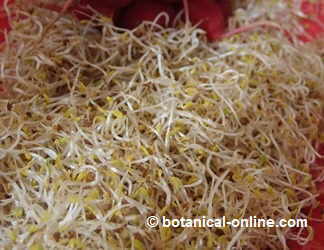 Photography of alfalfa sprouts or young seedlings
Alfalfa sprouts to protect your bones
Alfalfa contains lot of calcium and phosphorus. Both minerals are very interesting for the formation and repair of bone and are the main factors to prevent weak bones or osteoporosis.
Alfalfa sprouts contain vitamin B and C
Among the vitamins that these sprouts give us, the most abundant ones are the B vitamins, especially niacin and folic acid. Niacin helps the metabolism of fats, proteins and carbohydrates so ingestion gives the organism a greater feeling of energy and plenitude. At the same time, it helps keep the nervous system healthy.
Folic acid is necessary for the proper functioning and development of cells and improves cardiovascular health by counteracting the high levels of homocysteine.
Its richness in vitamin C has been traditionally used to combat problems related to the lack of this vitamin, and could be exploited to improve the symptoms of certain diseases such as flu or colds.
Alfalfa sprouts to help stop bleeding
Alfalfa is rich in vitamin K. Vitamin K promotes blood clotting and aids in the absorption of calcium. Eating this food contributes to good bone health, help stem the outflow of blood in people who are prone to blood loss, such as nosebleeds.
Sprouts of alfalfa are rich in chlorophyll and digestive enzymes
The process of seed germination that produces green alfalfa sprouts makes this product very rich in chlorophyll. Chlorophyll has a very similar molecular structure to red blood cells. The intake of foods rich in chlorophyll provides a very large capacity to regenerate blood cells.
Therefore, chlorophyll alfalfa sprouts have a great importance in the management of anemia. It has been proved the role of this component in liver regeneration, in increasing defenses and body force. Chlorophyll helps keep us healthy by preventing the onset of many diseases.
The wealth of digestive enzymes of alfalfa sprouts helps us improve digestion. There is evidence that the regular inclusion of alfalfa sprouts in salads improves the health of the stomach lining, being helpful in case of stomach ulcers, heartburn or flatulence (gas).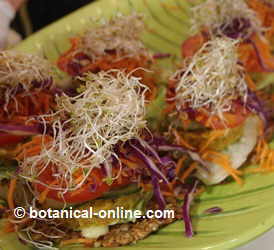 Vegetarian toasts with alfalfa sprouts
Where can we buy alfalfa sprouts?
Alfalfa sprouts can be purchased in grocery stores, department stores and food stores. We can also germinate alfalfa seeds at home.
* More information on how to germinate alfalfa at home in the listing below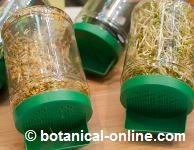 Photo of seeds germinators
How to eat alfalfa sprouts?
Alfalfa sprouts are typically eaten fresh and raw in salads. Just adding a few seedlings with other vegetables in the salad to give these dishes a few different touch with all the properties of alfalfa.
We can also fry them lightly and add as an accompaniment to other foods. Fried egg or omelette, with some added alfalfa sprouts, are delicious.
Alfalfa sprouts toxicity, contraindications and side effects
It should be noted that alfalfa sprouts should be eaten in moderation, since it has been found that a constant and high intake of this food produces symptoms similar to lupus, an autoimmune disease in which the immune system harms the body itself.
A high intake of this food is sometimes too strong for most stomachs or can cause heartburn, flatulence or stomach or belly pain.
Some people can not eat alfalfa sprouts because they are allergic to it.
Nutritional composition of alfalfa sprouts per 100 g

Water

91,4 g

Calories

29 Kcal

Fats

0,69 g

Protein

3,99 g

Carbohydrates

3,78 g

Fiber

2,5 g

Potassium

79 mg

Sodium

6 mg

Phosphorus

70 mg

Calcium

32 mg

Copper

0,157 mg

Magnesium

27 mg

Manganese

0,188 mg

Iron

0,96 mg

Zinc

0,92 mg

Selenium

0,6 mcg

Vitamin C

8,2 mg

Vitamin B1 (Thiamin)

0,076 mg

Vitamin B2 (Riboflavin)

0,126 mg

Vitamin B3 (Niacin)

0,481 mg

Vitamin B5 (Ascorbic acid)

1,159 mg

Vitamin B6 (Pyridoxine)

0,105 mg

Vitamin B9 (Folic acid)

36 mcg

Vitamin B12 (Cobalamin)

0,0 mcg

Vitamin E

0,02 mg

Vitamin A

16 mcg

Vitamin D

0


More information about alfalfa.
This article was endorsed by
Elisenda Carballido
- Dietitian nutritionist. Postgraduate in Phytotherapy and master in Nutrition and Metabolism.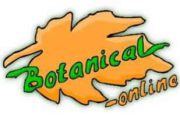 Written by
Editorial
Botanical-online team in charge of content writing