This article was endorsed by
Vicente Martínez Centelles
- Founder of the web and director. Teacher of natural sciences, expert in plants, natural remedies and botanical photography.
Zea mays
NATURAL REMEDIES MADE WITH CORN PLANT
Internal use corn preparations with corn silk
The decoction of corn silk (stigmas from female maize flowers), at the rate of 5O g per liter for 20 minutes, is one of the most important natural resources to increase diuresis or disposal of body fluids.
Corn silk preparations increase urination, help weight loss, cleanse the kidneys and decrease blood pressure.
How to apply a corn preparation
Take four glasses of the above preparation to stimulate the kidneys and increase urination which is an important asset in a set of physical abnormalities.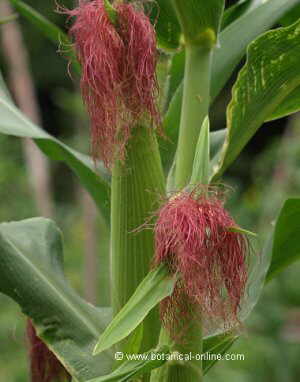 Corn silk (Zea mays). See the red stigmas that are used to prepare medicinal diuretic remedies
Of all the conditions that can be used with the infusion of corn silk, we will mention the following:
External use preparations with corn oil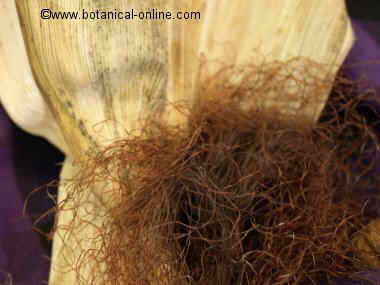 Dry corn silk detail
External use of corn oil, rich in carvacrol, thymol and menthol, is used for cosmetic purposes. The main applications would mention:
Dry Hands: Corn oil moisturizes and protects hands from dryness. Very useful after performing physical labor with rough or dry or after contact with sand or dry air. (Moisturize your hands with a little corn oil)

Dry Hair: Also, applying a few drops of this oil on dry hair will help moisturize and give shine to your hair.l
External use preparations with corn flour
Corn flour, used as a poultice externally, can be used for vulnerary therapeutic properties, for the healing of skin diseases and for the treatment of rheumatism (Add a splash of water to one cup of corn flour and stir until it forms a stiff dough. Apply to the affected area).
The main applications are:
– Eczema: Apply a poultice of cornmeal on eczema.
– Diaper rash: Apply cornstarch on the irritated area disinfected. To disinfect slightly roasted.
– Sores or ulcers: Apply on them
– Shock: Apply on the swollen and sore.
– Rheumatism: Apply the poultice on the affected joint.

More information on corn.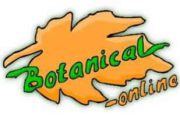 Written by
Editorial
Botanical-online team in charge of content writing