NATURAL TREATMENT OF SENILE DEMENTIA
Remedies for senile dementia
Natural remedies for senile dementia
Although dementia is a chronic and degenerative disease, the use of a series of natural remedies can help to prevent their appearance or to diminish the symptoms, so that the they can improve conditions the patient's state. Among the main natural resources, we can point out the following:
– Medicinal Plants: the use of appropriate herbal medicine can be very useful in the prevention or treatment of senile dementia.
– Natural Foods: A proper diet will help prevent this disease.
– Supplements: They will help to improve the conditions of the mind.
PHYTOTHERAPY: Herbal remedies for senile dementia
Phytotherapy in the treatment of senile dementia is based on a number of plants whose function will be:
– Improve the circulatory conditions of the blood vessels of the brain to prevent strokes that encourage the emergence of the disease or improve the blood supply to this organ, which will improve the functioning of this body.
– To minimize some of the symptoms of the disease, such as depression, nervousness, insomnia, etc.
The main plants for the treatment of dementia are:
Plants to improve the circulation in the brain and the transmission of nerve impulses
Ginkgo: (Ginkgo biloba) Poor circulation in the brain is the cause of many serious and crippling diseases. One of the most dangerous are strokes that can cause death or paralysis of any part of the body. Ginkgo extract improves circulation to the capillaries of the brain, increases resistance and helps to prevent breakage.
The use of this plant can help improve symptoms of dementia and, some experts say it could even prevent its occurrence because it is able to to avoid brain vascular dementia, one of the main causes of the emergence of this disease.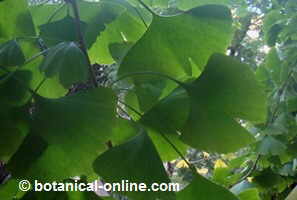 Ginkgo leaves
Ginseng: (Panax Ginseng) the capacity of ginseng in the improvement of the mental functions of the patients of Alzheimer has been demonstrated. Similarly, the ingestion of Siberian ginseng extract may be useful to improve or maintain memory or concentration of these patients (Take a standardized extract dose of 600 mg daily, divided into three doses)
Wheat: (Triticum aestivum) the habitual ingestion of wheat germ, by its content in octaconasol, prevents the neuronal oxidation, protecting against the degeneration of the brain and the appearance of diseases such as dementia.
Plants to improve the main manifestations of the ill nervous system.
These plants serve as reinforcement for the treatment of adverse symptoms of an altered nervous system. Among the different plants that can be useful for people with dementia are:
Plants for depression.
Plants for anxiety.
Plants for nervousness.
Plants for insomnia.


More information on dementia and its natural treatment.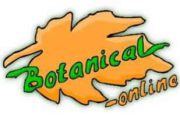 Written by
Editorial
Botanical-online team in charge of content writing