Medicinal properties of sumac
The latest studies on the properties of sumac point to its antimicrobial and antioxidant qualities and as a remedy for diabetes due to its hypoglycemic effect.
Anti-microbial properties of sumac
It was verified that its fruits are active against several microorganisms and able to inhibit the microbial activity of several bacilli, as well as some salmonella.
In view of these qualities, it is not strange that the hot countries of the Middle East use sumac powder to marinate the meat and cover the vegetables, that culinary custom, apart from giving a good flavor, helps to avoid any contamination of the food.
Sumac as an astringent plant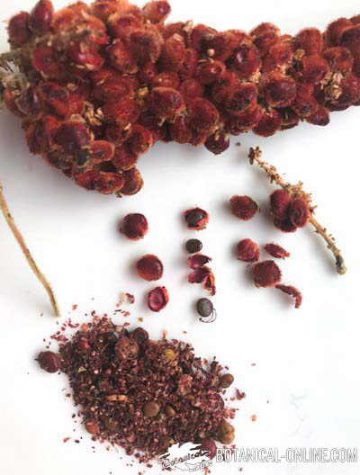 The astringent properties of sumac are due to the presence of tannins, specifically the richness in gallic acid of the fruits.
It is called medicinal plant or astringent remedy to any substance that contracts body tissues, which is used primarily in a double sense:
Internally decreases secretions, reduces inflammation and stops bleeding, being useful in case of digestive ulcers.
Externally to "dry" the skin, temporarily hardens, tightening the tissues or blocking the fluids, while these are being replaced by new tissues or healthy skin. Stops hemorrhages (haemostatic).
Antioxidant properties of sumac
Dry sumac has revealed itself as an ally to combat premature aging caused by oxidative stress, due to the large amount of polyphenols it contains that act against free radicals.
According to the ORAC scale , a list that assesses the antioxidant power of food at Tufts University in Boston, in its top list of foods with greater antioxidant power, sumac has a value of 312,000 ORAC units per 100 gr. ., which is a lot if we compare with other foods considered as highly nutritious as blueberries (4,669 ORAC) or goji berries (3,290).
A high antioxidant value makes sumac a powerful food for the prevention of diseases that have their origin in stress, as well as to help the healing of ailments that require powerful nutrients.
Sumac for diabetes
Sumac powder has traditionally been used for diabetes and obesity problems. In that sense, there are several studies confirming the effects of taking sumac daily to lose weight and improve metabolism.
In people, it has been observed  that taking  between 1 and 3 g. a  day of sumac powder can be very beneficial for diabetes by decreasing markers of inflammation and improving insulin resistance.
Sumac to lower cholesterol
In one study, we wanted to evaluate the effect of administering 1 gram of sumac daily among a group of patients, compared to a control group, for 2 months.
It was concluded that sumac did not significantly lower total cholesterol levels, but did increase levels of good HDL cholesterol, which suggests that it may be interesting to introduce this species in the diet of people with hyperlipidemia.
Neuroprotective properties of sumac
Due to its content in gallic acid, plants that possess this type of active principles are being studied as future neuroprotectors due to their capacity of these tannins to neutralize the free radicals of the brain and protect it from neurodegenerative diseases.
Sumac gastronomic use
Sumac is considered one of the most valuable spices for its antioxidant power. Its use in the kitchen is usual in countries like Lebanon, Syria. Turkey or Iraq …


More information on common sumac
This article was endorsed by
Montserrat Enrich
- Journalist specializing in edible wild plants and plant uses.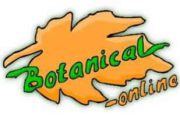 Written by
Editorial
Botanical-online team in charge of content writing