Curative effects of goji berries
PROPERTIES OF GOJI BERRIES
What are the medicinal properties of Goji berries?
Goji are an anti-aging food
Being "anti-aging" is one of the main properties assigned to this berry, as it has been described in the manuals of Traditional Chinese Medicine.
It appears that this property is due to its high content of carotenoids, polyphenols, polysaccharides and trace elements that slow cellular aging.
According to one experiment, it was confirmed in mice that Goji fruits improve oxidative stress resistance. Oxidation is a typical cause for aging.
However, the food industry has too much advertised these properties, considering Goji berries as an exceptional food with unequaled "anti-aging" properties.
* More information: Antioxidant properties of goji berries
Goji Berries for eyes health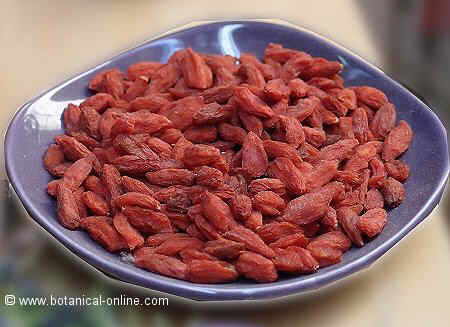 Photo of goji berries
Goji has the ability to reduce the time required for the eye to adapt to darkness, being very suitable for the prevention or treatment of night blindness.
Because of its content in antioxidants, especially lutein and zeaxanthin, goji berries protect us from exposure to ultraviolet rays and prevent the damage caused by oxidative processes, such as cataracts or macular degeneration associated with age. Together with vitamin A, it also stimulates visual acuity.
Studies have shown that a daily intake of 15g of berries for 28 days increased the levels of zeaxanthin in mice.
Goji protects your heart
Contrary to what it may seem, there is a higher death rate because of cardiovascular disease than because to cancer. The pace of life in today's society, high stress, often poor diet and a sedentary lifestyle are the cause that accounts for high blood pressure and poor cardiovascular health in general.
Lycopene, a powerful antioxidant responsible for the reddish color of this berry and other vegetables such as tomato, has a role in protecting the cardiovascular system of oxidative processes caused by free radicals.
In addition, goji berries contain a plant sterol, called beta-sitosterol, which helps lower cholesterol levels and kukoamine, hypotensive substance, suitable for people with high blood pressure.
Goji berries strengthen your immune system
Throughout life, the human body loses resistance to external attacks, such as infectious diseases, food spoilage, poisoning, etc..
Goji berries contain zinc, an effective mineral for the body's defense system because it can help increase leukocyte function or white blood cells, immune cells responsible for defending the body.
Antioxidant components, such as vitamin C and carotenes, help fight disease and prevent genetic mutations that destroy the immune system.
Goji berries keep you good-humored
It is increasingly demonstrated the relationship between mood and disease. Paying careful attention to food is essential, since good nutrition can bring about a better mood and a better physiological state, which will be our primary tool to fight disease.
Goji contains vitamin B, important for the brain. Thiamin plays a vital role in nourishing the nervous system, and niacin exerts direct influence on the mood.
They act together with monosaccharides and polysaccharides, which represents energy for the brain.
Goji berries help you to lose weight
Goji berries are a sweet food, attractive and rich in fiber, minerals and vitamins. Therefore, eaten within a balanced diet with the adequate amounts, it has been shown to help lose weight.
A study at the University of Ningxia in which a group of overweight patients were given Goji berries in the morning and in the afternoon. The results were excellent and most patients lost weight.
Effective doses of Goji berries: how much to take?
To get the health benefits of Goji berries it is recommended the daily intake of 20-50 grams of dried berries.
Scientific studies have noted the salutary effects of this fruit in a period of 28 days.
In the case of Goji berry juice, to obtain the same benefits as with dried berries, it is sufficient to take between 50 to 100 ml daily.
Goji berries in Chinese medicine
In Chinese medicine, the fruit of the Goji plant is often incorporated into complex herbal formulations in an amount of 8-16g. This dose is usually sufficient, as the other accompanying ingredients enhance the desired effect.
As an example provided by the Chinese formulary, in the dietary management of older people, it is recommended to introduce these berries in quantities of 15 to 30 grams daily, in dishes such as pork, vegetables, soups, salads, tender bamboo shoots, etc..


More information on goji berries.
This article was endorsed by
Elisenda Carballido
- Dietitian nutritionist. Postgraduate in Phytotherapy and master in Nutrition and Metabolism.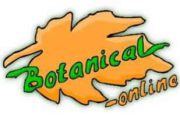 Written by
Editorial
Botanical-online team in charge of content writing