Goji berries against free radicals
ANTIOXIDANT EFFECTS OF GOJI BERRIES
Why are goji berries so antioxidant?
Noteworthy for their popularity as an antioxidant food, goji berries deserve some lines to discover their true antioxidant power.
Carotenoids, vitamins, polysaccharides, and, in general, all the Goji phytochemicals confer these fruits antioxidant properties.
However, it it is not commonly known whether these effects are truly exceptional, or if they are common in other vegetables, fruits or plant foods.
Are goji berries the most antioxidant fruits?
The National Institute on Aging (NIH) has developed the ORAC scale (Oxygen Radical Absorbance Capacity). The ORAC scale is a measure of the antioxidant power of foods. This scale lets us compare the different foods.
ORAC scale gives Goji berries 3290 ORAC units per 100 g. That's an important value, However, as discussed in the following paragraph, many plant foods in the world offer us a similar range of possibilities with the same properties.
This may be enough to break the belief or myth that has been created around this food.
Goji berries certainly possess antioxidant properties but there is no better medicine than a balanced and varied diet, which includes plenty of vegetables to benefit from all their natural nutrients.
Antioxidant power of goji berries compared with other foods
The following chart compares the ORAC values of goji berries with other foods.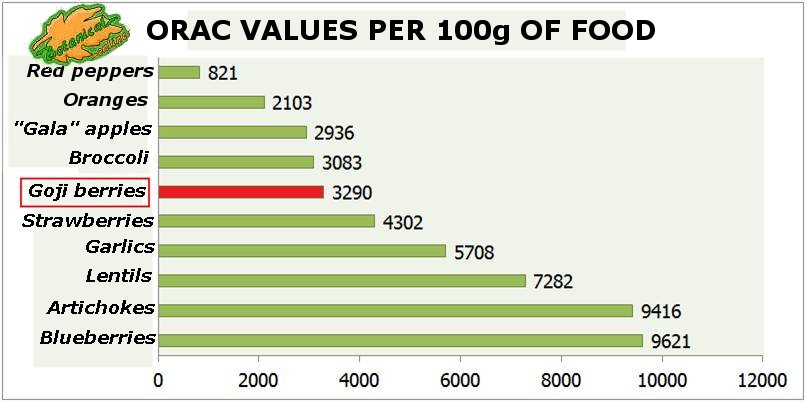 It must be considered that the ORAC scale only measures antioxidant potential of food in a test tube by laboratory tests and ignores the complexities of the human body and the reactions in vivo (there are many factors involved in the reactions of the body, so it is impossible to reproduce in artificial media such as test tubes).
It is known that many of the antioxidants in foods, particularly fruits and vegetables, require the presence of another substances to be absorbed, if not provided through a varied diet, these substances are wasted or lost in the gastrointestinal tract.
For this reason, once again, we must insist that a varied, balanced diet rich in fresh fruits and vegetables provide the best benefits and guarantees us to be well nourished.


More information on goji berries.
This article was endorsed by
Montserrat Enrich
- Journalist specializing in edible wild plants and plant uses.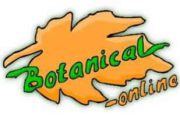 Written by
Editorial
Botanical-online team in charge of content writing