Health benefits of mallow (Malva silvestris L.)
Mallow characteristics
Common noun: Common Mallow, High Mallow
Scientific noun: Malva sylvestris L.
Family: Mallow family – Malvaceae
Habitat: By the side of the paths, waste lands and dry grasslands.


Mallow drawing. Courtesy of www.dibujosparapintar.com
Mallow description
Perennial plant of the mallow family – malvaceae – up to 1,5 m. Hairy stems, ligneous at the base, spreading or erect.
Very variable leaves, generally palmately divided and lobed, with toothed lobes, with long stalks.
Pink or purple flowers, with darker purple veins, 2 to 4 cm wide. Sepals twice or four times smaller than petals. Fruits with protruding angles, downy.
Picking-up and storing mallows
Spring is the best season to collect the flowers before they are in their bloom. Leaves should be collected when the plant is in full bloom either in Spring or Summer. They should be kept in a dry air-tightened container.
Main active components
– Mucilage
– Essential oils
– Tannins
MEDICINAL PROPERTIES OF MALLOW
Mallow to cure wounds, eczema and other skin disorders.
The healing properties of mallow are vast. Since this is a very common plant, it is available most of the time to use it as a natural remedy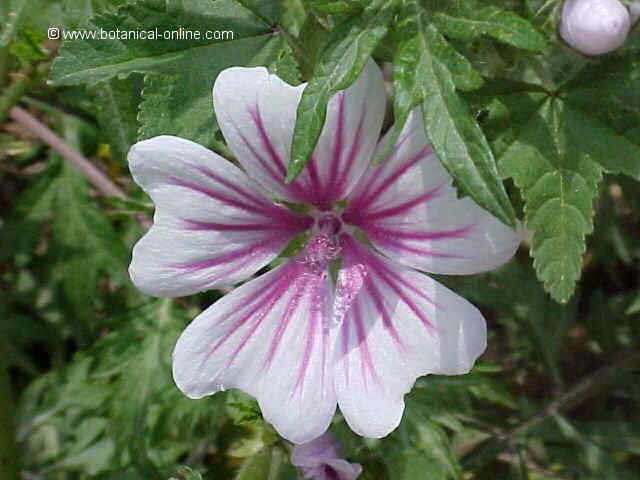 – Emollient: In front of pimples, blisters, furuncles, seborrheic dermatitis, eczema, injuries, ulcers or whatever skin affection, the mucilage of this plant will be suitable as a softener.
(Cataplasm with the smashed tender plant over the skin) (In case of eczema or pustules it is very convenient to apply a cold compress soaked into the decoction of a handful of dry leaves per litre of water)
It can also be used for mouth sores or gingivitis (rinses with the decoction for 10 minutes a teaspoon of flowers per cup of water.) (Mixed infusion of mallow and thyme, make mouth rinses)
– Pyorrhea: (Mouthwashes with the decoction during 10 minutes of a teaspoon of flowers per cup of water.)
Mallow for breast inflammations
– Anti-catarrhal, anti-tussive, pectoral: In respiratory diseases: cough, cold, sore throat, bronchitis, sinusitis, pain in the breast, aphonia, wheezing, etc. its properties soothe respiratory tracts. (Gargles with the decoction of dry leaves and flowers for sore throat.)
– Pain in the breast: (Infusion for 10 minutes of two spoons of dry leaves for each glass. To increase its emollient properties it can be taken with honey) (Infusion for 5 minutes of a tea spoon of flowers with two leaves of eucalyptus. Against coughing.)
Mallow for digestive system inflammations
– Mouth inflammations: (Mouthwashes with the decoction for 10 minutes of a tea spoon of dry flowers per glass of water)
– Stomach irritation: In stomach irritation, the mucilages of this plant help reduce the stinging sensation. (Take a couple of cups a day earlier decoction)
– Varicose veins: (Infusion of a spoonful of flowers and leaves per cup. Two cups a day)
– Constipation: (Decoction for 20 minutes of 30 gr. of dry leaves and flowers per litre of water. Drink 3 glasses every day.)
Main properties of MallowVery rich in mucilages

The pasters are emollient

Infusions for dry cough

Wild edible plant

To avoid constipation
Edible properties of mallow
Common mallow can be used as food. It is know since historical times, since it was used by The Greek and The Roman,who ate it with profusion, mixed with other vegetables.
Apart from the medicinal properties seen above, it is a plant very rich in vitamin A, Vitamin B, Vitamin C, and vitamin E.
Cosmetic properties of mallow
Because of its emollient properties, it is very used in cosmetics. Many facial tonics can be made from it:
– Compresses for the face with the decoction of a handful of dry leaves per litre of water.
– A skin tonic with the broth coming from boiling some dry flowers in a litter of water.
Toxicity, contraindications and side effects of mallow
In appropriate doses, it is not mentioned any toxicity, side effects or contraindications in the use of this plant.


More information about mallow properties.
This article was endorsed by
Elisenda Carballido
- Dietitian nutritionist. Postgraduate in Phytotherapy and master in Nutrition and Metabolism.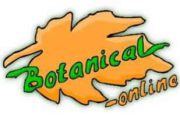 Written by
Editorial
Botanical-online team in charge of content writing