fenugreek side effects
CAN FENUGREEK PRESENT SIDE EFFECTS?
What are the side effects of fenugreek?
There are common side effects by consuming fenugreek.
The FDA (Food and Drugs Administration in the U.S.) sees the plant as safe and well stated in the GRAS list (Generally Recognized as Safe). However, some sensitive individuals may experience the following side effects:
Gastrointestinal disorders due to its high fiber content, fenugreek can cause flatulence, bloating and diarrhea. At high doses, it can cause nausea and upset your stomach.
Contact dermatitis: when applied in poultice or plaster, fenugreek can cause skin irritation.
Symptoms of maple syrup urine disease smell: due to the high content of isoleucine, valine and leucine, fenugreek can produce similar symptoms of this disease. Fenugreek does not cause the disease, but its symptoms can mimic.
Allergy by ingestion or inhalation: some people are allergic to legumes (chickpeas,etc..) They also may develop allergy to fenugreek. Some of the symptoms include: sneezing, rhinitis, runny nose, asthma, watery eyes, persistent coughing, wheezing, and fainting.
This supplement has some contraindications. Read the Contraindications of Fenugreek you will find.
People with drug therapy or taking contraceptives should consult their doctor before taking this supplement.

If you are diabetic, check with your doctor before taking fenugreek. This supplement can enhance the effect of insulin or antidiabetics.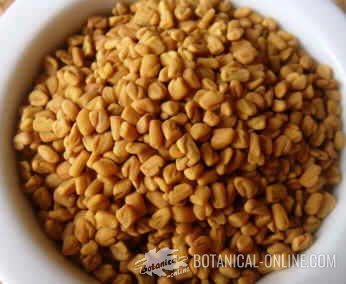 Grains of fenugreek
Fenugreek during pregnancy and lactation
Spontaneous abortion: Fenugreek contains steroidal saponins which can cause uterine contractions. Pregnant women should NOT take fenugreek. In fact, this supplement is used as a medicine to induce labor contractions due to its oxytocic activity. * More information: Plants and pregnancy.
Newborn: urine and sweat can smell like maple syrup. There is a genetic disease called maple syru purine disease (MSUD). Although the Intake of fenugreek does not produce this disease, it can cause similar symptoms in the newborn. It has been reported the false suspicion of maple syrup urine disease in newborns when the mother has taken fenugreek to induce labor contractions. Fenugreek has not been proven to be safe for this use.
Lactation: Fenugreek contains alkaloids, saponins and steroidal compounds that can pass into breast milk. Although traditionally used as galactogogue, safety is not guaranteed because there are few studies about it.
Related information:
Fenugreek medicinal properties
Fenugreek uses and preparations


More information on fenugreek.
This article was endorsed by
Montserrat Enrich
- Journalist specializing in edible wild plants and plant uses.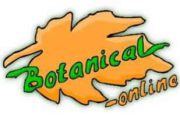 Written by
Editorial
Botanical-online team in charge of content writing