This article was endorsed by
Montserrat Enrich
- Journalist specializing in edible wild plants and plant uses.
Trigonella foenum-graecum
FENUGREEK MEDICINAL PROPERTIES
What is fenugreek used for?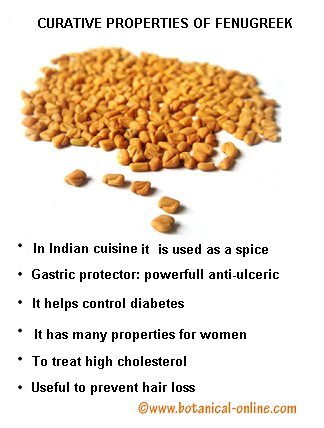 Main curative properties of fenugreek
Internal uses of fenugreek – fenugreek in food or supplements.
Diabetes: This is one of the most interesting fields of study that fenugreek may have in herbal medicine and pharmacology. This supplement has been shown to present suitable properties to reduce blood sugar.
The hypoglycemic activity of fenugreek is effective in animals and in people with diabetes mellitus type I and II. Also, fenugreek reduces "bad" cholesterol (LDL) and increases the "good" cholesterol (HDL), helping to reduce the cardiovascular risk of these patients.
* More information: Fenugreek in Diabetes.
Fenugreek for high cholesterol
In several studies to treat diabetes, it was observed that fenugreek also influenced cholesterol levels in blood.
Indeed, fenugreek could reduce the absorption of cholesterol and hepatic cholesterol synthesis. Thus, fenugreek can help lower "bad" cholesterol (LDL) and prevent the formation of gallstones. Fenugreek contains at least 10 chemicals with cholesterollowering effects.
* More information: Fenugreek for cholesterol
Fenugreek for digestive ulcers and heartburn
fenugreek meal is effective for treating the digestive mucosa for its emollient properties. Its components help heal wounds and repair damaged areas.
These properties are due to the polysaccharides and flavonoids that fenugreek contains, with mucosal protective effect and anti secretory properties. (Fenugreek decoction of flour and water)
Scientific studies have shown that fenugreek is as effective as omeprazole (gastric protective drug). Some researchers even suggest that the protective action exerted by glucomannan fiber from fenugreek mucilage is more effective than omeprazole, providing fenugreek plant great potential against ulcers.
This supplement is suitable for people with heartburn, gastritis and stomach ulcers. (Take fenugreek capsules with a glass of water or a decoction, before each meal).
Fenugreek is already part of some medications for heartburn, as is the case of FenuLife or Frutarom Belgium.
Fenugreek for constipation
Among the first indications when prescribing fenugreek, it is the importance of taking supplements in powder or grinding the seeds. This point means that, if we want the grains to release all their fiber and medicinal components, they must be broken or crushed.
Fenugreek seeds contain high concentration of mucilage fiber (glucomannan), a type of soluble fiber. This fiber has a great ability to retain water or become hydrated, that is, to form a gel and increase in volume.
This voluminous gel, which is formed in the digestive tract, presses the walls of the intestine and promotes bowel movement (peristalsis).
Fenugreek has emollient, antiinflammatory (due to the effect of coumarins and saponins), protects the digestive mucosa, and has a slight laxative effect.
With these types of supplements, we obtain a good constipation remedy, provided it is accompanied by a diet for constipation. (Half a teaspoon of fenugreek flour with a cup of water or milk).
Fenugreek a restorative remedy
Fenugreek is a complementary supplement to treat anemic, anorexic and inapettent people. This spice stimulates the digestive process and it is used as an overall body strengthener.
Besides, its nutritional richness in protein, carbohydrates and fats, stimulates digestion (increases digestive secretions of the pancreas). Oriental women use this remedy to round their figure.
Fenugreek for bodybuilding
Fenugreek is a food high in proteins that are easily absorbed and rich in phosphorus. This supplement helps regulate blood sugar, contains high doses of choline and it is a good antioxidant. It is used to increase muscle mass and strength, especially in extract and added to supplements for sport.
* More information:
Fenugreek for women
This plant contains estrogenic saponins, substances that are similar to estrogens or female hormones. Among these components, the most important one is diosgenin, a phytoestrogen that stimulates the production of breast milk.
It is also used to treat menstrual pain, menopausal symptoms, and as an stimulant for women. Perhaps the most popular property for this plant is its property to increase the size of breasts. However, this plant should not be taken during pregnancy.
* More information: Properties of fenugreek for women
Fenugreek for Alzheimer's disease
Fenugreek leaves are one of the most natural foods rich in choline. This vegetable, which is mainly consumed in Asian cuisine, also contains beta carotene, which along with choline are excellent protective agents against Alzheimer's disease.
These leaves are usually steamed in the traditional dish alu methi. Fenugreek seeds also have a nonnegligible amount of choline.
Fenugreek for tuberculosis
Fenugreek contains carpaine an alkaloid also present in papaya (Carica papaya), with antituberculosis activity.
External uses of fenugreek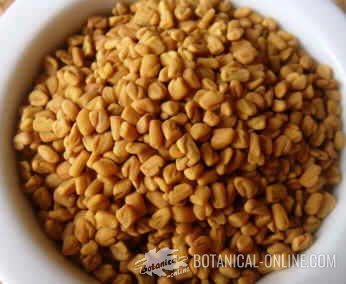 Fenugreek grains
The composition contains a type of fiber (mucilage) capable of absorbing large quantities of water, which hydrates and cleanses the skin when applied as a plaster or poultice.
It also has a high content of nicotinamide, a substance derived from nicotinic acid that can be transformed to niacin (vitamin B3).
This vitamin has properties important for skin health.
We can not forget its anti-inflammatory components (saponins, flavonoids and minerals).
Fenugreek, can be used, for example, for the following ailments:
– Joint pain: arthritis, osteoarthritis, carpal tunnel syndrome, uric acid or affected joints or pain in the toes (gouty disease).
FENUGREEK FOR BALDNESS
The external application of fenugreek on hair is used to prevent and treat baldness or hair loss. Fenugreek contains substances with anti-inflammatory and vasodilating properties favoring capillaries irrigation and hair nutrition: flavonoids (luteolin, kaempferol, quercetin, rutin), acetylcholine, arginine and minerals (potassium, calcium).
A fenugreek and oil mask will nourish your hair and will provide you a better looking shiny hair.
Fenugreek medicinal preparations – Dosage
All fenugreek preparations are made from crushed fenugreek grain or flour . Only when we grind fenugreek grain, all nutrients can be profited and its fiber mucilages released.
PREPARATIONS FOR INTERNAL USE – FENUGREEK AS FOOD
Fenugreek flour (ground seeds): take before each meal, ½ teaspoon of seeds powder with a glass of water or milk. Start treatment with low amounts (13 grams daily) and increase gradually. It can also be consumed as a condiment. Up to 25 grams per day (maximum allowed).
Decoction: preparing a slurry with 1 tablespoon of fenugreek flour (15g.), 1 cup water, 1 teaspoon olive oil and 1 tablespoon honey or brown sugar. You can add a few seeds of anise or caraway for flavoring. Fenugreek is very bittering. In case you do not tolerate its taste, take in capsules.
Infusion or tisane: Fenugreek bags are sold in 80 100g.. From 13 infusions per day as prescribed by the professional.
Dry capsules: They usually contain 2mg of trigonelline per capsule. Take 1 capsule before each meal, with a glass of water or milk. Up to 3 capsules daily. In case of having the whole seeds, you can buy empty capsules at the pharmacy and filled them with ground grains at home.
Fenugreek extract: extracts containing 1.3 mg standards. of trigonelline by 1ml. extract. Effective daily dose of such supplement is 3.9 mg. trigonelline daily. In this case, the dosage is as follows: 1ml. (approx. 20 drops) of extract three times daily. Do not exceed 4ml daily . Children under 6 years old should not exceed 1 ml. day (5 drops, 3 times a day). Children under 12 should take half the adult dosage.
PREPARATIONS FOR EXTERNAL USE- TOPICAL PRODUCTS
Plaster: 50 grams of powder or crushed seeds in decoction with 250ml. water for 5 minutes. Drain the remaining water and apply the drained product to the desired area with a gauze. It is applied directly to wounds difficult to heal, chapped or irritated areas.
Poultice: decoction (boiling from cold) of 150g of fenugreek flour in 1 liter of water. Leave it boil for 15 minutes until it forms a pulp. Let it cool for 5 minutes and apply to the desired area.
Sitz bath: decoction (boiling from cold) of 100g of fenugreek flour in 1 liter of water. Leave it boil for 15 minutes until a pulp is formed. Let it cool for 15 minutes, until cool, and do a sitz bath for 10 minutes. It is used to treat hemorrhoids.

More information on fenugreek .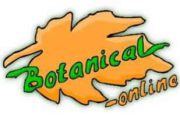 Written by
Editorial
Botanical-online team in charge of content writing