Natural remedies for tuberculosis
Phytotherapy for tuberculosis
Tuberculosis must be treated with specific drugs, medicines and medical expertise. It is a disease that can not be treated only with herbal medicine.
We can use it as an adjunct to treatment, provided that the medical staff is aware of such supplementation.
Natural Remedies with plants
– Yarrow (Achilea millefolium) Its bactericide and depurative properties makes it suitable for the treatment of most frequent respiratory diseases, such as bronchitis, cold and influenza as well as to avoid respiratory spasms in tuberculosis, asthma, allergies and hay fever (Steam inhalation of a handful of flowers in a litre of hot water)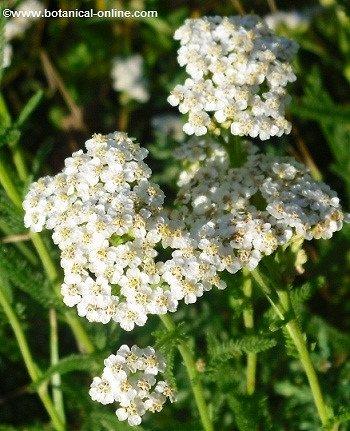 Yarrow flowers
– Hops (Humulus lupus) In traditional Chinese medicine, hops was used as the antibiotic for treatment of respiratory diseases, including tuberculosis.
– Fenugreek (Trigonella foenum-graecum) Fenugreek contains carpaine an alkaloid also present in papaya (Carica papaya), with antituberculosis activity.
– Knotweed (Polygonum bistorta L.) Bistort is a plant used as an aid in the prevention of tuberculosis infection, among many other damages involving inflammation of tissues. It is usually taken with macerated wine for 3 or 4 days.
A ratio of ¼ liter of alcohol of 45 ° for half of the root of the knotweed, which the second day one should add a bottle of wine (0'75l). Take each day a little glass (75ml) spread over a meal, ie morning, noon and night.
– Tincture of echinacea (Echinacea spp.), Echinacea in capsule or powder form (can take 1 to 2 grams per day, divided between breakfast and lunch) It will help us increase our defenses making our system more resistant immune against attacks by pathogens such as bacteria that cause tuberculosis.
Echinacea helps us to minimize some aspects of the disease and symptoms, and giving us mineralizing properties against sputum blood and mucus that causes pulmonary tuberculosis. (Attention!, Although some specialists can recommend this plant, the German E Commission recommends not to use without the consent of the doctor or specialist)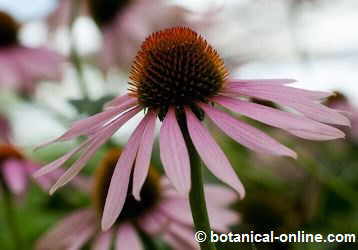 Echinacea flower
– Eucalyptus (Eucalyptus globulus) in fresh or dried leaves, but it can also be used in the form of essential oil. It has antiseptic, balsamic, decongestant, respiratory stimulant and expectorants. It Is indicated for infectious respiratory affectations, such as tuberculosis as well as for inflammatory affectations, such as bronchitis.
We can take it in the morning, afternoon and evening (half a teaspoon of leaves (let stand 15 minutes). You can add the juice of a lemon and a little honey. You can also inhale to clear the congestion)
– Tarragon: (Artemisia dracunculus) Because it acts as a natural antibiotic, tarragon seasoning was formerly used as medicine for tuberculosis (Use it as a condiment or infusion; 5g. Dried leaves in 250ml of water. Take a couple of glasses)
– Coltsfoot (Tussilago farfara) is a plant expectorant, antitussive, colds and respiratory problems, so it is indicated as a possible aid for the adjunctive treatment of pulmonary tuberculosis.
You can make a tea with half a teaspoon of flowers. It should be hot, with a little honey if desired.
– Infusion of forsythia (Forsythia suspensa) and honeysuckle (Lonicera japonica), joins the antiseptic properties of the first with the beneficial properties for the respiratory system which gives us the second. Whereupon, it is also very interesting, to help combat the damages of tuberculosis.
– Mullein(Verbascum thapsus) is a plant that has beneficial properties to improve respiratory system problems. It is usually indicated in affectations as colds, inflammations and infections that affect the lungs and around.
(Infusion is usually done with half tsp of flower petals in a liter of water. Let stand for half an hour and take to help treat tuberculosis.
– Ivy (Hedera helix), is a plant with antiseptic, balsamic, decongestant and stimulant of the respiratory tract, expectorant,… is usually indicated to alleviate symptomatology as cough and respiratory congestion.
You can prepare an infusion with a pinch of flowers, or with a teaspoon of leaves with a little honey and lemon, in both cases must be taken in the morning, afternoon and evening.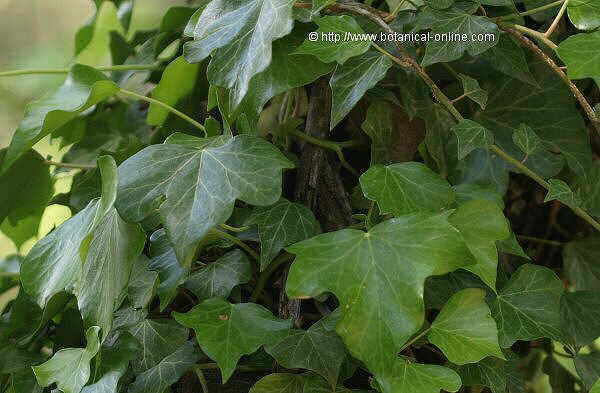 Ivy plant
– Greater plantain (Plantago major) for its expectorant properties is indicated on tuberculosis and other affectations of the respiratory tracts such as in bronchitis.
You can make a tea with a teaspoon in a liter of water. Let stand for fifteen minutes and is preferable to take it hot. You could also add honey and lemon if desired.
– Walnut (Juglans regia), is a tree whose leaves are used to make tea (half a teaspoon) in a liter of water and let it rest for fifteen minutes and spread over the day in three doses. He is credited with a considerable content of vitamins and beneficial effect against tuberculosis.
– Pine (Pinus sylvestris L.) is an expectorant and antitussive, which can be helpful in respiratory problems, and is also indicated for infections such as tuberculosis.
You can make an infusion of 100 g of shoots in a pint of hot water.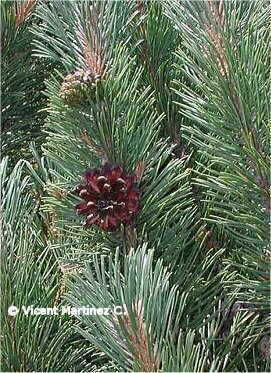 Pine tree cone buds and needles
– Lungwort (Pulmonaria officinalis) is a plant that has soothing, anti-asthmatic and expectorant that can help address affectations of the respiratory system such as pulmonary tuberculosis.
It can be taken as a decoction or infusion (a teaspoon of lungwort leaves in a liter of warm water. Let stand 15 minutes and add freshly squeezed lemon juice and honey if desired)
– Licorice (Glycyrrhiza glabra) also has antibacterial effect, which can help fight tuberculosis. It can be used as a sweetener in other infusions.
Other plants with antituberculosis properties we can help.


More information on tuberculosis and its natural treatment.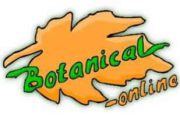 Written by
Editorial
Botanical-online team in charge of content writing