Benefits of licorice (Glycyrrhiza glabra)
MEDICINAL PROPERTIES OF LICORICE
Licorice herbal medicine
Internal use preparations with licorice
Licorice for upset stomach
Antispasmodic, anti-inflammatory and antacid: The root of this plant has antispasmodic and anti-inflammatory properties of the gastric mucosa, which helps to prevent or treat bloating, indigestion or other more serious bowel diseases such as ulcerative colitis or Crohn's disease (Infusion of a teaspoon of crushed dried root per cup of water. Take 2-3 cups a day.)
Celiac disease: The root of this plant has antispasmodic and anti-inflammatory properties of the gastric mucosa, which helps prevent or treat inflammation and prevent cramps (Infusion of a teaspoon of crushed dried root per cup of water. 2 cups per day.)
However, the preparations with DGL licorice (licorice without glycyrrhizin) have proved to be more effective to counteract the neutralizing excess stomach acid with it. This property is especially useful for applying treatments in cases where action is required to reduce stomach acid such as heartburn, stomach ulcer, esophagus ulcer, stomach ache or sores in the mouth. (3 wafers chewing of licorice without glycyrrhizin about three times each day) It also appears to alleviate constipation.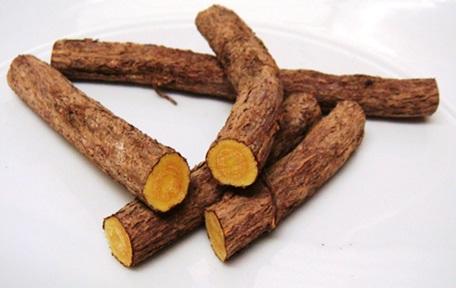 Photo of licorice root cut and ready for use as sold on the market
Licorice root for liver
Protector of the liver. It has been demonstrated that the ingestion of standardized products with glycyrrhizin from licorice has a protective function of the liver, releasing those toxic substances that are harmful, protecting and revitalizing liver cells. This property is useful for treating liver diseases such as hepatitis B or cirrhosis (3 tablets a day of licorice root) It can be used for the natural treatment of alcoholism.
Licorice sore throat
In addition to its bactericidal properties, the licorice has anti-inflammatory and soothing properties of the respiratory mucous membrane so that its root is highly suitable for the treatment of respiratory ailments such as sore throat, cough, loaded chest, cold, asthma, wheezing, etc. (Make a decoction with a teaspoon of dried root per cup of water. Take three glasses per day maximum).
The ability of glycyrrhizin to inhibit the growth of viruses has been used to combat a series of viral type illnesses:
It has experimentally been shown in AIDS patients that glycyrrhizin can delay against symptoms that occur with this disease once it manifests. (The administration of a preparation containing glycyrrhizin according to the terms of the patient information leaflet may be appropriate for these patients)
Glycyrrhizin properties can be exploited for the treatment of influenza or swine flue. (Make a decoction with a teaspoon of dried root per cup of water. Take three glasses per day maximum).
Licorice for depression
Licorice helps fight depression. This property is accomplished by the presence of various minerals like calcium and magnesium, vitamin C, beta-carotene, betulinic acid and flavonoid isoliquiritigenina (This latter studied experimentally to inhibit the growth of cancerous tumors) (Infusion of a teaspoon of crushed dried root per cup of water. Take 2 cups daily.)
Licorice for hay fever
Used especially to relieve rhinitis, one of the main symptoms of fever, hay fever or pollen allergy (Take capsules sold in pharmacies and herbalists in accordance with the terms and conditions of the prospectus)
Licorice chronic fatigue syndrome (CFS)
Glycyrrhizin of this plant has hypertensive properties that can be used for hypotension. It can also be used to raise the spirits of patients with chronic fatigue syndrome or other types of fatigue.
Moreover, we must not forget the antidepressant properties of this plant that can treat other depressive symptoms that develop many patients with this disease. (Infusion of half teaspoon of crushed dried root per cup of water. Take 2 cups daily.)
Licorice and estrogens. Licorice for menopause
Besides all the above properties, glycyrrhizin has the ability to regulate estrogen in women. Its use during the menopause may improve some of its symptoms (Take some standardized licorice extract according to the patient information leaflet conditions)
Licorice for altitude sickness
Licorice has over 15 antiplatelet principles. It is also good as a good remedy to lower body temperature. In hot summers, it is very useful to prevent heat stroke, heat exhaustion, dehydration,, etc.
With the roots of this plant "water of licorice" is prepared, a good choice for quenching thirst and keep cool. (Decoction to 3% of dried root. Serve chilled or over ice. Very useful for altitude sickness.
Licorice root and smoking: It helps to quit smoking
It's very good to suck a piece of licorice root when you have the desire to smoke, not only because it replaces the reflex habit of sucking a cigar but because this plant contains principles that help detoxify the body and make the taste of tobacco to become disagreeable.
Licorice for heatstroke
In addition to its many properties, licorice is a good remedy to lower body temperature, being very useful to avoid heatstroke, dehydration, etc. during hot summer. With the roots of this plant we prepare "water of licorice", a good remedy to quench thirst and keep cool. (Decoction to 3% of dried root. Serve chilled or over ice.)
This treatment would be adequate to prevent or treat symptoms associated with altitude sickness because of its anti platelet blood properties (it prevents blood clots formation in the blood vessels) and its ability to hydrate one's body.
Licorice stimulant
Mexican sarsaparilla (Smilax officinalis), along with licorice, have been used traditionally to increase desire. You can make a decoction mixed with sarsaparilla and licorice for a treatment that will be held for a month. (Decoction for 10 minutes of mixing two tablespoons of licorice root and two tablespoons sarsaparilla root per liter of water. Drinking a glass a day divided into two doses before the two main meals.)
Main curative properties of licorice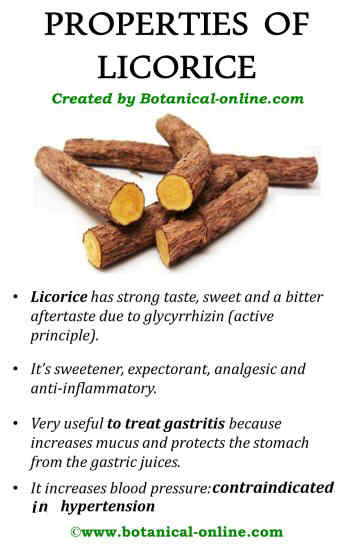 External use preparations with licorice
Licorice, microorganism growth inhibitor
The applications of licorice for external use are based on the capacity of this plant to inhibit growth of microorganisms, either virus, bacteria or fungi. Among the many applications we should highlight the following:
Herpes: The application of a rinse with the decoction of a piece of dried root for 15 minutes on the face or chest of the patients of herpes zoster helps faster healing of sores and decreases their pain. (To help their treatment, part of the decoction can be taken internally)
Fungi: The same treatment previously seen can be useful for the external treatment of the fungi. (Dip the affected area with a gauze soaked with the liquid from the decoction)
Psoriasis: The application of licorice root extract on the skin affected of psoriasis helps improve their condition and helps the conventional treatment to be more effective.
Infections of the vagina: Vaginal cleansing with liquid from this decoction helps eliminate microorganisms. For vaginal infections it may be interesting to strengthen immunity from time to drink the liquid from the decoction of a teaspoon of crushed dried root per cup of water.
Licorice and hair Treatment
Hair loss: Licorice helps preserve hair conditions by inhibiting the formation of the hormone dihydrotestosterone. (Make a decoction with a piece of licorice. Cool and add the liquid to your regular shampoo)
Oily hair and dandruff: Licorice decreases fatty secretions of the hair and allows better control of dandruff and seborrhea. (Infusion of the dried plant. Mix with vinegar and rinse your hair after washing.
Contraindications of licorice
It is a plant whose long use has proven to be toxic. It also presents a few contraindications and interactions with certain drugs that deserves to be considered.
*More information about Toxicity and contraindications of licorice
*Related information: Glycyrrhizin properties


More information about medicinal plants.
This article was endorsed by
Montserrat Enrich
- Journalist specializing in edible wild plants and plant uses.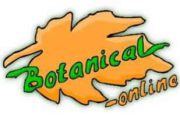 Written by
Editorial
Botanical-online team in charge of content writing