Herbal remedies for hypertension
The use of medicinal plants are a natural way to prevent or cure hypertension in cases of mild hypertension. They can also be an aid to reinforce the medication that patients take to treat cases of hypertension, whatever its level. If taking medication, please consult with your doctor about the use of these remedies.
Phytotherapy: Medicinal plants preparations to treat high blood pressure
Phytotherapy in the treatment of hypertension requires the use of a number of plants whose primary function would be:
– Vasodilator plants that lower blood pressure.
– Diuretic plants that remove body fluids and expel the excess of sodium, thereby reducing hypertension. The use of these plants is a natural alternative to chemical diuretics.
– Antithrombotic plants that prevent clots in arteries and help to eliminate them.
For internal usage
Among the main plants for high blood pressure we could mention the following:
– Mistletoe(Viscum album): It strengthens the heart, prevents atherosclerosis and reduces cholesterol.(Decoction for 15 minutes of a teaspoon of branches and leaves per cup. Do not exceed this amount. 5 g of plant as a maximum per day)
– Yarrow (Achillea millefolium): (Infusion of a tea spoonful of floral summits by each glass of water. Drink a couple of cups a day.)
– Chicory (Cichorium intybus): (decoction for 12 minutes of 50 g of dried root per liter of water.) (Take half a glass of juice of the plant, which can be found in specialty stores or in pharmacies, drink several times daily)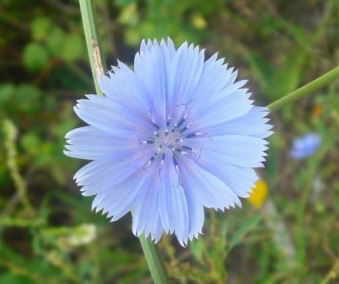 Chicory flower
– Aronia (Aronia melanocarpa): Aronia juice supplements can help you in your natural hypertension treatment (Take aronia supplements acording to the patient's leaflet)
– Hawthorn (Crataegus monogyna): (Infusion of a spoonful of dry flowers, two or three times a day.)
– White hawthorn (Crataegus oxyacantha): Its use helps to lower high blood pressure by increasing the size of blood vessels in the body periphery. The main components that give this property are the minerals calcium, potassium and magnesium along with the flavonoids quercetin and rutin and vitamin C (Infusion of a spoonful of dried flowers, two or three times a day.) (2 tablespoons maceration dried flowers in 80 g of alcohol at 30 º. 90 drops daily diluted in water over 3 doses)
– Moringa (Moringa oleifera): In animal studies, it was found that moringa was very effective in preventing cardiovascular diseases such as hypertension, atherosclerosis, heart attacks, strokes or other problems of the cardiovascular system.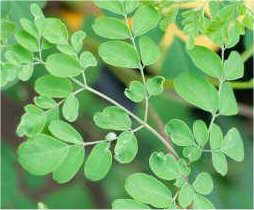 Moringa leaf
– Garlic (Allium sativum): Garlic, besides reducing cholesterol in the blood, dilates the arteries and prevents thrombus formation in them and hence reduces hypertension. Studies in the University of Indiana in United States, showed that ingestion of 12 g daily (equivalent to a clove) for 3 months significantly reduced hypertension in all the patients subjected to this study. (Raw in salads) (Take garlic capsules)
– Mango (Mangifera indica): (Decoction for 20 minutes of a couple of semi-dry leaves in the sun for 14 hours cut up in a liter of water. Let stand for 60 minutes and take a couple of glasses a day for 3 days. Rest for a week and repeat the previous treatment.)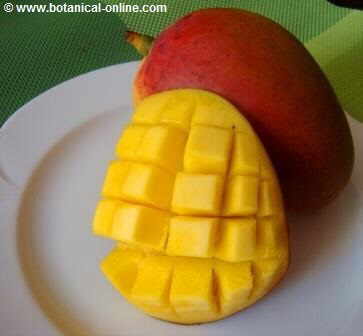 Mango
– Celery (Apium graveolens): It is one of the best diuretics, so it is appropriate to reduce hypertension. (eat raw celery)
– Lime (Citrus aurantifolia): It is considered that lime balances the nervous system, because in their oils there are calming essences.) (Infusion of a teaspoon of dried leaves three times a day, or infusion of the bark of key lime)
– Guanabana or soursop (Annona muricata) Glycosides in the bark and leaves have hypotensive and vasodilator activity. Do not use if already taking medication for hypertension
– Stevia (Stevia rebaudiana) Its components have demonstrated a hypoglycemic effect, which help reduce the level of blood sugar in type 2 diabetes (adult diabetes). (Infusion of 1 tsp stevia per cup, three times daily) (Sweetener stevia extract).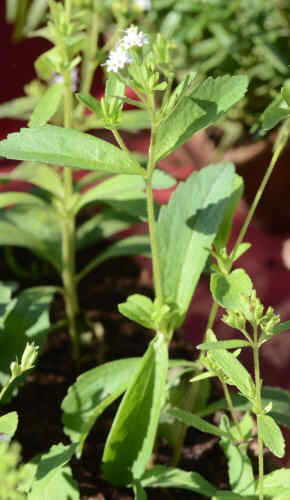 Photo of the stevia plant.
– Kumquat (Fortunella spp): Scientific studies have shown that the skin of kumquat has components with antihypertensive properties (Take the whole fruit, including the skin)
– Olive tree (Olea europaea): (Two or three cups a day with the infusion of some leaves per liter of water)
– Pellitory (Parietaria officinalis) (Two to three infusions per day for a couple of tablespoons of dried leaves per liter of water can be used in diseases in which it is useful to remove fluid from the body (this remedy may be replaced by tincture. In this case take 40 drops daily diluted in water divided into three daily doses)
– Violet (Viola odorata): By means of increasing diuresis, it favors the elimination of liquids, being suitable for the treatment of hypertension. Moreover, the alkaloids contained in this plant possess hypotensive properties. (Infusion of a half teaspoon of dried flowers per cup of water. Drink a cup a day)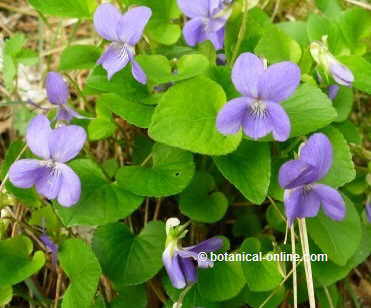 Violet flowers and leaves
– Ginseng (Eleutherococcus senticosus, Panax quinquefolium): American ginseng or Siberian ginseng have been proved to be able to stabilize blood pressure levels, making it useful both in cases of hypertension and hypotension. (More information about them in the different studies of each plant)
– Juniper (Juniperus communis): The use of this plant helps in the treatment of hypertension. By removing excessive liquids blood pressure is reduced. (10 minutes d infusion of half a teaspoon of crushed fruits per cup of water. Drink 3 cups per day)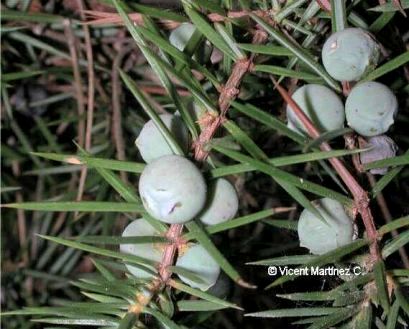 Juniper
– Fumitory(Fumaria officinalis) (Infusion of half a handful of dry leaves by liter of water, during 15 minutes. Take 3 glasses a day. Prolong the treatment more than 10 days. During the fist 10 days of treatment this preparation exerts the opposite effect, that's to say a hypotensive value.
– Spirulina (Spirulina ssp.) Spirulina prevents blood clots in the arteries (by means of preventing platelet aggregation) and slightly decreases blood pressure.
– Grama/ Bermuda grass (Cynodon dactylon): (3 drops of fluid extract several times a day. Sold in pharmacies)
– Hibiscus (Hibiscus sp.): (Tincture of hibiscus which can be found in pharmacies or herbalists according to the terms of the patient information leaflet)
– Lemon (Citrus limonum): (lemon Cure: Take the juice with water. Increase the dose gradually, adding a lemon every day until 11 or 12. Reverse the process again until you get a lemon every day for 15 days.)
– Maize / Corn (Zea mays): " beards" or stigmas of maize is one of the best natural diuretics. (Decoction 50 g per liter of beards of corn for 20 minutes. 4 cups per day)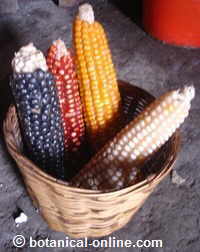 Corn
– Birch (Betula alba): for its ability to eliminate fluid from the body, preparations of this plant help to treat high blood pressure. (Infusion of half teaspoon of leaves per cup of water. Take two or three glasses a day)
– Lavender (Lavandula officinalis, Lavandula latifolia): lavender helps to slightly reduce blood pressure, especially when this is due to nervous disorders. Besides, it is slightly diuretic, meaning that it is suitable for the elimination of liquids, which also helps lower high blood pressure a bit. (10 minutes infusion of a spoonful of dried flowers per cup of water. Take 2 cups per day)
– Rice (Oryza sativa): A balanced diet with brown rice helps lower blood pressure
External remedies for hypertension
Mustard (Brassica nigra) Footbaths with mustard promotes blood circulation throughout the body. (15-30g of mustard flour in 1 liter of hot water for 10 minutes. Take foot baths).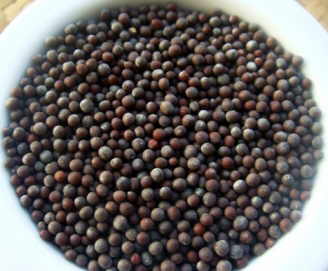 Photo of black mustard seeds (Brassica nigra)


More information about high blood pressure.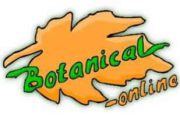 Written by
Editorial
Botanical-online team in charge of content writing