Food recommended for high blood pressure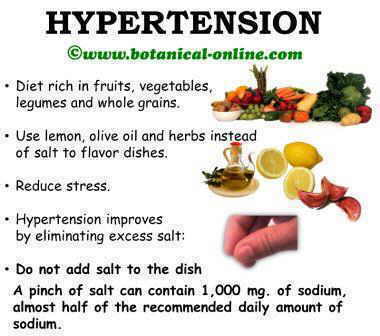 Summary of the diet to reduce high blood pressure
Lowering high blood pressure with the diet
Food plays a key role in the prevention and control of high blood pressure.
A balanced diet combined with regular exercise program, tailored to the characteristics of each person, and changes in life habits eliminating toxins and reducing stress, can solve many problems of mild hypertension.
In cases of severe hypertension, a proper diet can help reduce the severity of this illness and to complement other treatments.
Healthy blood pressure diet
Both official medicine and alternative medicine recommend a suitable diet for the treatment of hypertension:
In general, a balanced diet is recommended, rich in natural food in which the content of fruit and vegetables should be very high.
It must be a diet rich in fiber, calcium, potassium, vitamin C and essential fatty acids.
A vegetarian diet would be most effective in the treatment of this disease.
It has been demonstrated in comparative studies that vegetarians have lower rates of blood pressure.
FOODS RECOMMENDED TO REDUCE HIGH BLOOD PRESSURE
Foods rich in potassium
Potassium counteracts sodium, helps remove excessive water from the body and reduces blood pressure.
Foods specially rich in potassium contain, for example, lettuce, potatoes, tomatoes, zucchini or chayotes.
Other plants very rich in potassium are vegetables such as borages, spinach, asparagus, or peas and fruits such as pomegranates, peaches, apricots, grapes, and bananas.
Foods rich in calcium
Calcium protects the heart, relaxes arteries and helps maintain a balance between sodium and potassium.
The plants that have this mineral are those that have dark green leaves like spinach (These, however, are not recommended as sources of calcium because they contain oxalates, which block its absorption), broccoli, cauliflower, cabbage and citrus fruits as lemons, oranges, etc.
Legumes contain plenty of calcium, such as it happens in dried beans or soybeans. Other foods with a high calcium content are whole grains (particularly oats), nuts (particularly almonds) and seeds (particularly sesame seeds).
Dry figs are particularly interesting because of its richness in this mineral and especially interesting is the soybean cheese which is called tofu.
Foods rich in vitamin C
They help to lower high blood pressure by loosening the very stressed arteries. They are especially useful in cases of high blood pressure.
Vitamin C rich food sources are peppers, one of the plants of the world that has a higher amount of this vitamin after acerola (Malpighia glabra ) or dog rose fruits (Rosa canina).
Citrus are also very rich (oranges, lemons, etc.). Rose hips have 7% of its weight in vitamin C, a very large amount compared to the 0, 5% of oranges.
Other plants that contain this vitamin include radishes, Brussels sprouts, spinach, bananas, apples, grapefruit, melons, watermelons, carrots, pineapples, pears, papayas, barley, garlic, berries, celery, peas, strawberries, grapes, figs, beans, chicory, blueberries, potatoes, soybeans, cherimoyas, pomegranates, coconuts, etc.
Essential fatty acids
Essential fatty acids (omega-3 and omega-6) help reduce cholesterol, prevent clogging of the arteries and facilitate the passage of blood.
Among plant foods rich in essential fatty acids we have nuts like walnuts, pecans, almonds, or peanuts, oils such as avocados, corn oil, linseed oil, sunflower oil , or soybean oil or very interesting seeds as sunflower seeds or flaxseed.
For those not wishing to undertake a completely vegetable diet it is advisable to eat blue fish a couple times a week at least. Fish such as sardines, tuna, mackerel, swordfish, cod, salmon, turbot, shrimp, trout and herring contain essential oils very interesting to lower blood pressure.
SUPER FOODS TO REDUCE HIGH BLOOD PRESSURE
Among the food that should always be present in the diet of patients with hypertension we will specially mention the following:
– Garlic: One or two cloves of garlic daily in salads helps lower blood pressure and reduce cholesterol. The results are very significant after two to three months of eating it.
– Tomatoes: They contains GABA (Gamma aminobutyric acid) especially suitable for lowering blood pressure.
– Celery: The habitual intake of this food causes a reduction of hypertension. It is highly recommended to eat a few pieces of this vegetable daily in salads.
– Carrots: Rich in vitamin C and carotenoids, they reduce cholesterol, prevent atherosclerosis and are one of the main foods protect our arteries.
– Cabbage, broccoli, turnip and Brussels sprouts: These vegetables of the Cruciferae family are great antioxidants that prevent arterial degeneration and help to improve the health against vascular diseases.
– Dragon fruit: Because of its richness in captine it is suitable for hypertension diet.


More information about HYPERTENSION REMEDIES.
This article was endorsed by
Elisenda Carballido
- Dietitian nutritionist. Postgraduate in Phytotherapy and master in Nutrition and Metabolism.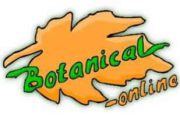 Written by
Editorial
Botanical-online team in charge of content writing