Edible properties of avocado
Characteristics of avocado
An avocado is the fruit of avocado (Persea americana) a tree of the Lauraceae family, where we can find such well-known species such as bay leaves (Laurus nobilis) and the camphor tree (Laurus camphora)
Avocado tree reaches about 20 m tall, though, when cultivated, it is not allowed to grow more than 5 m.
It has very small green flowers and a rough brown trunk. What stands out is its fruit, a pear-shaped drupe of olive green colour and with and rough surface with a yellowish green flesh and a large central stone (There are varieties that do not have stones).
There are approximately 400 varieties, we can find fruits of different weights, which can reach up to 2 kg.
Where does avocado come from?
It comes from Central America (Mexico and Guatemala), where it was already cultivated before the arrival of the Spanish and was very popular among the Maya and Aztec people.
It is still cultivated in many American countries, in the United States, Mexico, Brazil, Kenya, South Africa, Israel and Spain. is a plant that requires a very warm climate so in certain places it should be grown in a greenhouse.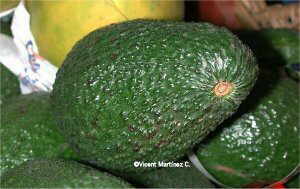 Photo of avocado.
Types and varieties of avocado
Among its many varieties we can point out:
Edranol and Ryan (South Africa).
Bacon (Spain).
Fuerte and Mexicola (Mexico).
Lula and Jim (United States).
Queen and Naval (Guatemala).
Pinkerton (Israel)
FOOD PROPERTIES OF AVOCADO
Avocado is very rich in unsaturated fatty acids
The main food characteristic of this fruit is its richness in fat in some species reaching 30%, but usually moving between 10 to 15%. The advantage of these fats is that they are formed with unsaturated fatty acids (mainly linoleic and linolenic acids)
As with olive oil, oily fish, garlic or apple, they can help to counteract the harmful effects of saturated fats contained in animal fats. They are very suitable to prevent the formation of cholesterol, reducing the risk of vascular disease such as strokes or brain hemorrhages.
Equally interesting is its high content of lecithin, which is necessary in the metabolism of fats and very useful in the fight against cholesterol and in preventing arteriosclerosis. We must emphasize the importance of this type of fat in the prevention or treatment of diseases such as Alzheimer's, depression or multiple sclerosis.
Regular consumption of this fruit is very interesting. To some extent, it can be considered as a substitute for animal fat. Vegetarians can also get into the habit of eating avocado as the main source of fats.
A fruit with many vitamins and minerals
Avocado is rich in vitamin D, which is needed to control the absorption of calcium and phosphorus in the body and prevent brittle bones and teeth.
Eating this fruit can be very useful during growth to ensure healthy bones and a correct body size, to avoid rickets. Similarly, it may be useful in other stages of life when you need one extra contribution of these minerals. It is thus particularly interesting during pregnancy and especially in old age, to prevent osteoporosis.
Apart from vitamin D, we must mention its high content of Vitamin E, a potent antioxidant that is very necessary for the proper functioning of the heart.
It is very rich in potassium, that can balance the intake of other foods rich in sodium and contribute to a good condition of the nervous system. It has also considerable amounts of magnesium, calcium and iron.
Avocado is a very useful remedy for the skin
Used externally, for its richness in vitamins D and E, it is able to stimulate collagen formation as well as saponins, making it a good balm for the skin ideal for treating many skin disorders, (More information about this in medicinal properties of avocado in the listing below) especially in cases of eczema and dermatitis. (We can combat them using a cream made with avocado pulp or by means of the external application of its oil)
These preparations can also be used for external treatment of other skin conditions, such as pimples, spots or scabs caused by psoriasis.
The soothing properties of avocado oil, extracted from its seeds, are used in the cosmetic industry as a common ingredient in many creams for skin and hair care. A good and cheap remedy for maintaining a youthful face without wrinkles is to make a mask with avocado pulp and keep it before going to sleep for half an hour on your face.
Apart from the emollient properties of its oil, we must mention its inflammatory properties that can be used to combat joint pain in painful conditions, such as rheumatoid arthritis or gout night attacks.
NUTRITIONAL COMPOSITION OF AVOCADO
Composition of raw avocado per 100 g

Water
74,27 gr.
Energy
161 Kcal
Fats
15,32 gr.
Proteins
1, 98 gr.
Carbohydrates
7,39 gr.
Fiber
5 gr.
Potassium
600 mg
Sodium
10 mg
Phosphorus
41 mg
Calcium
11 mg
Magnesium
39 mg
Copper
0,26 mg
Iron
0, 40 mg
Zinc
1 mg
Vitamin C
7'9 mg
Vitamin B1
0, 108 mg
Vitamin B2
0, 122 mg
Vitamin B6
0, 280 mg
Vitamin A
61 IU
Vitamin E
1340 mg
Folacin
62 mcg
Niacin
1,921 mg
How to eat avocado
It is usually eaten raw in combination with other vegetables, salads or simply as a cream to spread on a slice of bread as a starter, or as a healthy and energetic snack for the young. It can also replace the oil used to dress certain vegetables such as potatoes or boiled beans.
Although it is a fruit, because of its low sugar content, it may be regarded as a vegetable, so you can use it cooked and it is also part of many soups, which are made with hot (not boiling) water.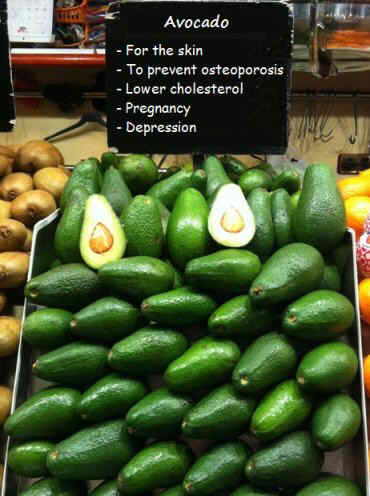 Main curative properties of avocado.
It is not very convenient to eat to much avocado because it is very caloric , especially in case of obesity or in slimming diets (as a matter of fact, when it replaces animal fat, and taken in moderation, it helps to lose weight). It is never advisable to combine it with other greasy foods, especially animal fats. It must not be mixed with fatty sauces, like mayonnaise.
Because it is harvested green, we should wait until it reaches the right point to be eaten. Ideally, it should be eaten when the pulp becomes soft and can be easily removed and separated from the stone with a spoon.
We must use it immediately after opening, because it oxidizes easily and turns black. A resource to prevent this from happening is to add a few drops of lemon juice, wrap the avocado in plastic and keep it in the warmest part of the fridge
Natural Recipes: Avocado recipes


More information about avocado.
This article was endorsed by
Elisenda Carballido
- Dietitian nutritionist. Postgraduate in Phytotherapy and master in Nutrition and Metabolism.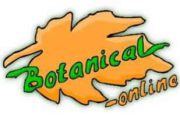 Written by
Editorial
Botanical-online team in charge of content writing