Carrots and betacarotenes
BENEFITS OF CARROTS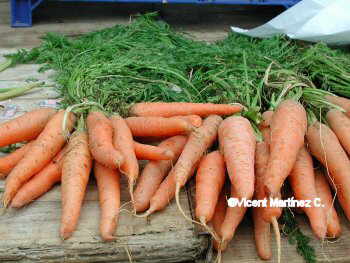 Betacarotene carrots: Vitamin A
CARROTS are rich in carotenes, some compounds that the liver transforms into vitamin A. Among all carotenes the most important one is beta-carotene.
This component appears in orange and dark green vegetables, as cabbages, sweet potatoes, pumpkins, and spinach or in fruits, as mangoes, grapefruits, apricots or melons.
It has been found that carotenes prevent the appearance of certain cancers, especially lung or mouth ones. Betacarotene also impede the development of cancerous cells, preventing pre-cancerous cells to become become cancerous.
It has been proved the antioxidant power of beta-carotene. Its ingestion protects us against the destructive action of the free radicals, some agents produced by external causes, as contamination, or by internal causes of our own body that attack our cells producing degenerative illnesses, as a premature aging or bad arterial health.
Carrots are a source of antioxidants
Among all the antioxidant properties of beta-carotenes we could mention the following ones: anti-cancerous, anti-mutagenic, anti-tumoral, inmunoestimulant, anti-coronary, anti-ulceric, anti-photobic or anti-degenerative.
Properties of carrots for heart diseases
Eating carrots will help us to diminish cholesterol and to prevent arteriosclerosis. It is an alkalinizer element that helps to purify blood.
Carotenoids possess such important virtues as to protect our arteries.
Eye benefits of vitamin A and beta-carotene
The presence of betacarotene in the body also guarantees the good health of the vision. Vitamin A deficiency can produce MANY eye disorders, especially vision problems with low light like night blindness.
This vitamin is very useful to prevent or delay the formation of cataracts, eye floaters, hypersensibility to sun light, hypermetropia, myopia , presbyopia, astigmatism or macular degeneration.
What can carrot do to your stomach?
Cattots protect our stomach against the formation of ulcers , diminish de symptoms of hiatal hernia or they help us to stay younger during more time.
Properties of carrots for your intestine
Carrots are laxative so that they are useful to avoid or to solve constipation.
It has been proved that their ingestion favors a good intestinal regulation, preventing the appearance of colon cancer, diverticulosis or diverticulitis.
At the same time, because their wealth in pectins, they constitute a good remedy to combat diarrhea, being very interesting in cases of infantile abnormal evacuation.
Besides carotenes, they contain a lot of vitamin C and iron which are very suitable for everybody, including for babies' health.
A carrot, well-boiled, crushed and sieved can be suitable for a baby's meal. It is very digestible and it helps to keep the digestive tract in good state, as well as to favor the formation of the red globules, preventing the anemia.
A simple treatment performed with carrot juice can be very useful for pinworms. (Mash carrots and drink the juice) Carrots also constitute a good resource to get rid of intestinal worms. It is a good natural remedy to eat half cup of grated carrot without breakfast and leave the stomach empty for an hour and a half so that it can be well digested. Carrying out this treatment during 4 or 5 days can eliminate the annoying parasites.
Regular consumption of this vegetable can help prevent or decrease the toxicity of food poisoning caused by listeriosis.
Carrots take care of your skin health
They also take care of the good state of our skin, our teeth or our gums, dryness in the skin, juvenile acne or a bigger easiness for infections.
They can externally be used to cure skin problems, as eczema, wounds, burns or sunburns. They are very useful to palliate the destructive action of the ultraviolet rays, reason why they take part in the composition of many solar filters.
A mask of carrot pulp during half hour also favors the smoothness of the skin, eliminating skin spots, face blemishes, bags under the eyes, wrinkles, pimples , stretch marks.or avoiding them to appear. A carrot mask to treat acne is very useful.
Grind a carrot and apply a poultice on the painful area affected because of breastfeeding. Apply a poultice on the painful part of the breast affected by mastitis.
Smokers should take carrots
Betacarotene content of carrots is healthy. However, in spite of all their benefits, studies carried out in smokers that took supplements of beta-carotenes demonstrated a bigger incidence in lung cancers than in smokers that didn't take this component.
This induced the doctors to advise people to take this beta-carotene from foods instead of taking it isolated or in combination with other vitaminic supplements until more conclusive studies on the topic are carried out.
A natural solution consists on a good diet containing products rich in this component which can only produce beneficial effects. Eating raw carrots can alleviate the need for smoking.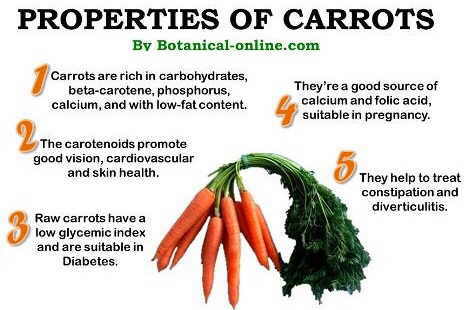 Main properties of carrots
Hypercarotenodermia
The consumption of foods rich in beta-carotenes develops a yellowish pigmentation on the consumer skin, specially in the palm of the hand (hypercarotenodermia).
It does not cause any harm at all and progressively disappears as we stop to eat these foods in big quantities.
How to eat carrots?
To take advantage of carrots wealth in vitamins and minerals it is convenient to eat them raw in salads, mixed with other fruits or vegetables, although it has been demonstrated that a slight cooking increases its content in beta – carotene.
For more delicate stomachs they can be taken in form of juices, even in combination with other fruits, grated or cooked with other vegetables or in purees with a bit of olive oil.
We have to keep in mind that beta-carotenes are quickly oxidized in contact with the air, so that we should consume beta carotene-containing foods as fresh as possible. In the event of peeling or grating them, they should be eaten immediately.
A raw grated carrot with a little bit of lemon is very appropriate appetizer, which can also be used in alimentary dysfunctions, as anorexia.
Composition of carrots
Composition of carrots per each 100g.
Raw
Boiled with salt
Water

87,7 g

87,3 g

Energy

43 Kcal

45 Kcal

Fats

0,19 g

0,18 g

Carbohydrates

10,14 g

10,48 g

Fiber

3 g

3,3 g

Potassium

323 mg

227 mg

Phosphorus

44 mg

30 mg

Sodium

35 mg

66 mg

Calcium

27 mg

31 mg

Magnesium

15 mg

13 mg

Vitamin C

9,3 mg

2,3 mg

vitamin A

28000 IU

24554 IU

Vitamin B 6 (pyridoxine)

0.14 mg

0,24 mg

Niacin

0,92 mg

0,50 mg

Folic acid

14 mg

14 mg
Source: USDA Nutrient Data Base


More information about CARROTS AND BETA-CAROTENE.
This article was endorsed by
Elisenda Carballido
- Dietitian nutritionist. Postgraduate in Phytotherapy and master in Nutrition and Metabolism.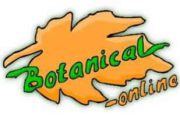 Written by
Editorial
Botanical-online team in charge of content writing