MEDICINAL PROPERTIES OF SWEET POTATOES
BENEFITS OF SWEET POTATOES
Sweet potatoes are good for the skin
Sweet potato is one of the richest vegetable in tocopherol, an antioxidant vitamin that helps maintain healthy skin and improves wound healing.
This tuber is also suitable for the skin diet, and particularly in diets for wrinkles, dermatitis and psoriasis.
Furthermore, because of its contribution in folic acid, is an ideal food in pregnancy, for a balanced diet and to prevent stretch marks during pregnancy.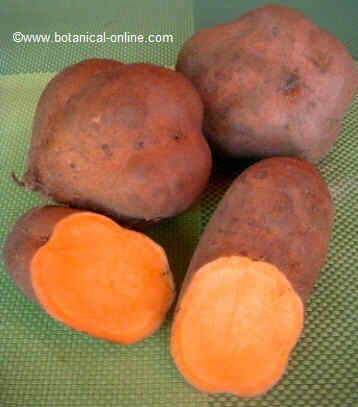 In the image: sweet potato tubers (Ipomoea batatas)
There are also some folk remedies in which the plant leaves are crushed and mixed with an ointment, used to treat skin rashes.
Sweet potatoes are good for a better vision
Like all foods rich in vitamin A as carotene, sweet potato is a beneficial food for eye health. It is suitable in the diet for cataracts, glaucoma, night blindness and generally to help treat diseases of vision.
Sweet potatoes take care of your cardiovascular health
The flashy color of this tuber just announces its richness in antioxidants. Indeed, sweet potato is a valuable food for its richness in components as tocopherol, flavonoids and carotenoids that collaborate to improve cardiovascular health.
One study has evaluated the protective potential of this food on the heart and cholesterol levels. The results showed that the varieties of orange and purple flesh contain more antioxidants (anthocyanins), and that this food helps to improve the levels of "bad" cholesterol (LDL cholesterol).
For its benefits on the vascular system and the heart, the sweet potato has also shown potential antiatherogenic properties.
This plant is recommended in diets for cholesterol, hypertension and obesity.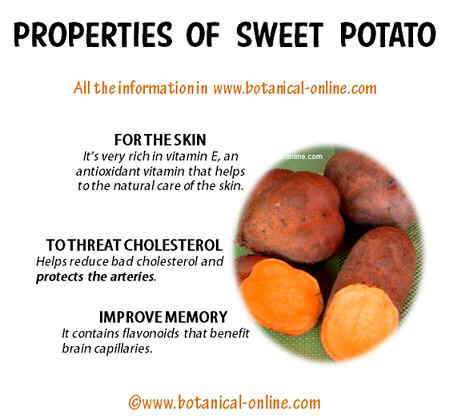 Main curative properties of sweet potato
Sweet potatoes to improve your memory
Because of its benefits to the circulatory system, this food improves cognition and helps improve memory. There is a scientific study in which some animals were fed with purple sweet potatoes (the reddest they are, the richest in antioxidant nutrients).
Because of the antioxidant effects and the blood flow improvement, this food improved the animal brain function.
These early results suggest that sweet potato can be a food in the diet suitable for Alzheimer's disease and their introduction in cases of stress, people with memory loss and during exam periods.
Another medicinal properties of sweet potatoes
– Diabetes: Although, apparently, a food may seem inappropriate for diabetes because of its sweet taste, the fact is that sweet potato is a food beneficial in type II diabetes, as demonstrated by scientific studies. (More information)
– An antioxidant food: Sweet potato is rich in antioxidants (vitamins, minerals and flavonoids), which makes it a food with a lot of potential anti-aging values. This food is the main source of nutrition of Okinawa, a long-lived Japanese population living more than 100 years.
The sweet potato is nutritious and easily digested, well suited to any anti-aging diet, diet for older people and smokers diet, requiring greater intake of antioxidants.
– For arthritis: Because of the content in anthocyanins (polyphenols) of varieties of purple and violet flesh, sweet potato is a beneficial food to help reduce inflammation in rheumatoid arthritis and osteoarthritis.
– Cancer: Its high content of tocopherol and beta-carotene make sweet potatoes a good remedy to boost the immune system and it is a protective food against breast cancer. Scientific studies have shown that women who eat foods rich in carotenoids have a lower risk of breast cancer.
In another study, conducted on animals, it was found that adding sweet potatoes in your diet reduced colon cancer lesions. Sweet potatoes have also shown anticancer properties against gallbladder cancer and kidney cancer.
A Japanese study which followed 47,997 men and 66,520 women for 10 years found that sweet potatoes are one of the most protective vegetables against kidney cancer
SWEET POTATO VIDEO


More information about sweet potato
This article was endorsed by
Elisenda Carballido
- Dietitian nutritionist. Postgraduate in Phytotherapy and master in Nutrition and Metabolism.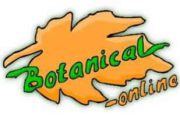 Written by
Editorial
Botanical-online team in charge of content writing