Natural cures memory loss
NATURAL TREATMENT OF MEMORY LOSS
Phytotherapy: Herbal remedies for the treatment of amnesia
Phytotherapy in the treatment of memory loss involves the use of a number of plants for the following purposes:
Plants that improve blood flow and contribute to feed neurons better.
Antioxidant plants that minimize the effect that free radicals have on the brain.
Tranquilizing plants that reduce stress and anxiety and help restore memory
Plants that enhance memory.
How to cure memory problems with plants?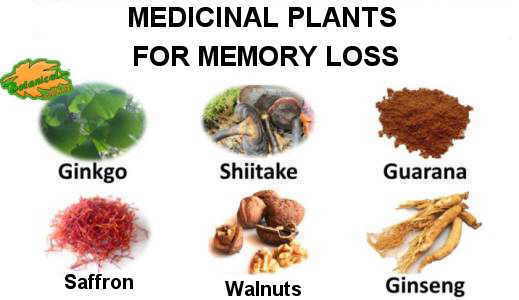 Remedies which favor the recovery of the memory
Among the main plants we could mention the following:
Plants that increase concentration and energy
Ginseng: (Panax ginseng) Ginseng, because it contains antiplatelet and vasodilator properties, improves blood circulation by keeping your arteries clean and dilating your capillaries. This promotes a better irrigation of the brain with the consequent improvement of mental work.
The ingestion of ginseng improves intellectual activity because it increases memory, comprehension ability and ease of learning. Studies conducted in groups of students showed that performance on tests improved with the use of ginseng.

Dry ginseng root, a traditional adaptogenic remedy

Those who have concentration problems should use this remedy with some frequency. This ability to keep your brain in top condition is the cause that some studies are being conducted to test the possible use of this remedy to improve the conditions of patients with Alzheimer's. (Decoction of 10% of dried plant. A glass a day)
Shiitake: medicinal mushroom that increases the vitality of the body and the adaptation to stressful situations or those requiring physical or intellectual effort. For students, people with a lot of stress, sadness, lack of energy, etc. It is useful to improve mood and provide energy.
Maca (Lepidium meyenii) Studies have shown the increasing memory power of maca (1.5 g. maca daily, divided into 3 doses of 0.5 g., during a period of 30 days)
Plants that promote blood flow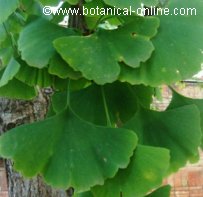 Ginkgo leaves
Ginkgo: (Ginkgo biloba) Poor circulation in the brain is the cause of many serious and crippling diseases. One of the most dangerous are strokes that can cause death or paralysis of body parts.
Ginkgo extract improves circulation of the capillaries of the brain, increases resistance and helps to prevent breakage. The preparations of this plant, not only prevent against spills, but also prevents a range of symptoms associated with poor circulation in his head: dizziness, ear ringing, deficient speech, memory problems, senile dementia, concentration problems, migraine, hearing loss, vertigo, etc. (Administer it, according to the conditions of the information leaflet between 60 and 240 daily mgs of this product, available in pharmacies or herbalists)
Gotu kola = Asiatic Pennywort (Hydrocotile asiatica) Another plant that improves circulation to the brain and enhances memory. (Take this product available in pharmacies and health food stores under the conditions of the patient's leaflet )
Bilberry: (Vaccinium myrtillus) It can help to reduce memory loss problems caused by poor circulation. (Infusion of a spoonful of nuts per cup of water. Take 2 cups per day)
Green tea (Camellia sinensis) It is rich in antioxidants, naringenin and choline, so the infusions of this plant could be beneficial in case of lost of memory.

The antioxidant properties of green tea can preserve your memory longer.
Plants that enhance memory
Thyme (Thymus vulgaris) Like the two previous plants, it contains enough naringenin. Furthermore, thyme is rich in niacin (vitamin B3), a compound important to the supply of glucose to the brain and in the preservation of blood vessels. (Infusion of a spoonful of dried plant per cup of water. Drink two cups a day)
Yarrow (Achillea millefolium) This plant is rich in choline, which, among many other functions, it is very important for the transmission of nerve impulses and helps maintain good memory. (Marinate three tablespoons of flowering tops in one liter of white wine for 7 days. Take 3 cups a day, one after each main meal)

Yarrow can help preserve your memory

Marshmallow: (Althaea officinalis) It is one of the richest plant in choline. Its use helps boost memory. (Infusion of a teaspoon of dried leaves and flowers per cup of water for 10 minutes. Two cups a day)
Soybean (Glycine max): Soy lecithin, because it contains phospholipids, it is recommended to help improve memory. Phospholipids or lecithins are components of brain transmitters.
Soybean supplement enhances cognitive abilities (1 teaspoon after meals). Legumes and nuts are foods naturally rich in lecithin.
Guarana: (Paullinia cupana) It improves cognition. (Take a supplement of guarana)
Antioxidant plants to keep your memory health
Most antioxidant plants have a positive effect on prevention and natural treatment of memory loss. The alternate use of any of these medicines is recommended. (See more about antioxidants)
Saffron (Crocus sativus) The antioxidant power of this aromatic spice, helps protect the brain from stress, improving memory. Consideration is being given to its protective effect on degenerative diseases like Parkinson's, Alzheimer's and memory loss. (Decoction of 0.5g saffron. Boil 200ml of cold water to the boil, remove from heat and let stand for 5 minutes, strain and serve. Take 1-2 cups a day. Do not exceed 1.5 g. saffron daily.).
Tranquilizing plants to avoid memory loss
The use of these plants is recommended in those cases where the personal distress is responsible for memory loss or inability to concentrate (See more information on the subject)


More information on the natural treatment of the problems of memory.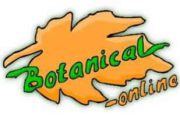 Written by
Editorial
Botanical-online team in charge of content writing