Characteristics of rose hips
What are rose hips?
Rose hips are the fruits of the wild rose (Rosa canina L), which is a shrub very similar to sweet briar or eglantine (Rosa rubiginosa L.) ‒ whose fruit,  can be used in the same way.
Of these wild fruits, their  high vitamin C content stands out. In fact, they are one of the richest foods in vitamin C in the world, along with acerola.
When is rose hip season?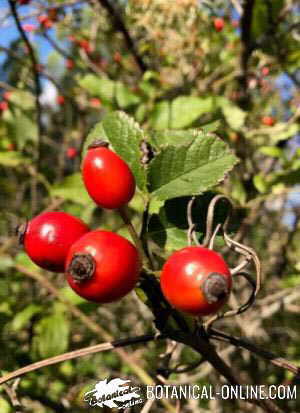 Rosehip plant, called dog rose, begins to bloom in spring. Its flowers, white or pink, also edible, are ideal for decorating wild salads.
The plant bears fruit in summer, but its fruits will not be ripe until almost autumn. Therefore, rose hips are forest fruits of the autumn season . In fact, for many, they are the typical fruit of the forest to "peck" during excursions, when you are going to look for mushrooms, like the arbutus, juniper or blackthorn, all of them, fruits of the season.
What flavor does rosehip have?
Its flavor is acid and very sweet, not bitter at all. Rosehip  has a dry texture, although if a very mature specimen is found, it has a meat as juicy as a thick jam. In fact, it is a fruit with a low water content and a very dry pulp.
How to collect rose hips
It is recommended to harvest the very ripe fruits, but without them being wrinkled.
Rose hips are collected when their appearance is completely red and begins to be soft.
It is advisable to pick  them up when the first frosts take place, because they are much softer and wilted, but we risk that someone goes soft and wants to rot.
Are rose hips eatable?
Rose hips can be eaten raw or cooked, but always very ripe: when they are bright red and have a soft texture. The seeds inside, very hard and with stinging hairs, are not eaten and should be removed.
Before consuming the "wrapper" or red pulp, the hard seeds, that  they contain inside and which occupy most of the fruit, must be removed.
Benefits of rose hips
Rose hips: one of the richest foods in vitamin C in the world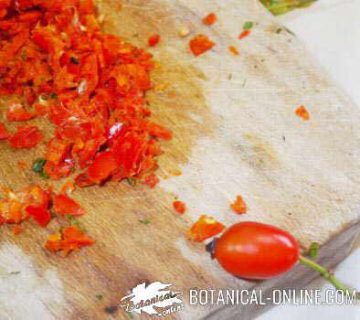 As it was said at the beginning of the article, these fruits are very interesting because of their enormous richness in vitamin C. It is said that in England, during the Second World War, rosehip syrup had been used as a supplement for children, when other fruits were scarce fresh, due to import problems to obtain other fresh fruits
Rosehip syrup provided them with all the vitamin C that was lacking in the diet, being a real antiscorbutic medicine (scurvy is the disease due to vitamin C deficiency).
Rose hips for anemia
Currently, rosehip syrup is a common ingredient in many vitamin supplements for anemia, because vitamin C increases the absorption of iron from food.
Nutritional supplements with rose hips are also used in natural cold preparations, due to the multiple properties of vitamin C for the immune system and its ability to shorten the disease time.
Rose hips for cholesterol
The huge amount of vitamin C that these fruits contain is not the only thing that makes them exceptional. Rose hips are also very rich in flavonoids such as lycopene, anthocyanins and other phytochemicals that have potent antioxidant properties.
How to take advantage of vitamin C from rose hips?
We know that this vitamin is thermolabile, that is, the temperature spoils it, therefore, if we want to take advantage of all its vitamin C, it is better not to cook the rose hips, or to apply high temperatures.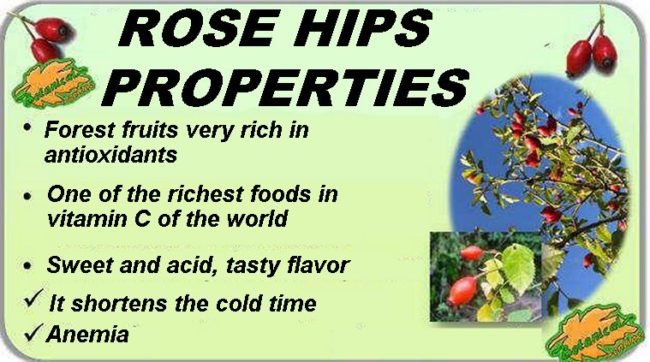 Nutritional value of rose hips
In addition to vitamin C, rose hips also contain a lot of calcium, potassium and vitamin A (in the form of beta-carotenes), in addition to the nutritional benefits of wild plants. See below the table of nutritional composition of rose hips:
Table of nutritional composition of rose hips
Nutritional composition of rose hips per 100 g.
Fat (seeds)
1,6 gr.
Protein
6,7 gr.
Fiber
4 gr.
Potassium
185 mg
Phosphorus
258 mg
Iron
0,5 mg
Sodium
145 mg
Magnesium
nc
Calcium
257 mg
Vitamin C
2.365 mg
Vitamin A
15.000 mg.


More information on rose hips and dog rose
This article was endorsed by
Montserrat Enrich
- Journalist specializing in edible wild plants and plant uses.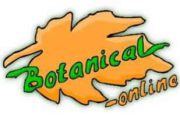 Written by
Editorial
Botanical-online team in charge of content writing