What are sesame seeds?
Sesame seeds, also known simply as sesame, are the seeds of the plant Sesamum indicum.
They are oval-shaped seeds up to about 3 mm long, black, yellow, brown or cream depending on the different variety. They grow inside pod-shaped elongated fruits.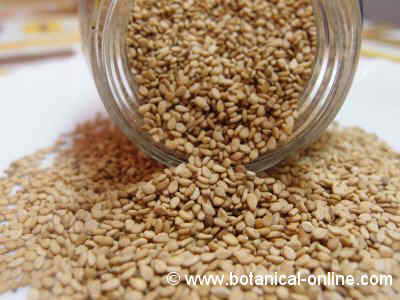 Photo of sesame seeds
Characteristics of sesame seeds
Sesame seeds are rich in oils. In fact, sesame oil is extracted from them. It is a vegetal oil widely used in oriental cooking (More information on the sesame oil in the listing below)
Sesame seeds are edible and used as a spice to flavor many dishes. They have a nutty taste and slightly bitter flavor. From them, sesame flour is produced to make bread by being mixed with flour from cereals. Sesame seeds are widely used in Asian, Arabic and Middle Eastern cuisine,.
FOOD PROPERTIES OF SESAME SEEDS
Sesame seed is rich in fats
Main curative properties of sesame seeds
Composition of sesame seeds for each 100 g
Water
4,69 g
Calories
573 kcal
Fat
49.67 g
Proteins
17, 73 g
Carbohydrates
23,45 g
Fiber
11,8 g
Potassium
468 mg
Phosphorus
629 mg
iron
14, 55 mg
Sodium
11 mg
Magnesium
351 mg
Calcium
975 mg
Copper
4,082 mg
Zinc
7,75 mg
Manganese
2,46 mcg
Vitamin C
0 mg
Vitamin A
9 UI
B1 vitamin (Thiamin)
0,791 mg
B2 vitamin (Riboflavin)
0,247 mg
B3 vitamin (Niacin)
4,515 mg
Vitamin B6 (Pyridoxine)
0, 79 mg
Vitamin B9 (Folic acid)
97 mcg
Vitamin B12 (Cobalamin)
0
Vitamin E
2, 000 mg
Vitamin D
—-
Main components of sesame seeds
Sesame seeds contain nearly half its weight in fat. They are fat food with a very remarkable quality for its richness in essential fatty acids. Both, the seeds and the seeds oil, are especially rich in linoleic acid (omega-6) and a small portion of alpha-linolenic (omega-3).
Essential fatty acids have been highly valued for their power to thin the blood, being able to reduce the levels of "bad cholesterol" (LDL cholesterol) and prevent the formation of blood clots that are responsible for many strokes, thrombosis, heart attacks, etc.
No less important is the role of these oils in the prevention of inflammatory diseases such as rheumatoid arthritis, ulcerative colitis, etc.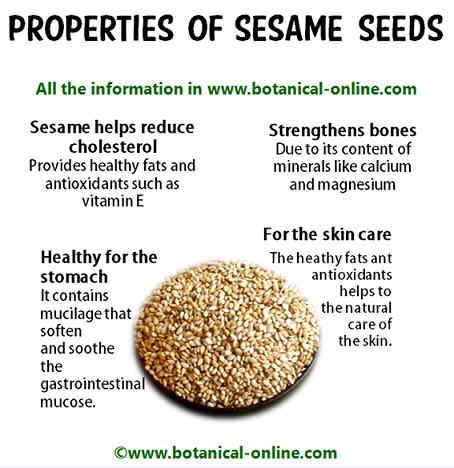 We must not forget that sesame seeds contain very high amounts of lecithin, more than soybeans, one of the most recognizable seeds in this regard. Lecithin helps keep arteries flexible to prevent arteriosclerosis.
A teaspoon of seeds in the breakfast added to the yogurt or to the muesli, mixed with a little fruit juice will be a good medicine for circulatory diseases. It will also provide a high dose of energy to face the morning everyday wear. You can combine these seeds with dried fruits, lecithin, etc.
Despite the benefits of these fatty acids, we must note the calorific value of this seed (573 kcal per 100 g) which is a clear indication of the satiating power and the need to be very prudent in their use, specially in case of obesity or weight-loss diets.
A protein-rich seed
Sesame seeds contain high content of protein of high quality level because they possess all the amino acids. The protein composition of these seeds is similar to that one of legumes. Including these seeds in the diet will help improve the health of our hair, our nails and repair the wounds in the body.
We should take the seeds roasted and finely ground to absorb these proteins easily. In this sense, some interesting dishes like tahini or sesame paste, made with toasted and ground sesame seeds. Tahini is a very rich pasta with which we prepare dishes like hummus.
To profit its properties better, it is best to combine these seeds with cereals. This will produce an ideal combination of amino acids making meals with both ingredients very nutritious.
A seed rich in soluble fiber
Sesame seeds are rich in fiber, particularly soluble fiber, specifically noted for its high content in mucilage. The properties of the mucilage in the control of cholesterol, constipation, diabetes and digestive tract irritation have been widely recognized.
Nor should we forget the importance of soluble fiber is in the retention of toxins in the gut and their subsequent expulsion to the outside through the feces, which helps the body absorb less toxins that may be responsible for the development of cancer.
Sesame seed is rich in minerals
Sesame seeds are one of the most calcium-rich foods after hedge mustard seeds (Sisymbrium officinale) The latter contain 1633 mg/100g of calcium. Sesame seeds " only" contain about 900 mg. One should consider that almonds, famous for their high content in this mineral, include 248 mg. Whole milk contains 116 mg. Sesame has also minerals, vitamins, amino acids and essential fatty acids required for calcium to be absorbed more easily.
Preparations with sesame help keep your skeleton in good condition and provide a good way to prevent the development of osteoporosis. Eating these seeds is a good way to maintain bone health during menopause or pregnancy.
Sesame seeds also are among the foods high in phosphorus. It does not reach the level of wheat germ (892 mg per 100 g in weight), but with 629 mg/100, they take advantage on oats (523 mg) and other foods very well known for having abundant phosphorus, such as hazelnuts (290), whole wheat bread (229 mg). Within fish, it clearly outweighs sardines that have 490 mg, one of the fish with the highest content, being the average about 200 mg. Phosphorus will help sesame seeds, along with calcium, to keep our bones and teeth in good condition.
Besides calcium and phosphorus, sesame seeds are on the list of foods rich in potassium, magnesium, copper and zinc. For its richness in potassium, and being low in sodium, sesame seeds help regulate body fluids and prevent fluid retention in the body.
Being very rich in zinc and copper, along with its richness in polyunsaturated fatty acids omega 3 and omega 6, eating sesame seeds help to preserve your hair in good health, and foster its growth, preventing anomalies such as seborrhea or baldness.
In addition, copper also helps to maintain the good condition of the nerves involved with iron in the red blood cell formation. (A copper deficiency can cause anemia). It also protects our defenses and prevents infertility.
A seed plenty of vitamin B and vitamin E
Sesame seeds contain significant amounts of vitamin B and vitamin E. Among all the vitamins of vitamin B group, it is best known for its content in vitamin B3 or niacin. This vitamin, together with other B vitamins, is very important to keep your skin in good condition.
It is also necessary to transform carbohydrates into energy to properly digest fats, for the proper functioning of the heart, muscles and digestive system. Sesame seeds also contain large amounts of pyridoxine and riboflavin.
The abundance of vitamin B in sesame, along with its wealth in copper, is a very interesting support from nervous system abnormalities. Including this seed in our healthy diet will help control stress, anxiety, nervousness, insomnia, depression, etc.
Sesame with antioxidant properties
Sesame seeds are on the first places of the list of foods rich in vitamin E. For its richness in vitamin E, sesame is considered as a good antioxidant. In this sense, eating sesame seeds will help to slow aging, prevent cancer or maintain the body less prone to degenerative diseases such as memory loss, vision loss, hearing loss, skin spots, premature ejaculation, etc.
The antioxidant power of sesame seeds is produced not only by its high content of vitamin E. These seeds, as we have seen above, contain much copper and much zinc, minerals that also have been proven with antioxidant properties.
In addition to these components, we must emphasize its richness in lignans (sesamin, sesamol, sesaminol or sesamolin), that are antioxidants designed to prevent these seeds to become rancid. Once inside our bodies, lignans also help to neutralize the free radicals that oxidation causes to our cells.


More information on sesame seeds and other characteristics.
This article was endorsed by
Elisenda Carballido
- Dietitian nutritionist. Postgraduate in Phytotherapy and master in Nutrition and Metabolism.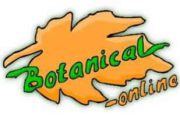 Written by
Editorial
Botanical-online team in charge of content writing