POMEGRANE PROPERTIES
Pomegranate is a fruit with high antioxidant properties
The ORAC (Oxygen Radical Absorbance Capacity) is the gauge of the effect of free radicals and its aging effect, That's to say, it measures the antioxidant capacity of a certain food. In the case of the fruit juice of the pomegranate, its value is about 3000 units of 100 grams.
There are some studies showing that the high antioxidant capacity of this fruit is due to its content in anthocyanins, polyphenols, tannins and some acids, as well as other substances such as vitamins and minerals.
However, most of its tannin content resides in the bark of fruit rather than grain. Since we do not eat the rind of the fruit, the tannins are not as important as antioxidants as then other components.
Instead, the content of polyphenols in pomegranate is very high. It is three times the level of some beverages as well known as green tea or red wine. Its antioxidant effect is also three times higher.
Pomegranate consumption is considered interesting as it can help maintain cardiovascular health and may even help prevent premature oxidation of cells, tissues,… that cause diseases such as cancer, macular degeneration, premature aging, Alzheimer's, etc.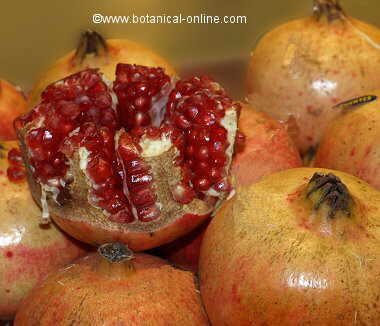 Crusted pomegranates and opened pomegranate showing the grains
Pomegranate has benefits against cholesterol and heart disease
Thanks to the antioxidant effect pomegranate can be beneficial to prevent atherosclerosis and other cardiovascular diseases such as thrombosis, angina pectoris, myocardial infarction, etc..
It works by minimizing oxidative stress responsible for increasing the arteries plaque. It also minimizes the oxidation of LDL cholesterol, helping to repair vascular damage, which high LDL cholesterol causes
Pomegranate, like all plant foods, has no cholesterol
Pomegranate is very suitable for respiratory diseases and skin care
It is often indicated for respiratory system problems and all kind of anomalies related to skin tissue regeneration. This is due to many components, specially for its vitamin C (it aids healing), and its vitamin A (it helps regenerate tissues and mucous membranes).
Its ability as an antioxidant to regenerative tissue is also evident in the maintenance of skin health. In this sense eating pomegranates has advantages from an aesthetic point of view because it helps keep the skin in better condition., Preventing premature skin aging.
Consequently, pomegranate will help prevent wrinkles, skin spots, sagging, crows feet, etc.
Pomegranate is rich in fiber
The fiber content obtained from pomegranate depends on its form of consumption. That's to say. It's very different if we use the fruit directly or we just drink its juice. In the latter case, the fiber is completely lost.
Therefore, when talking about a food rich in fiber, we refer to the consumption of fruit, not extracted from the fruit juice.
Another factor to consider is that the effect is usually attributed to prebiotic soluble fibers. This does not mean that fiber having a low proportion soluble (insoluble) is not beneficial, but the prebiotic effect is likely to be less than that we can obtain from a mainly soluble fiber.
Pomegranate, containing mostly insoluble fiber, is indicated for cases of constipation.
However, if we have the digestive or intestinal mucosa damaged, such as in gastritis or heartburn, it is advisable to consume the fruit juice, as this will prevent their fiber content to irritate our mucous membranes further, but we will also get all the vitamins and minerals that this fruit gives us to regenerate our tissues.
Pomegranate: hypotensive, diuretic and draining
Because of its balance of sodium and potassium, pomegranate is indicated to drain or increase the removal of surplus liquid, acting as a diuretic. Very suitable for liquid retention.
Its diuretic effect combined with the inhibitory effect of angiotensin, an enzyme that is responsible for regulating blood pressure, makes it also recommendable in case of hypertension.
Please note:
In case of diarrhea, foods with diuretic effect or high insoluble fiber content are contraindicated, because they would increase even more the loss of fluid and electrolytes, being counterproductive.
We recommend the use of binding foods. Exactly, those contain mostly soluble fiber together with and a proper replacement of fluids and electrolytes lost.


More information about pomegranate.
This article was endorsed by
Elisenda Carballido
- Dietitian nutritionist. Postgraduate in Phytotherapy and master in Nutrition and Metabolism.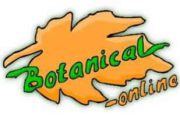 Written by
Editorial
Botanical-online team in charge of content writing