Health benefits of peaches (Prunus persica (L.) Batsch)
Characteristics of peaches
PEACH TREES (Prunus persica (L.) Batsch) are trees from the Rose family – Rosaceae – that grow all over the world in warm regions. They come from China where they were very appreciated because of their rejuvenating properties, until the point that they were considered as the symbol of the immortality.
From here they extended to Europe, being Spain, Greece and Italy the biggest producers. Peaches of New Zealand, South Africa or United States are very well known.
The peach tree fruit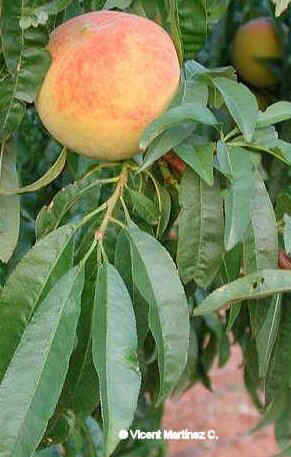 Photo of a peach tree with some leaves and a peach
The fruit of the peach tree is called peach. It is a fleshy fruit (drupe), with a skin characterized by a hairy covering, a very juicy meat that contains one or two poisonous seeds inside a great bone.
Many varieties of peaches exist, among them it is internationally well-known the peach of Calanda, a town of Teruel (Spain), of yellow, very juicy color.
There are peaches of different colors that vary from the yellow ones to the red ones.
At the moment, we can only find cultivated species and the tree doesn't exist in the wild, even in China. Nectarines (Prunus persica var. nectarina) constitute a variety of plums that produce smooth-skinned fruits
NUTRITIONAL EDIBLE PROPERTIES OF PEACHES
Antioxidant properties of peaches
The main virtue of the peaches is its wealth in carotenes, among them xantofile is the carotenoid that gives the yellow coloration to this fruit.
Among their more interesting virtues we should mention their anticancerous properties especially in the protection of stomach cancers..
Carotenes possess other virtues like those of protecting our arteries or making us to remain young during more time. Its presence in the body guarantees the good health of the vision, impeding the formation of cataracts or the hypersensibility to the solar light; the good state of the skin, of the teeth or of the gums. Therefore, peaches, for their wealth in carotenes, vitamin C and selenium, can be considered good antioxidants.
Antioxidants protects us from night blindness -, dryness in the skin, juvenile acne or a bigger easiness for the infections. They protect our stomach, impeding the formation of ulcers or they help us to stay younger during more time by eliminating the destructive action of the free radicals.
Peaches are rich in selenium that, besides protecting the heart, favors the immunity, eliminates heavy metals of the organism and intervenes in the protection of numerous cancers, such as that of colon, prostate or lungs. Without it our organism cannot produce glutation, one of the best antioxidants. It is used together with the zinc to prevent dandruff.
Are peaches digestive?
They are not very heavy for the stomach and help the liver carry out the digestive processes by increasing the production of the bile so it favors the digestion of fats. It is said to be a choleretic fruit, the same as the chicory or dandelion, for example.
They all are very useful to help in the processes of biliary insufficiency. Equally its juice, for its diuretic and acid properties, is ideal to avoid the renal calculus or vesicle calculus or help to its breakup, especially if we mix peach juice with honey. Also, it has lightly laxative properties so that it can be very effective to prevent constipation.
Are peaches suitable to lose weight?
Peaches are rich in potassium, phosphorus, magnesium, zinc and selenium, Potassium helps to maintain the water balance, counteracting the negative effect that sodium could have in the retention of liquids. Therefore it is appropriate to eliminate liquids of the organism so it can be used in the weight loss diets.
Peaches for the nervous system
Very well-known it is the importance of phosphorus in the process of formation of the bones, together with calcium, but we should not neither forget the importance of this element in the nervous system and in the brain.
To eat this fruit can be very interesting in youths that are in period of growth or those who need energy for their studies, but also in grown-ups to prevent the decalcification that leads to the osteoporosis.
Magnesium, together with the abundance that this fruit possesses in niacin, can help to calm the nerves and to prevent states of anxiety or stress. Zinc, besides being a good antioxidant, intervenes in the maturation of the reproductive organs by increasing testosterone, a masculine reproductive hormone necessary for a person to attain a normal height, avoiding dwarfism.
How to eat and preserve peaches
Many of the properties of the peach are in the skin, so it is interesting to eat this fruit without peeling, provided that they have been very well washed and produced in ecological cultivations where no pesticides have been used.
Some people find somewhat bothersome their hairy skin and they even can produce them itchy or unpleasant reactions. In this case it is also very convenient to peel them. A more practical resource consists on changing to nectarines that have very similar properties to peaches with the advantage of being richer in vitamin A and potassium, besides lacking the hairs in the peel as peaches have.
Peaches are seasonal fruits because they can not be stored for long. They should be eaten fresh and it is better to do it when they are very mature, what usually takes place between the months of spring and autumn.
To preserve them we can make marmalades or jelly They are also quite nutritious when canned in syrup and can be consumed all through the year, although they present a bigger proportion of calories and a smaller content in vitamins and minerals. It is specially appropriate the technique of drying them in the sun which allows to eat them raw, without adding sugar. Carried out in this way, they maintain all their properties practically and they are specially nutritious.
MEDICINAL PROPERTIES OF PEACHES
Internal use remedies with peach tree
– Antitussive: The infusion of dry leaves is effective in the treatment of cough, especially of irritative character.(Infusion of a spoonful of dry leaves for glass of water. A couple of glasses a day)
– Digestive tract :
It has got laxative properties, appropriate to prevent constipation, especially constipation in children (Infusion of a small spoonful of dry flowers for glass of water. Filter and drink a couple of cups a day)
If, instead of using its flowers, we use its leaves, laxative properties become more energetic to act as a purge. (Infusion during 10 minutes of a spoonful of dry leaves for cup of water. 2 cups a day, distributed in four takings)
Protector of gastric mucous membrane:It possesses emollient properties suitable to protect mucous membranes and to avoid irritation. It is very appropriate for the treatment of the duodenum ulcers. (Carry out an infusion with 20 gr. of dry peach flowers and 30 gr. of the flowers of dry nettle in ¾ of liter of water. Drink 4 cups a day after each meal) and of intestine ulcers (Carry out an infusion with a spoonful of dry flowers of peach tree and another of dry leaves of hazel tree in 750 cl of water. Drink three cups a day before the main meals)
It has antiemetic properties, specially appropriate for vomits that take place during the pregnancy. (Infusion of a spoonful of dry flowers for cup of water. Drink a cup after having breakfast)
Against the bad digestions it can be carried out an infusion with a spoonful of peach leaves and sage to to drink it after the main meals.
External use preparations with peach tree
Peach trees leaves, used externally, have beneficial properties for the skin, especially in cosmetics. Masks can be carried out with the pulp of this fruit and, applied on the face, they will be very useful to cure dry and dull skins.
The tender leaves of a peach tree can be used for the external care of the skin, eliminating spots, pimples, face blemishes, pustules and other skin imperfections. (Squeeze some leaves and apply the juice on the affected area)
Peaches and nectarines
Many people think that nectarines are fruits obtained by crossing plums with peaches. In reality, nectarines are a variety of peaches, the fruits produced by a variant of peach tree (Prunus persica var nectarina)
* More information on nectarines.
Nutritional composition of peaches and nectarines
Composition of peaches and nectarines per 100 g
Raw
Tinned in syrup
Nectarines
Water (g)

87,6

79,2

86,28

Energy (Kcal)

43

74

49

Fat (g)

0,09

0,10

0, 46

Carbohydrates (g)

11,1

19,94

11,78

Fiber (g)

2

1,3

1,6

Potassium (mg)

197

92

212

Phosphorus (mg)

12

11

16

Sodium (mg)

0

6

0

Calcium (mg)

5

3

5

Zinc (mg)

0,14

0,09

0,9

Selenium (mcg)

0,4

0,3

0, 4

Magnesium (mg)

15

5

8

Vitamin C (mg)

6,6

2,8

5,4

Vitamin A (IU)

535

332

736

Vitamin B 6 (mg)

0.018

0,019

0,025

Thiamin (mg)(Vitamin B1)

0,017

0, 011

0,017

Riboflavin (mg)Vitamin B2

0,041

0,024

0,041

Niacin (mg)(Vitamin B3)

0,99

0,61

0, 99

Folic acid (mcg)

3

3

4
*Source: USDA Nutrient Data Base


More information about natural food.
This article was endorsed by
Elisenda Carballido
- Dietitian nutritionist. Postgraduate in Phytotherapy and master in Nutrition and Metabolism.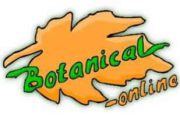 Written by
Editorial
Botanical-online team in charge of content writing