MEDICINAL PROPERTIES OF COMMON HAWTHORN
(Internal use medicinal preparations with common hawthorn)
Common hawthorn is good for heart health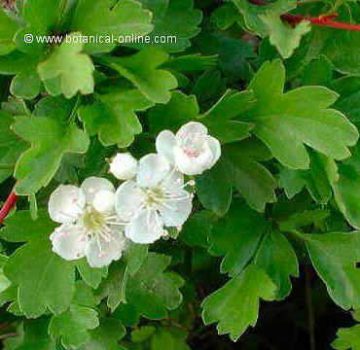 Common hawthorn has been used for a long time to take care of heart and arteries health. This plant helps to avoid many heart diseases. In Europe, it was used by the Greeks and in America by the natives with this purpose. Hawthorn has vasodilator properties of the coronary arteries which promotes blood circulation. Flavonoids (quercetin, rutin, and catechin vitexin) along with minerals (potassium, magnesium and calcium) the neurotransmitter dopamine and the purine adenine are most responsible for this property.
In addition to dilating the major artery of the heart, hawthorn has cardiotonic properties helping the body to pump blood harder. These properties allow the heart to solve problems involving a lack of rhythm or heart weakness, poor circulation, fluid accumulation by heart problems, etc.
Among the main applications of these properties there are the following:
– Myocardial infarction: The capacity of this plant to promote blood supply to the myocardium or heart muscle can especially be used in the prevention of heart attack or myocardial infarction. It has also been proven that the use of this plant is suitable to improve the conditions of the people who have suffered a heart attack. (Maceration of 2 tablespoons of dried flowers in 80 g of alcohol at 30º. 90 drops daily diluted in water, in 3 doses)
– Tachycardias and arrhythmias: The capacity of this plant to regulate the heart rate is used in the treatment of cardiac arrhythmias or tachycardias. (Infusion of a spoonful of mixture of dried leaves and flowers twice a day for a couple of months.)
– Heart failure: Due to its cardiotonic properties, common hawthorn can increase the power from your heart to pump blood more easily. This property is used to improve the condition of people suffering from mild heart failure. (Infusion of a spoonful of mixture of dried leaves and flowers twice a day) By improving these shortcomings, it can improve some symptoms associated with it, especially the problem of liquid retention which gives this plant mild diuretic properties.
– Arteriosclerosis: As they expand the arteries, the preparations of common hawthorn are effective in improving blood circulation in patients suffering from arteriosclerosis (Infusion of a spoonful of mixture of dried leaves and flowers twice a day)
– Blood pressure regulator: Common hawthorn is able to lower blood pressure when this is high or raise when it is too high, therefore be very appropriate in cases of:
– Hypertension: Its use helps to lower high blood pressure by increasing the size of blood vessels in the body periphery. The main components that give this property are the minerals calcium, potassium and magnesium along with the flavonoids quercetin and rutin and vitamin C (Infusion of a spoonful of dried flowers, two or three times a day.) (2 tablespoons maceration dried flowers in 80 g of alcohol at 30 º. 90 drops daily diluted in water over 3 doses)
– Hypotension: Because of its tonic properties, hawthorn raises blood pressure in cases of hypotension.
Common hawthorn for your nerves health
Hawthorn has sedative properties. The sympathetic nervous system is responsible for preparing the body against stress, promoting the scape or reacting against danger or threat. To do so, your body increases heartbeat, the level of blood sugar, dilates the bronchi etc. This state of alert, which is used by the body in a proper way, it is necessary to safeguard the physical integrity, but can be harmful when it is activated for too long as it is responsible for a nervous imbalance.
In addition to the consequential effects on the circulatory system (cardiac neurosis, high blood pressure, spasms of varicose veins, etc.), it affects the nervous system in general, being responsible for a state of unrest, with the appearance of disorders such as anxiety, insomnia of nervous character, tensional bruxism, vertigo, etc.
Common hawthorn, along with other plants such as valerian, passion flower or Saint John's wort, constitutes an effective remedy to reduce the problems of nervousness and their organic manifestations.
(Especially indicated for sleeping and in a state of personal anxiety (Infusion of a spoonful of dried flowers per cup of water. Take a couple of cups a day) (Make macerated dried fruit of this plant in 80 g of alcohol at 70 º for ten days. Take 40 drops before bedtime to sleep)
(In pharmacies and herbal shops, there are preparations of this plant in combination with other herbs, such as lime, lemon balm, passionflower or valerian. Drink according to the information leaflet)
The flowers of the common hawthorn against cough and the affections of the respiratory system
The flowers have been used to cure respiratory diseases. For its richness in pectin, is is an appropriate emollient to soothe the throat and respiratory tract and it is also effective in preventing the proliferation of microorganisms, because it possesses bacteriostatic properties, that's to say, it inhibits the growth of bacteria. Apply primarily in the treatment of cough, both of infectious and nervous character. (Infusion of a teaspoon of dried flowers per cup of water for 10 minutes. A couple of glasses a day)
If the preference is to reduce the fever, the bark of this plant has antipyretic properties, small reductions in body temperature. This property is caused by the presence of beta-sitosterol.
FOOD PROPERTIES OF COMMON HAWTHORN
The fruits of hawthorn to eliminate scurvy and diarrhea
Common hawthorn fruits are rich in vitamin C. Among all the properties of vitamin C, one of the most important one is its ability to combat scurvy a disease that is characterized by ease of bleeding, physical weakness and lack of iron in the blood. In places when there were not many vitamin C foods, hawthorn jam was generally made in order to combat this disease.
This jam can be made at home very easily. It tastes very exotic and, in addition to vitamin C, it is rich in vitamin B and minerals. Its use in winter to promote the healing of cold can be quite adequate. The fruits of common hawthorn share with the rest of the plant, the same antioxidant properties, capable of neutralizing free radicals and preventing the occurrence of many diseases.
Also these fruits, because they contain much starch, catechins and zinc, have astringent properties making them useful for the treatment of diarrhea. (Take jam of hawthorn fruit) These flowers have astringent properties because they are especially rich in tannins (Infusion of a teaspoon of dried flowers per cup of water for 10 minutes. A couple of glasses a day


More information on the common hawthorn.
This article was endorsed by
Elisenda Carballido
- Dietitian nutritionist. Postgraduate in Phytotherapy and master in Nutrition and Metabolism.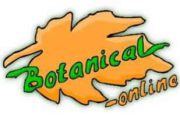 Written by
Editorial
Botanical-online team in charge of content writing