Medicinal benefits of St John's wort (Hypericum perforatum L.)
Characteristics of St John's wort
Common noun: St John's wort, Penny John, Cammock, amber, Common St. John's wort, Klamathweed, Klamath weed,
Scientific noun: Hypericum perforatum L.
Family: Saint John's -wort family – Hypericaceae
Habitat: In grasslands, woods and prairies
Botanical description and characteristics of St John's wort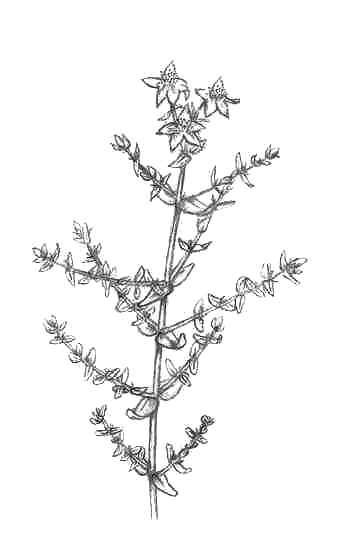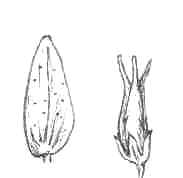 Perennial herb of the Saint John's -wort family – Hypericaceae – up to 1 m. Erect stems with two lateral lines. Leaves with a short stalk, with numerous translucent glands, resembling holes. Yellow flowers, till 2 cm wide, generally with dots on petals
.
Illustrations of St. Jhon's wort
Picking-up and storing St John's wort
Spring and particularly late June is the best season to collect this plant. – It is called St. John's wort because is in full bloom on St. John's Day – It should be dried and kept in a dry airtight container.
Composition: Active components of St John's wort
Acids: ascorbic, palmitic and estearic (plant)
Essential oils: Cineol, cariophyllene, pinene
Minerals: cadmium, lead (leaves)
Hypericin (plant)
Hiperforin (plant)
Quercetin (plant)
Rutin (plant)
Limonene (planta)
Flavonoids (flower)
Tannins (specially the flower)
MEDICINAL PROPERTIES OF ST JOHN'S WORT
Internal use preparations of St John's wort
Antidepressant: It is the medicinal property which has lately been more widely discussed. Hyperecin gives this plant antidepressive properties in cases of light depression, including postpartum depression. This component acts inside the body in the same way as synthesis drugs do, but without their counteractive inconveniences.
However some studies seem to point to hyperforin as the main substance responsible for reducing depression. No benefits have been reported in cases of hard acute depression (10 drops of tincture three times a day) (A teaspoon of crushed flowers per cup of water. 2 cups day)
It is also used for the treatment of the symptoms of the depression or fear that usually accompany people with schizophrenia. (10 drops of tincture three times daily)
Nerve tonic: A prolong usage – about 4 or 6 months – constitutes a good tonic for the nervous system. Differently to other sedatives, it has no side effects since no accumulation of toxins in the blood or liver has been detected, so it can be used as a remedy for nervousness, anxiety, Restless Legs Syndrome, etc. (A tea spoonful of smashed flowers 2 times every day)
Urinary incontinence: Suitable for the treatment of incontinence caused by nerve problems or depression (10 drops of tincture three times daily) (A teaspoon of crushed flowers two times a day)
Amenorrhea: For amenorrhea or lack of temporary menstruation (Infusion of a teaspoon of flowers by water cup. Take 2 cups per day)
Digestive: A good remedy when stomach acidity appears, specially in the treatment of gastric ulcer, diarrhoea and vomiting. It has bed proved the influence of hypericin as an inhibitor of acidity (MAO) (Infusion of a tea spoonful of flower summits in a cup of water two times a day)
Enuresis: The previous treatment may be equally considered to alleviate child incontinence.
Analgesic: Very useful to treat body aches, mainly those produced by rheumatic diseases, gout, arthritis, sciatica, lumbago, headache, backache, neck pain, fibromyalgia, etc. (Infusion of a tea spoonful of flower summits in a cup of water two times a day)
External use preparations with St John's wort
Wounds and skin: Being very rich in tannins, it has been considered one of the best weapons to heal wounds, cuts, scratches, puncture wounds, chafing, burns, scars or whatever sores in the skin. Known as the Middle ages antibiotic, it was specially prized to cure the battle wounds.
During the XVI century it was called " Herb of the wounds" and later " Battle herb" since soldiers use it when they were injured, applying the fresh juice on the affected zone. You can also use St. John's wort oil, that can be bought in pharmacies, natural health stores or herbalists' but you can easily made it at home
*More information about St.John's wort oil formula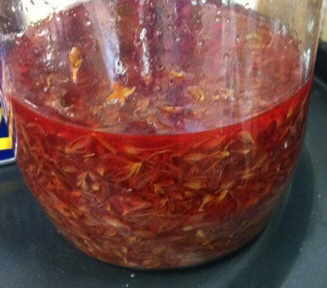 Headache, Backache or cervical pain: (Spray the back or the neck with essential oil diluted in olive oil) (Sitz and foot baths with the resulting liquid of having the plant for 10 hours immersed in cold water. Strain and pour hot in the bathroom)
nticancernogenic: Antibiotic properties of hypericin seem to be proved in late investigations conferring this component a positive value in aids treatment. It has also been used to detect cancerous cells and prevent their expansion.
Varicose veins and hemorrhoids: It may be considered a good ally to fight against peripherical circulatory disorders, responsible of varicose veins and hemorrhoids. Tannins are fundamental in this sense. (Baths with the decoction of flower tops)
Acne: St. John's wort can be used to make masks to treat acne.
Dental caries: (mouthwashes with the infusion of the flowers.)


Toxicity of St John's wort
Internal use of this plant must be avoided if another medicines must be taken, since it may easily interact with barbiturics, antidepresant, narcotics, acidity inhibitors…etc. In any case, medical consultation is necessary before undertaking other medication.
Warning: Hypericin may produce photosensibility effects, when exposing to sunlight, consequently not only little skin injures may appear after treatment, but deep ulceration as well. In order to avoid sunburns, it is advised not to expose to sun for long or avoid going to mountains when having a treatment of this plant.
By no means this preparations must be taken during pregnancy.
This plant has depressant properties and it should not be used when the affected people have sleep apnea


More information about plants.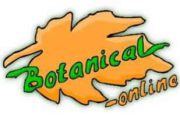 Written by
Editorial
Botanical-online team in charge of content writing