Edible benefits of hemp seeds
Hemp seeds has been consumed in Asia for centuries, but in the West they have only been used for a long time as bird food.
Currently, product analysis has shown that it has great potential as a "super-food" because it has a great concentration of nutrients essential for good health.
Hemp seeds are a nutritional supplement rich in protein, essential fats, fiber, magnesium and iron, but they do not substitute for a balanced diet.
What amount of hemp seeds should be taken?
It is recommended to take 1 tablespoon (10 g.) of peeled and crushed hemp seeds, 3 times a day, with plenty of water.
These seeds should be peeled because the hard covering that covers the seeds is very difficult to chew, and would not let the nutrients inside digest.
Hemp seeds have a very good taste, similar to almond, and combine perfectly with all foods, sweet and salty (with salad, cream of vegetables, fruit,…).
What do hemp seeds bring us?
Hemp seeds do NOT contain cannabiols, nor the major narcotic component of marijuana, THC. These seeds do not produce the hypnotic effects of marijuana.
What are hemp seeds used for?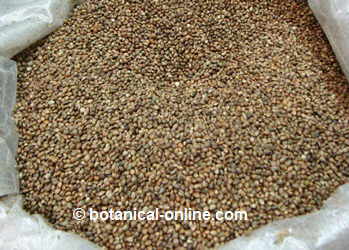 Photo of whole and unpeeled hemp seeds as sold in a bird food store.
Hemp seeds are usually a food supplement that is used in the following indications:
Antioxidant: It has a high content of vitamin E, a natural antioxidant that protects against free radicals. It is also known as heart vitamin because it is necessary to have a healthy heart.
Osteoporosis: It is a good natural supplement of magnesium, the second most abundant mineral in bone. Hemp seeds help increase the daily intake of this mineral.
Stress: Magnesium is considered a natural relaxant, both the muscles and the nervous system. For people with a lot of nervousness or stress, it is recommended to take 1 tablespoon of hemp seeds, 3 times a day, with plenty of water. It will help them to increase their dose of magnesium and proteins daily.
Menstrual pain: The antiinflammatory effect of essential fatty acids and their iron content make it an adequate food supplement for women of childbearing age, with problems of heavy bleeding or menstrual pain.
Athletes: This food supplement is ideal for athletes as it combines a high content of proteins, of good quality, with a contribution of iron and magnesium. In addition, it brings antioxidants like vitamin E, and its omega fats help to take care of the health of the heart.
Constipation: This fiberrich food supplement can help treat constipation naturally.
Cholesterol: Omega 3 fats help increase good cholesterol and improve cardiovascular health.
Diabetes: They are suitable for diabetes since they contribute very few carbohydrates, omega 3, magnesium and vitamin E. Scientific studies have shown that omega 3 improves glucose tolerance in people with type 2 diabetes. Some studies have observed that People with diabetes have low levels of magnesium. Vitamin E has been associated with an increased risk of type 2 diabetes.
Arthritis: Hemp seeds provide essential fats, which the body uses to make antiinflammatory substances, helping to relieve the pain of arthritis.
Fibromyalgia: Magnesium is a very beneficial mineral for people with fibromyalgia as it helps to curb fatigue and fatigue.
Anemia: They are a good protein supplement for vegetarians and people with anemia, three tablespoons of hemp daily (distributed 1 tablespoon in each meal of the day) provide 10 grams of protein daily, plus a lot of magnesium and a not inconsiderable amount of iron. A diet rich in magnesium helps reduce anxiety to stop smoking.
Nutritional composition of hemp seeds

Nutrients

Per

100 g.

Per daily intake

(30 g.)

Calories (Kcal.)

593

178

Fats (g.)

45,4

13,6

Saturated fats(g.)

4,7

1,4

monounsaturated fats (g.)

5,6

1,7

polyunsaturated fats(g.)

36,8

10,5

Protein (g.)

35,1

10,5

Carbohydrates (g.)

7,6

2,3

of which, sugar (g.)

1,7

0,5

Fiber (g.)

5,9

1,8

Iron (mg.)

10

3

Sodium (mg.)

5

1,5

Magnesium (mg.)

490

147
How hemp seeds are consumed?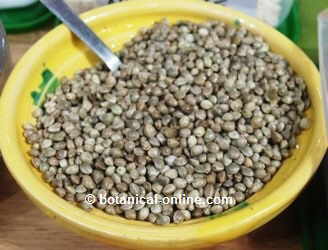 Photo of hemp seeds whole and peeled, ready to be eaten.
Linwoods sells peeled and crushed hemp seeds to better assimilate all components of the seeds. All the seeds destined for human consumption are peeled, since the hard shell that surrounds them is very difficult to chew.
These seeds can be consumed:
In vegetable creams, salads or sprinkled on top of pasta dishes.
In yogurts and fruit salads, sprinkled over.
In crackers (honey bars with seeds), bread with seeds, etc. It is not recommended to consume them always baked or toasted because, although they remain rich in magnesium, proteins, and other components, they can lose antioxidants like vitamin E.
Where to buy hemp seeds?
Hemp seeds should be purchased in stores specialized in dietary supplements. If they are not in the usual outlets, they can be searched by online stores.
– They must be properly packaged, with batch date, expiration, and they must preferably be of a known trademark.
– They should be stored in an airtight place, protected from the sun and heat.
– Whole and peeled seeds have a higher conservation than ground seeds, but if properly stored, they can last for many months.
Hemp seeds for animal consumption are not suitable, because, although they are sold at cheaper prices, the seeds are not peeled, so they cost to chew and do not absorb the nutrients inside.


More information on hemp seeds and other seeds.
This article was endorsed by
Elisenda Carballido
- Dietitian nutritionist. Postgraduate in Phytotherapy and master in Nutrition and Metabolism.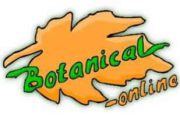 Written by
Editorial
Botanical-online team in charge of content writing