This article was endorsed by
Montserrat Enrich
- Journalist specializing in edible wild plants and plant uses.
Medicinal benefits of lavender
CHARACTERISTICS OF LAVENDER
Common English name: Lavender, English lavender, true lavender, garden lavender, narrow-leaved lavender. "
Common name in other languages: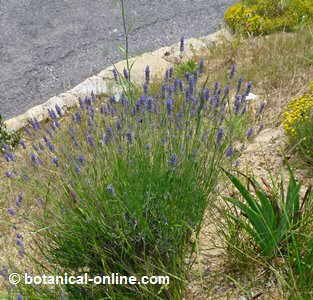 General aspect of lavender. It can be found in dry calcareous places either in the wild or as a decorative plant.
– Spanish / Castellano: Espliego, lavanda, espliego comun, espliego fino, lavanda hembra, espigolina
– Catalan / Català: Espígol, lavanda, espígol ver,espigola, espic, espígol d'estiu, barballó
– Galician / Galego: Lavanda
– Portuguese / Português: Lavanda, alfazema
– Basque / Euskara: Izpiliku fin
– Italian / Italiano: Spico, lavanda a foglie strette
– Romanian / Română: Levănțică, lavandă
– French / Français: Lavande officinale, lavande vraie, lavande à feuilles étroites
– German / Deutsch: Echte Lavendel, schmalblättrige Lavendel
– Polish/ Polski: Lawenda wąskolistna
– Hungarian / Magyar: Közönséges levendula
– Danish / Danks: Ægte Lavendel
– Czech / čeština: Levandule lékařská
– Dutch /Nederlands: Echte lavende, smalbladige lavendel
– Afrikaanns / Afrikáanns: Laventel
– Norwegian /Norsk bokmål: Ekte lavendel, engelsk lavendel
– Finnish /Suomi: Tähkälaventeli
– Swedish /Svenska: Lavendel
– Turkish / Türkçe: Lavanta
– Русский / Russian: Лаванда узколистная
Scientific name: Lavandula officinalis Chaix, Lavandula spica DC., Lavandula latifolia (L.) Vill., Lavandula side DC., Lavandula angustifolia Miller. "Lavandula" word is derived from the Latin word "lavare" (washing), while the species name "spica" may come from "aspid " (viper) because Romans thought that this snake slept under the plant.
Family: Labiatae
Habitat. Were to find lavanda plants?
Common plant in the Mediterranean basin where it can be found in dry areas of calcareous and sun exposed soils.
Very common with other plants such as rosemary. Sometimes it forms hybrids with Portuguese lavender (Lavandula latifolia) called lavandins.
What is lavender like? Description of lavender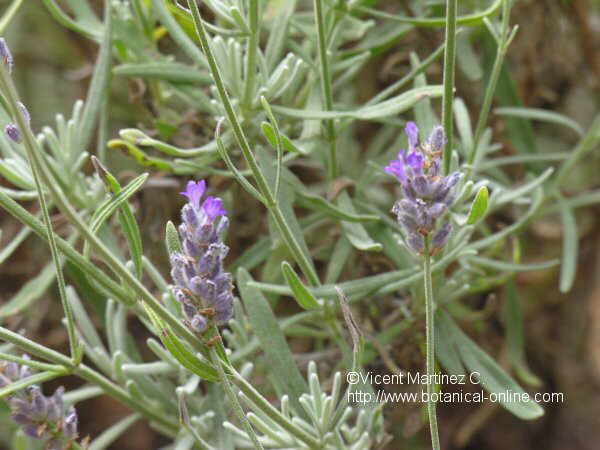 Photo of lavender
Perennial shrub of the lamiaceae family of up to 1.5 m. high. Woody stems bearing dense gray short pilosity.
Linear leaves, wider towards the apex or lanceolate, up to 10 cm in length with the edge usually revolute. The young leaves, hairy, smooth and greenish when adult.
Flowers gathered in spikes of violet light at the end of a very elongated flower stems. Spikes from 6 to 10 colored flowers without bracts at the apex, sticky to the touch because of the large amount of essential oil. Purple oval bracts and seven ribs.
Flowers smell like camphor, being a stronger smell than in other lavenders.
This plant is often hybridized with other species of lavender, especially with Lavander angustifolia. This cross produces much stronger samples and with greater qualities for the extraction of essential oil.
Components of lavender
Harvest and preservation of lavender flowers
Lavender is harvested at flowering, from mid to late July.
Flowers collected in the morning contain more essential oil and they are more aromatic.
They should be dried in the shade and stored in airtight containers in a dry and dark place.
PROPERTIES OF LAVENDER
Traditional use of lavender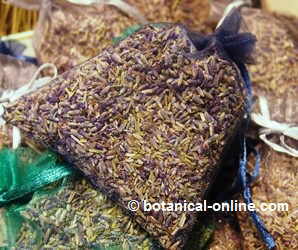 Photograph of a bag of dried lavender flowers. Lavender sachets are used for scenting closed environments, to ward off insects, perfume linen, etc.
Since ancient times, lavender has been used as a relaxing herb in the bathrooms. The Romans spread the use of lavender oil in bath water.
Whether or not this interpretation is valid, the fact is that lavender has been one of the plants most used in Mediterranean countries, influenced both by the fact that it is a wild plant that grows in great abundance in these countries and the fact that it is very easy to grow.
Folk remedies of lavender
Among the curious folk remedies, we will include the following:
From a medical point of view, its traditional uses have been very broad. As soothing, as an antiseptic, as a sleep aid, as a digestive, as cicatrizant, etc, its properties have been widely recognized.
MEDICINAL PROPERTIES OF LAVENDER
EXTERNAL USE REMEDIES WITH LAVENDER OIL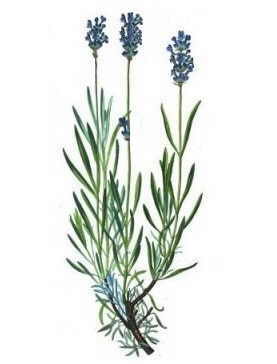 Botanical illustration of lavender
Although lavender has been used, it is is still being used in preparations for internal use, external preparations, especially those made with the essential oil are the most commonly used today.
Lavender oil, rich in esters and alcohols (linalool, borneol, citronellol, geraniol, limonene, alpha-pinene, etc) has anti-inflammatory and sedative properties that make it suitable for the treatment of pain.
How is lavender oil obtained?
Lavender essential oil is extracted by distilling the flowers. This work is carried out industrially and oils can be easily purchased from pharmacies or herbalists.
How to obtain lavender oil at home?
Handmade products can be obtained, such as the extract of lavender oil, by means of:
Lavender oil for the treatment of pain
Lavender preparations for the treatment of pain can be used in situations such as:
* More information on lavender essential oil
A plant to heal wounds and to improve the state of the skin
Mainly cineol, linalool, geraniol, limonene, and sabinene confer lavender antiseptic properties that make it highly effective in the treatment of outer skin lesions, as a cicatrizant.
At the same time, its richness in tannins provides interesting astringent properties to prevent or cure the skin condition.
This applies to the remediation of the following conditions:
Lavender to remedy the microbial diseases
Its antiviral, antibacterial and bacteriostatic properties have been proved to be effective in vitro resulting in the elimination and inhibition of many bacteria and viruses responsible for respiratory diseases.
In external use, gargles made with the infusion of a spoonful of dried flowers per cup of water have been effective in the treatment of diseases such as:
INTERNAL USE PREPARATIONS WITH LAVENDER
Infusions of lavender to take care of the nerves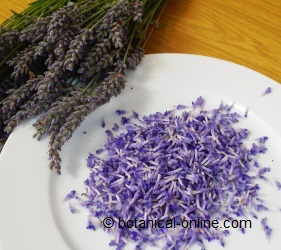 Lavender flowers (Lavandula sp.) are suitable to help calm nerves. They can also be used to flavor recipes such as cakes, biscuits or gelatins.
The antispasmodic and sedative properties of lavender flowers are recognized worldwide. There are countries where lavender infusions or the use of tincture of this plant are prescribed as sedatives and as soft sleeping pills with some frequency.
During the nineteenth century the use of this plant to remedy sleep disorders was something habitual in the homes of aging people in England. Although there are other more recognized natural sedative, calming properties of lavender can be used to reduce nerve problems in circumstances such as:
Lavender tea for stomach care
Besides treating stomach nevousness, it has also been proved its choleretic properties (it stimulates the production of bile by the liver) and cholagogue properties (it simulates the production of bile by the gall bladder), making it suitable for heavy digestion due to lack of drainage.
Similarly, the antiseptic properties of this plant are well suited to inhibit the growth of intestinal bacteria responsible for putrefaction that bloat the stomach and cause pain and intestinal gas. (Infusion for 10 minutes of a teaspoon of dried flowers per cup of water. Take 3 cups a day between meals) (In case of putrefaction and abdominal discomfort, have a cup of this tea immediately after meals)
Lavender infusions for respiratory diseases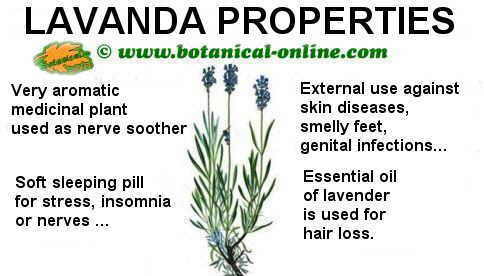 Summary of the main properties of lavander
In internal use, these properties have been effective in the treatment of respiratory diseases such as:
Is lavender safe?
Lavender has some contraindications, toxicity and side efffects that are very important to know before taking it.

More information on lavender.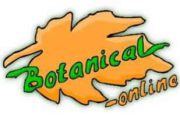 Written by
Editorial
Botanical-online team in charge of content writing