Characteristics of birch
Common English name: Silver Birch, European white birch, Common Birch, Warty Birch, European White Birch
Common name in other languages: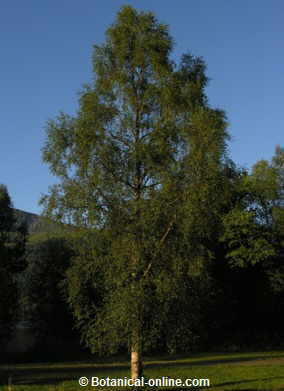 General aspect of a birch(Betula pendula Roth)
– Spanish / Español: Abedul, Abedul blanco, abedul péndulo, Abedul pubescente, abedul negro
– Catalan / Català: Bedoll
– Galician / Galego: Bidueiro
– Portuguese / Português: Bétula
– Basque / Euskara: Urki
– Italian / Italiano: Betulle
– Romanian / Română: Mesteacăn
– French / Français: Bouleau
– German / Deutsch: Birken
– Polish/ Polski: Brzoza
– Dutch /Nederlands: Berk
– Danish / Dansk: Birk
– Norwegian /Norsk bokmål: Bjørkeslekten
– Finnish /Suomi: Koivut
– Swedish /Svenska: Björkar
– Turkish / Türkçe: Huş
– Русский / Russian: Берёза
Scientific name: The name Betula comes from the Celtic word betu, meaning "birch" and "alba" is white in Latin, a name given by the white color of the crust. The three species of birch have similar properties:
Betula alba = Betula pendula Roth = Betula verrucosa Ehrh: Silver birch, warty birch, European white birch, East Asian white birch
Betula pubescens: Downy birch, white birch, European white birch, hairy birch
Betula lenta = Betula carpinifolia Ehrh: Sweet birch, black birch, cherry birch, mahogany birch, spice birch
Family. Betulaceae
Habitat and features:
Description of the European white birch (Betula pendula Roth)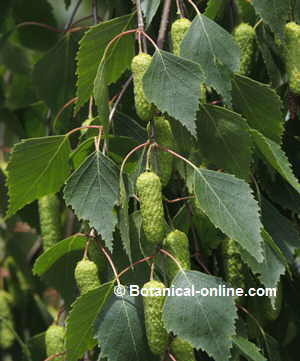 Photo in detail of the leaves and catkins of a birch (Betula pendula Roth)
Deciduous tree or shrub up to 25 m. tall with hanging branches.
Erect trunks of white or gray bark with reddish tones in young specimens.
Ovoid leaves, up to 6 cm, serrated.
Flowers gathered in catkins, the masculine erected in youth and hanging in maturity; the feminine erect.
Pendulous and cylindrical fruits up to 4 cm long that open when mature, ejecting their winged seeds.
* More information: Birch species
Collecting and conservation: The bark and the sap in early spring. The leaves in late spring. The buds in early spring or late winter. Sun-dried bark, leaves and buds in the shade. Save cloth bags or paper bags in a dry and dark.
Components of birch
Acids: Caffeic, chlorogenic, ascorbic , betulinic and nicotic acids (leaves) The aroma of the plant is due to betulabic acid.
Flavonoids: avicularin, hyperoside, quercetin, myricetin (leaves)
Betulin (bark): Betulin or birch camphor, present in the bark (10-15%), is one of the most important active principles of the plant. It is a glycoside with anti-inflammatory, antirheumatic and antiseptic properties.
Betulinol (leaves and bark)
Resins (leaves)
Tannins (very abundant in the leaves – 9 %, and, specially in the bark, bark-20 %)
Saponins (leaves and bark)
Methyl salicylate (leaves): When the bark is cooked, the methyl salicylate decomposes into methyl salicylates, compounds with antirheumatic and anti-inflammatory properties.
Internal use remedies with birch
Metabolism. Diuretic effects of birch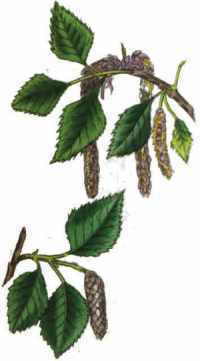 Drawing of birch (Betula pendula)
The birch is considered one of the best diuretics for its ability to stimulate the removal of liquids without being irritating to the kidneys and having little agressive effect on the mucosal of these organs.
They have also anti-rheumatic, hypouricemic, antihydropic and slimming properties that have been proven.
These properties have been attributed to the action of the saponins and flavonoids and has been used in the treatment of conditions such as:
Fluid retention: this plant preparations help eliminate retained fluids in the body (Infusion for 10 minutes a teaspoon of dried leaves per cup of water with a squeeze of lemon juice. Take two or three glasses a day)
The same preparation is useful in the treatment of dropsy of cardiac or renal dysfunction, when the accumulation of fluids in the body is due to a malfunction of the heart or kidneys.
Obesity: The birch can be used in slimming diets for the treatment of obesity, helping people to lose weight. (Decoction for 5 minutes of 50 gr. Of bark per liter of water. Take 6 tablespoons per day.)
Cellulite: Take the the same treatment.
Arthritis and Osteoarthritis: The antiinflammatory and diuretic properties of this plant are very suitable for the treatment of arthritis and osteoarthritis.
The preparations of this plant any swelling joints and help remove accumulated liquids in them (Infusion of a teaspoon of dried leaves per cup of water. Take two or three glasses a day)
Uric Acid: The birch, along with garlic or onion, it is considered a hypouricemic plant, ie it is capable of reducing uric acid in the body. Of particular interest to treat gout attacks by dissolving uric acid crystals that form in the joints and reducing the swelling (infusion of 40 gr. of dried leaves per liter of water for 10 minutes. Three cups a day.)
Hypertension: With the ability to remove fluid from the body, preparations of this plant help in the treatment of high blood pressure. (Infusion of a half teaspoon of dried leaves per cup of water. Take two or three glasses a day)
Cholesterol: For its richness in tannins, this plant can be used to treat high cholesterol. Tannins act as a brake on the absorption of cholesterol in the blood. (Infusion of a half teaspoon of dried leaves per cup of water. Take two or three glasses a day after meals)
Birch remedies for kidney and urinary tract diseases
The diuretic properties of birch with antibacterial properties that provides betulinic acid and betulin anti-inflammatory properties make it ideal for the treatment of diseases of the kidney or bile normal urinary conditions, such as:
Kidney stones: Birch sap has been considered one of the best treatments to dissolve kidney stones. Birch sap is obtained by cutting the trunk of the tree in late winter, back in March. (Drink a few glasses a day.) This treatment is useful to remedy the stones located in the urinary tract. Also for the treatment of jaundice.
In all these cases, if not available fresh sap, you can replace it by a decoction of dried bark (decoction for 5 minutes a teaspoon of crushed dried bark per cup of water. Drink 3 cups a day)
Sand in the kidneys: When a person has a tendency to develop sand in the kidney, which predisposes to the formation of kidney stones, especially oxalate, using the infusion of dried leaves can help dissolve and expel the grit. (Infusion of a teaspoon of dried leaves per cup of water for 10 minutes. Let stand 20 minutes. Take 3 cups a day)
Urethritis: inflammation in the urethra will be very useful prior infusions.
Cystitis: bacterial capacity of this plant, combined with its antiinflammatory properties, it is very useful for combating inflammation of the bladder, produced especially for pathogenic microorganisms.
It was found that the use of this plant is particularly interesting when it comes to chronic cystitis, accompanied by lack of urination. (Make an infusion of two teaspoons of dried leaves combining equal parts marshmallow, birch and horsetail. Drink two cups a day)
Nephritis: For inflammation of the kidneys prepare an infusion of one teaspoon of dried leaves per cup of water. Take a cup a couple of hours after the three main meals.
Birch treatment of the diseases of the digestive system
The richness of this plant in tannins give it astringent properties, together with its choleretic properties, suitable for increasing the production of bile by the liver, making it ideal for the treatment of digestive abnormalities such as:
Diarrhea and colitis: can be used preparations of this plant to stop the bowel movements, particularly where these occur usually too heavy or soft. (Decoction for 5 minutes a teaspoon of crushed dried bark per cup of water. Drink 3 glasses per day)
Liver: In cases of liver failure the choleretic properties of this plant may be used to increase production of bile, which will facilitate better digestion of food and reduce other side effects of malfunction of this organ such as gas, belching, burning stomach, indigestion, etc. (Infusion of a teaspoon of dried leaves per cup of water. Take a cup after each main meal)
This treatment can be very interesting to reduce pain and inflammation after hepatic colic. In this case it is even more appropriate drinking birch sap if you can have it.
Birch for the natural treatment of respiratory diseases
Birch has antipyretic properties that can be used to reduce fever in respiratory diseases such as influenza, swine flue, colds, etc. (Decoction of a teaspoon of crumbled dried bark per cup of water. Take three cups a day)
External use remedies with birch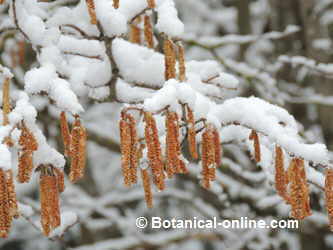 Photo of a birch in the snow. Their catkins, pendants and of brown color are distinguished.
(Betula pendula Roth)
Used externally, birch has soothing, antiseptic, healing, hair-tonifying and antiperspirant properties. This makes it an excellent ally in the treatment and cure of many skin abnormalities. Specifically, it is mainly used in conditions such as:
Injuries: Their application helps disinfect and promotes healing. (Dip the wound with liquid from the decoction for 20 minutes in 1 tablespoon of dried bark per cup water)
Tonsils or sore throat: It is a good astringent and antiseptic, so it is very useful for the treatment of angina (Make gargling with the liquid from the decoction for 10 minutes in one tablespoon of dried bark per cup of water with a squeeze of lemon)
Mouth ulcer: The previous treatment may be appropriate for mouthwashes in case of ulcers in the mouth. The liquid resulting from the decoction of the dried bark shredded sanitize the wounds and assist healing.
Imperfections of the skin: When the skin is affected by imperfections such as freckles, skin spots, pimples, etc., birch astringent properties are very effective to remedy all these anomalies. (Wash off the liquid from the decoction for 20 minutes 5 tablespoons shredded dried leaves per liter of water.
Morning lavage after getting up and one in the evening before going to bed) (In internal use, is very effective drinking birch sap obtained by incision on the bark during the month of March. The effective dose is located on a 100 cc daily)
Rheumatic pains: The birch is a very effective antineuralgic and antiinflammatory. Externally it can be used to reduce pain and swelling that accompanies arthritis and other forms of pain experienced by patients with rheumatic disorders.
(Performing friction with ointments prepared with birch tar on the affected area. You can find these products in pharmacies or herbalists) (Apply dry leaves over the affected joints)
Hair loss: The leaves of birch antialopecia have suitable properties to prevent or stop hair loss. (Decoction of dried leaves 4 tablespoons per liter of water. Perform friction on the hair in the morning on rising and before going to bed.)
Feet odour, this plant preparations decrease foot sweat which may be appropriate to prevent foot odor that occurs when microorganisms are developed in sweat. (Perform a feetwashing liquid from the decoction of a handful of dry leaves in a couple of liters of water)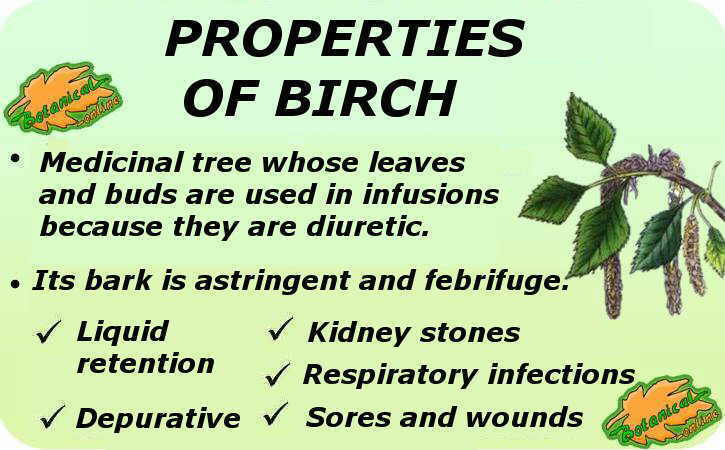 Summary of the medicinal properties of birch and its applications in phytotherapy.
Is birch safe?
The use of this plant, in adequate doses, presents no toxicity or contraindications, except ingestion or external application of essential oil. However, it is not recommended for using during pregnancy or lactation without medical consent. It must not be used for the treatment of cardiac or kidney dropsy without medical supervision.
The essential oil should not be taken or used externally. This is very rich in methyl salicylate, which is highly toxic and can cause death at doses of only 10 ml.
This oil is absorbed through the skin and can be irritating, so it is not recommended to apply it externally. The topical application of tar obtained from the distillation of the bark it may also irritate the skin.
* Related information : Toxicity of birch, contraindications of birch, side effects of birch


More information on birch.
This article was endorsed by
Montserrat Enrich
- Journalist specializing in edible wild plants and plant uses.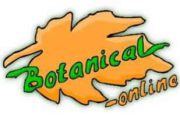 Written by
Editorial
Botanical-online team in charge of content writing