This article was endorsed by
Vicente Martínez Centelles
- Founder of the web and director. Teacher of natural sciences, expert in plants, natural remedies and botanical photography.
Medicinal uses of Echinacea
Characteristics of echinacea
Common English noun: Echinacea, purple cone flower, narrow-leaved purple coneflower,  blacksamson echinacea
Common noun in other languages: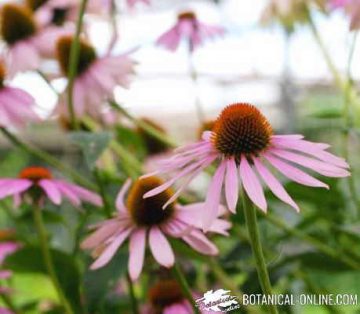 Spanish/Español: Equinácea de hoja estrecha, equinácea, rudbeckia morada, sombreros de sol, flor púrpura
French/Français: Échinacée pourpre, échinacée noire à feuilles étroites
Catalan/Català: Equinàcia
Basque/Euskara: Echinacea
 Galego/Galician: Equinacea
Portuguese/Português: Equinacea
Italian/Italiano: Echinacea, echinacea  viola a foglie strette, l'echinacea blacksamson
Romanian/Româna: Coneflower purpură cu frunze înguste, blacksamson echinacea
Maygar/Hungarian: Kasvirág
Dutch/Nederlands: Rode Zonnehoed
German/Deutsch: Schmalblättriger Igelkopf
Polish/Polski: Jeżówka wąskolistna
Danish/Dansk: Purpursolhat
Norwegian/Norsk bokmål: Smalbladet solhatt
Finnish/Suomi: Punahatut,  kaitapäivänhattu
Swedish/Svenska: Solhatt,
Russian/Эхинáцея
Türkçe/Turkish: Dar yapraklı kirpi otu
Scientific and common noun of the main used species of gender  Echinacea
 Echinacea angustifolia:Narrow-leaved purple coneflower. North American species found in United States and Canada
Echinacea purpurea: Eastern purple coneflower, hedgehog coneflower, purple coneflower. North American species. that grows in Eastern United States and Canada.
Echinacea pallida: Pale purple coneflower.  United States
Family: Daisy family. (Asteraceae or Compositae)
Habitat: Where to find these plants?
They  grow wild in  United States and Canada in grasslands, sandy soils and hills, but they  can be found cultivated as garden plants in many regions.
Echinacea description
The genus Echinacea contains a number of plants in the daisy family very similar to daisies. They are noted for their large flowers with very long ligules and a large floral disc, sometimes thorny. Although there are nine species in this genus, the three mentioned above are the most commonly used as medicinal plants, being Echinacea angustifolia in Europe and Echinacea purpurea in America those that have a more general use.
Components of Echinacea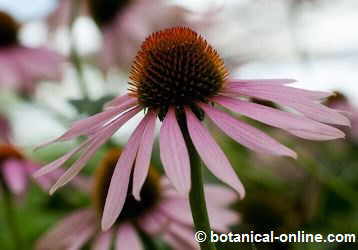 Acids: ascorbic (seeds) butyric acid, ferulic acid, chlorogenic acid (plant) p-coumaric, syringic, caffeic, salicylic acid (leaves)
Alkylamides: Echinacea (Echinacea purpurea and Echinacea angustifolia) contains at least 20 alkylamides.
Polysaccharides: Sugar, starch, pectin (root)
Paraffin wax (plant)
Betaine (1%) (root)
Alkaloids: (0.007%): Type pyrrolizidines such as tussilagine are found in very low concentrations (root)
Flavonoids: Apigenin, camferol, luteolin, rutin, rutoside
Amino acids: asparagine = altheine (root)
Fiber: Inulin (root), mucilage (root and leaves)
Starch (root)
Tannins (root)
Lecithin (root)
Vitamins: B group vitamins: Riboflavin, niacin, thiamin (root), beta-carotene (root) and vitamin C (root)
Alcohols: Faradiol, taraxasterol, Arnidiol, beta-sitosterol (Flower)
Essential oil:  rich in thymol
Echinacea healing properties
Echinacea is a plant that has been used traditionally by North American Indians, especially to heal the wounds of the arrows or the snake bites.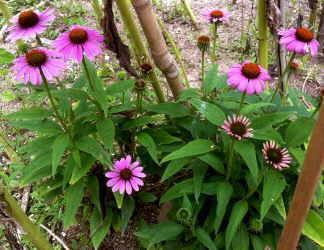 Traditional uses of Echinacea
A whole range of applications involving these plants as a disinfectant or bactericidal has been traditionally attributed. (Transmitted diseases, wounds, eye problems, mouth sores, sore throat, cold, etc.)
As the settlers were spreading to the West, they were aware of the multiple applications of echinacea until,  it was included as a medicinal plant in the Western pharmacopoeia in the late nineteenth century, a period when it attained a great prestige primarily as a remedy to cure syphilis or gonorrhea.
With the advent of antibiotics, it lost enough reputation until it recovered again in the last quarter of the twentieth century. Currently, it is a plant that enjoys a great fame, especially in American natural medicine. Its use within the USA is increasingly in vogue.
Medicinal properties of echinacea
The main virtue of echinacea is its anti microbial properties against bacteria, fungi and opportunistic diseases, so that it constitutes a genuine alternative to chemical antibiotics. This plant is considered one of the best natural antibiotics.
Echinacea: A Plant for the immune system
Echinacea is a plant with antibiotic properties. A remedy to enhance defenses against colds, flu and many kinds of infections.
The reason for this property is due to its ability to stimulate the immune system, producing more white blood cells. Echinacin, caffeic acid and chicory are the components that produce this stimulation. Also it has ben proven its power to stimulate production of interferon, a protein that the body itself produces to neutralize the virus.
How can echinacea be taken?
Although it may be used in the form of dried plant, standardized echinacea supplements allow a more practical and safer way to be taken.
They can be found in the form of tablets, capsules, tinctures, etc. It is best to take it under the terms of the patient information leaflet.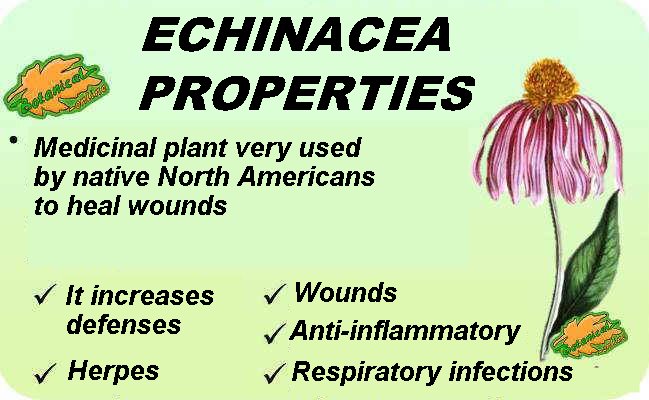 Echinacea for respiratory diseases
The antiviral and antimicrobial properties of echinacea can be used for the treatment of diseases of the respiratory system. Echinacea is usually also taken before the onset of these diseases, as a preventive remedy, especially by people who are more likely to be infected (seasons of change of season, children of school age, elderly people, people with the system defensive weakened, people who are in contact with the sick, etc.).
Among the main conditions of the respiratory system for which echinacea is adequate, we have:
Flu, swine flue and cold: Its use reduces the negative symptoms of cold and flu and helps speed healing. (1000 mg daily of echinacea supplements divided into 5 doses)
Problems of the throat: The use of echinacea supplements promotes healing problems of the throat (pharyngitis, sore throat, etc.) It also reduces the pus, eliminating the microorganism and alleviating the sensation of burning or itching. (1000 mg per day echinacea supplement divided into 5 doses)
Bronchitis: To reduce inflammation of the bronchi we can use any supplement echinacea. (1000 mg daily supplement of echinacea divided into 5 doses)
COPD or Chronic Obstructive Pulmonary Disease: To help prevent bacterial infections that may be more common when this disease exists (Treatments with echinacea tincture according to package directions)
Echinacea to boost your immune system against infections and bodily weakness
its role in stimulating the immune system is very useful for treating infectious diseases of repetitive character. Among infectious diseases that take advantage of a weakened immune system, we can include the following:
Herpes: It has been demonstrated that herpes take advantage of an organism with few defenses. The use of echinacea can strengthen defenses and delay the onset of outbreaks of genital herpes or herpes zoster. Taken as supplements along with goldenseal (Hydrastis canadensis) it helps reinforce the defenses, heal wounds and protects them from infection. (The usual dose is 800 mg daily of echinacea supplement divided into 4 doses and 500 mg daily of goldenseal also divided into 4 doses)
Infections of the vagina: The capacity of natural antibiotics can be used as a solution or complement antibiotics in the conventional treatment of vaginal microbial infections or those that are produced by fungi. (800 mg daily of echinacea supplement divided into 4 daily doses and 500 mg of goldenseal also divided into 4 doses) Use this treatment for vaginitis, vaginal flow, vaginal itching or vaginismus.
Urinary tract infections: As a natural antibiotic, it can be used to combat urinary tract diseases, including cystitis or urethritis, (800 mg daily of echinacea supplement divided into 4 daily doses and 500 mg of goldenseal also divided into 4 doses)
Sties: The power of echinacea as natural antibiotic is appropriate for the treatment of sties, which typically occur when bacteria enters the hair follicle of an eyelash (Perform prior treatment)
Otitis or earache: Very useful to increase your body's defenses, preventing or combating ear infections (Infusion of a spoonful of dried plant per cup of water. A couple of cups a day) (It can be taken as supplements in doses of 600 mg daily, divided into three intakes)
Transmitted Diseases: By stimulating the immune system and for its anti microbial properties it can help to prevent transmitted diseases if used as a supplement with other measures that prevent the transmission of these diseases.Thus, it has been widely used to complement antibiotics in the treatment of syphilis or gonorrhea. (Echinacea tincture according to package directions)
Its use in AIDS treatment is highly controversial because many doctors believe that it has no effect on this disease and may even harm the health of patients. Others argue that, although their intake slows its progress, it seems to control the appearance of other opportunistic infections that take advantage of the deterioration of the defenses that AIDS causes in the body.
Bodily weakness: During the recovery of many diseases, after having undergone an operation, for the treatment of chronic fatigue syndrome or spring syndrome, echinacea increases the body's defenses and increases the bodily strength. (A dose of 600 mg, divided into three daily doses, can help us) (Echinacea tincture according to package directions)
Echinacea for cancer
Echinacea is one of the main plants used to stimulate the immune system, so it is applied as a solution in the treatment of infections taking profit of the body weakened by cancer and its treatments. It has been used especially in those patients whose defenses are weakened by radiation therapy or chemotherapy.
It has even been established in some cases its effectiveness in eliminating cancer cells. Experiments conducted in Germany demonstrated the efficacy of this plant in treating colon cancer. Numerous investigations are being carried out to discover the healing power of echinacea in other different cancers.
Other benefits of echinacea
 Digestive diseases: As a  plant for the stomach, it stimulates appetite by increasing salivary secretions and helps digestion in "lazy". stomachs. It is an effective remedy for those who have dry mouth. (Infusion of a spoonful of the dried plant per cup of water. A couple of cups a day) (It can also be taken as supplements in doses of 600 mg daily, divided into three doses)
Inflammation of the muscles and tendons: The anti-inflammatory power of echinacea is useful for treating injuries of muscles and tendons, especially those that are produced by stretching or repetitive movements in work or in certain sports (computer work, football players, tennis players, etc.)It can be very suitable, for example, for tendinitis or bursitis. (Infusion of a spoonful of the dried plant per cup of water. A couple of cups a day) (It can also be taken as supplements in doses of 600 mg daily, divided into three doses) (Echinacea tincture according to package directions)
Can you make echinacea infusions?
Echinacea infusions are recommended for some affectations, although to obtain all their immunostimulating power, it is preferable to use extracts such as tablets, tinctures or capsules. This is because the active components of the plant are not very soluble in water, so the infusion can not extract them all.
External use of Echinacea
In external use the fresh juice of the plant or the tincture can be applied to treat skin problems enhancing its healing and preventing skin infection.
The main applications are:
Is echinacea safe?
No cases of toxicity or intoxication have been detected in the use of this plant. However, its use should not last more than two months since, after this period, its power to increase the body's defenses decreases.
It is not recommended to take echinacea together with drinks with caffeine, such as tea or coffee, because echinacea makes it difficult to eliminate caffeine and can increase its exciting effect.
It is better to let the organism rest for a week before continuing with the treatment.

More information on echinacea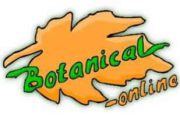 Written by
Editorial
Botanical-online team in charge of content writing