Medicinal herbs for Chronic Obstructive Pulmonary Disease
PHYTOTHERAPY FOR PULMONARY DISEASE (EPOC)
Herbal remedies for COPD
Chronic obstructive pulmonary disease (COPD) is a chronic lung disease in which there is great difficulty in breathing due to bronchial obstruction (narrowing of the airways by inflammation and mucus).
COPD is the main complication of smokers, and mainly produces a deterioration in the quality of life of the person, due to persistent cough, difficulty breathing and fatigue.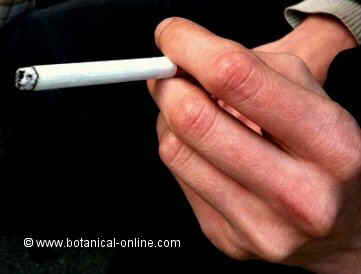 Smoking is bad for health. The first remedy for COPD is to quit smoking
Can chronic obstructive pulmonary disease (COPD) be cured?
There is no definitive cure for COPD, since it is a chronic disease, but it is possible to minimize the symptoms it causes or slow the progression of the disease.
Medicinal plants for COPD
One of the main natural therapies (the most effective) is to stop smoking. It is recommended to seek advice from a physician or a suitably qualified specialist.
In addition, there are other medicinal plants used in the natural treatment of the disease that can help decrease, soothe or alleviate symptoms and slow the progression of the disease.
Always consult your doctor before taking herbal remedies or supplements. If symptoms persist or worsen, go back to the doctor for review.
Main medicinal herbs to treat COPD
Among the main plants that can be incorporated in daily life to help improve COPD and relieve its symptoms, we have:
Garlic (Allium sativum): Garlic is one of the best bactericides that we can include in our diet. Because of its content in compounds rich in sulfur, it is one of the best natural remedies to combat infectious processes of the respiratory system (influenza, bronchitis, pharyngitis, etc.).
Especially indicated to calm cough of bacterial origin with functions of expectorant. (15 drops per day of fluid extract distributed in 3 doses, sold in pharmacies and herbalists). (Add garlic to your diet)
Onion (Allium cepa): It has similar properties since it contains sulfur compounds, although in smaller amount. (Eat this food regularly).

Picture of turmeric
Turmeric: (Curcuma longa) recommended for its antiinflammatory, antioxidant and antibronchial principles. (Take turmeric in the diet / Take capsules according to the package insert /
Combine it with a pinch of black pepper to increase absorption.

Caution: be careful not to breathe the turmeric powder!

A diet with turmeric, combined with pineapple, is also very antiinflammatory.
Herbs for COPD
It is very convenient to mention that the aromatic herbs that are typically used for meals are very rich in essential oils, such as thymol, with anti-inflammatory properties.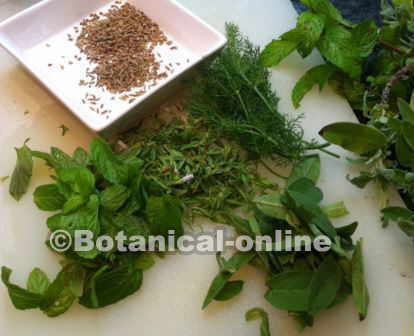 Photo of aromatic herbs
We must not forget that aromatic plants are the herbal medicine hidden in the kitchen, so, getting used to always add a pinch of herbs to meals will help us to improve our health.
It is therefore recommended to use them regularly: rosemary, sage, savory, lemon balm, oregano, thyme, basil, anise, caraway, cumin, etc.
Of course, the infusions of these plants will also be advisable. Pure essential oils should NOT be used, as they are totally contraindicated.
Traditional Medicine for COPD
Below are other medicinal plants traditionally used for respiratory conditions:
Cardamom (Elettaria cardamomum): because of its antiinflammatory and antiseptic properties, it can be a good reinforcement to combine with the natural treatment of COPD. (Mix cardamom seeds in the infusion of other COPD remedies)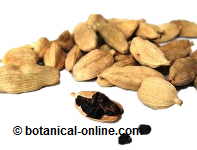 Photo of cardamom
Coltsfoot (Tussilago farfara): it is one of the plants richest in hyperoside, a principle with antibronchial properties. The horse's claw is a popular remedy, which because of its antispasmodic properties helps to calm the cough. (Infusion of 1 teaspoon of flowers in a cup of water)
Great mullein (Verbascum thapsus): for its demulcent qualities, great mullein softens the mucus, having expectorant and antispasmodic principles to calm the cough. (Infusion of 1030g of flowers per liter of water, let stand 10 minutes and strain with filter paper to remove stamens from flowers).
Common sundew (Drosera rotundifolia): the drosera is considered a plant with very outstanding effects for the respiratory system. The extract of drosera has an antiinflammatory effect and also contains flavonoids such as hyperoside, quercetin and isoquercitina, which reinforce these effects. It has antibiotic virtues. (Take 1 teaspoon of drosera extract syrup every 2 hours)
Plant aids for COPD
Nutritional yeast or brewer's yeast: Rich in proteins of high biological value, it can be administered as a supplement to prevent protein malnutrition, and always accompany a proper diet. If the person has an inadequate food intake, seek medical advice. (Take 2 tablespoons of dessert at each meal) (Sprinkle on meals as if it were cheese)
Spirulina: is rich in magnesium, vitamins, antioxidants and trace elements that help fight fatigue. Bone mineral and vitamin supplements are given to counterbalance the bone decalcifying effects of corticosteroid medication. (Take 6 capsules of 200mg per day)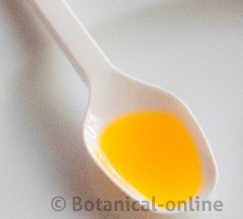 Coldpressed wheat germ oil is the richest vitamin E food. It has a very characteristic orange color. A teaspoon provides all the necessary vitamin E per day
Wheat germ oil: Very effective to improve the health of blood vessels and heart, improving the integrity of membranes and reduces cholesterol. One tablespoon of wheat germ oil provides 190% of the recommended daily amount of vitamin E (potent antioxidant).
In addition to vitamin E, it contains essential omega6 and omega3 fatty acids, with antiinflammatory properties.

Only the first cold-pressed wheat germ oil contains a lot of vitamin E. It must be accompanied by abundant antioxidants to prevent its components from deteriorating. (Take 1 tablespoon of wheat germ oil per day with 1 glass of water with squeezed lemon)
Evening primrose oil: Evening Primrose Oil is a supplement rich in Omega 3, with antiinflammatory and vasodilating properties that reduce inflammation and pulmonary hypertension, improving the oxygen availability of the cells.
This supplement may also help resolve the constipation problems that sometimes occur with COPD. (Take from 1,500 to 2,000mg of evening primrose oil per day).
Pollen: Rich in betacarotene and essential amino acids that reinforce the state of the organism and also improves the mood. It also has antibacterial effects against respiratory infections. (Take 4 spoonfuls of dessert daily, in yogurts, smoothies or juices.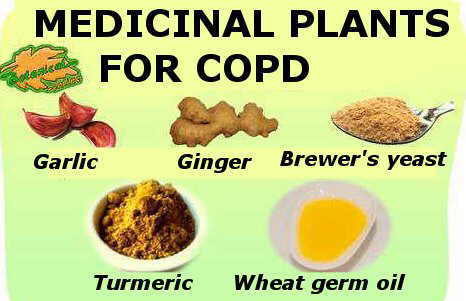 Main medicinal plants and supplements that are usually used in the natural treatment of chronic obstructive disease (COPD). It is recommended to consult a doctor.


More information on COPD characteristics, remedies and diet.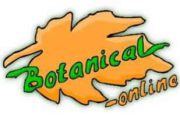 Written by
Editorial
Botanical-online team in charge of content writing