Health benefits of basil (Ocimum basilicum L.)
BASIL MEDICINAL PROPERTIES
Internal use preparations with basil leaves
Digestive: It helps digestion and prevents stomach spasms and is very useful in cases of stomach pain, gastritis, of hiatal hernia, flatulence, heartburn, etc..(Infusion of a handful of dry leaves – about 15 gr. – per litre of water. Drink 3 cups a day after meals)
Sedative: It strengthens the nervous system and avoids their physical symptoms, such as nerves in the stomach or anxiety (Infusion of a teaspoon of dried leaves per cup of water. Take a couple of cups a day after meals. If we increase the dose it has narcotic properties.)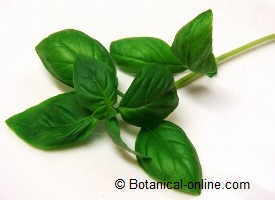 Digestive and lactic stimulant: The essence of the plant whets one's appetite (2 or 3 drops a day melt in sugar), settles your stomach and stimulates the production of milk in nursing (Decoction of 30 gr. of dry leaves per litre of water. Drink 2 cups a day)
Antiemetic: When feeling the need of vomiting or in cases of intestine unrest (Infusion of 15 gr. of dry leaves per litre of water. 2 cups a day) (Infusion of a handful of fresh leaves. 2 cups a day)
Altitude sickness: It contains eugenol with anticoagulant properties that may help improve blood circulation. (Infusion of a spoonful of dried plant per cup of water. Take a couple of cups a day a couple of days before leaving for the mountains or before the ascension)
Main curative properties of basil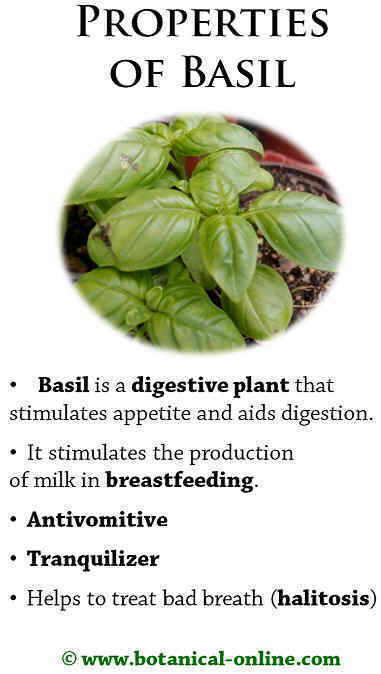 External use preparations with basil flowers, leaves and essential oil:
Cysts in the ovary: Make an abdominal massage with the essential oil.
Buccal: When aches or pains appear in the mouth, such as inflammations (gingivitis), mouth sores or bad breath (Gargles with the decoction of 100 gr. of dry leaves per litre of water))
Stress: To relax your body and diminish stress and anxiety, dilute an infusion of dry flowers in the bath water
Other basil uses:
Repellent for mosquitos: It has been used to repel mosquitos. They seem not to stand the strong odour coming from the estragol and eugenol the plant contains in its leaves. The extended custom of using the plant indoors in the native country where it comes from – India- appears to be the explanation of not having many of these insects in their homes, although they really use this plant because it is considered to be a sacred one.
Pyorrhea: (Mouthwashes with the decoction of dry leaves)
Seasoning: It can be used to spice meals by mixing its dry ground leaves with other herbs, although it can be eaten fresh in salads.
Hair tonic: To reinforce the hair, preventing baldness (Rub the hair with the liquid resulting from the infusion of dry leaves)
Restless Legs Syndrome: To calm your legs you can dilute an infusion of dried flowers in the water of the bath.


More information about basil.
This article was endorsed by
Vicente Martínez Centelles
- Founder of the web and director. Teacher of natural sciences, expert in plants, natural remedies and botanical photography.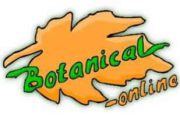 Written by
Editorial
Botanical-online team in charge of content writing