Lonicera caprifolium
CHARACTERISTICS OF HONEYSUCKLE
Common English name: Honeysuckle, Italian honeysuckle, perfoliate honeysuckle, goat-leaf honeysuckle, Italian woodbine,, perfoliate woodbine
Common name in other languages:
– Spanish /Español:Madreselva, lonicera, madreselva perfoliada.
– Catalan / Català: Dolçamel, Dolçamel de jardí, Lligabosc de jardí
– Galician / Galego: Herba salgueira. Madreselva perfoliada.
– Portuguese / Português: Madreselva
– Basque / Euskara: Argan
– Italian / Italiano: Caprifoglio comune
– Romanian / Română: Caprifoi
– French / Français: Chèvrefeuille des jardins
– German / Deutsch: Gartengeißblatt , Echtes Geißblatt , Wohlriechendes Geißblatt, Jelängerjelieber
– Polish/ Polski: Wiciokrzew przewiercień
– Dutch /Nederlands: Tuinkamperfoelie
– Norwegian /Norsk bokmål: Kaprifol
– Swedish /Svenska: Kaprifol
– Turkish / Türkçe: Hanımeli
– Русский / Russian: Каприфо́ль
Scientific name: Lonicera caprifolium L.
Family. Caprifoliaceae
Habitat. Where to find honeysuckle?
Species native to southern Europe where it can be found on walls, hedges, woods or ditches.
It has been introduced in many countries as a cultivated species and, in many cases, it may be naturalized.
Description of honeysuckle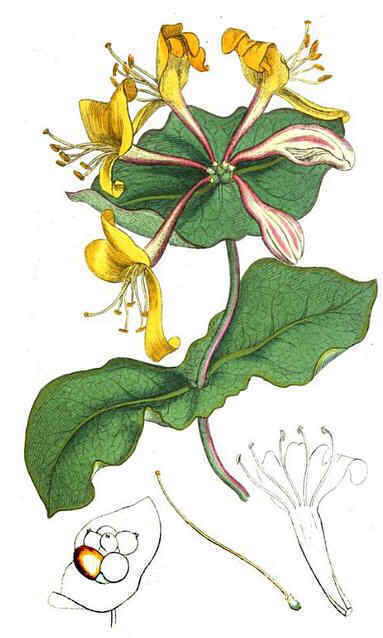 Drawing of the plant, with a sectioned flower and fruits
Shrub of the Caprifoliaceae family, up to 2 m (6 m when cultivated).
Stems woody, climbing and voluble, reddish.
Leaves opposite, oval, till 10 cm in length, light green color on the underside, darker above, pointed; The upper ones, united at their base; The lower ones, with petiole.
Flowers grouped in tops without floral peduncles, sitting directly on a kind of cup that is formed by the upper leaves (what distinguishes it mainly of the rest of honeysuckles).
Very fragrant and non-sticky flowers; Cream yellow with pink tones on the outside. Corolla 4 -5 cm. With very long tube; Upper lip with four teeth; Lower lip without split, narrower and curved inward; Very prominent stamens.
It blooms between May and June and the fruits are formed in autumn. It is pollinated mainly by moths that come at night attracted by the fragrance of its flowers.
Collection and conservation of honeysuckle
Honeysuckle flowers are collected in spring and early summer.
The leaves are also collected while the plant has flowers.
Flowers and leaves must be dried in the shade.
The flowers should be kept in airtight, opaque and dry containers, while the leaves are best kept in cloth bags.
Components of honeysuckle
MEDICINAL PROPERTIES OF HONEYSUCKLE
PREPARATIONS WITH HONEYSUCKLE FOR INTERNAL USE
Honeysuckle, a traditional remedy for the respiratory system
The flowers of this plant have properties suitable for the treatment of respiratory diseases. Fundamentally, its richness in carvacrol, geraniol and chlorogenic acid provide its antiseptic properties; Carvacrol and luteolin are antitussive; And all these components have anti-inflammatory properties.
All this makes honeysuckle very suitable for the treatment of conditions such as:
Honeysuckle to improve liver
Honeysuckle has been widely used for its hepatoprotective properties. It protects the liver, tones it and helps it to recover when it is affected by some disease or some toxic product.
This has been used mainly for the treatment of:
In both cases, make a decoction for 5 minutes of three tablespoons of dried leaves and one teaspoon of dried flowers. Let it cool and take a couple of glasses a day before the two main meals
Is honeysuckle suitable for treating constipation?
Although the fruits of this plant or its seeds have been used in the past as purging or vomiting, they are very toxic and it is more convenient NOT to use them in the treatment of constipation.
Honeysuckle for fluid retention
The diuretic properties of this plant have been used to remove excess leftovers from the body and to purify the body in general. The richness in calcium, magnesium and potassium, along with luteolin and chlorogenic acid are responsible for this activity. All this is used fundamentally to treat anomalies such as:
Honeysuckle for the nervous system
Honeysuckle contains sedative properties that can be used for the treatment of nerves and arrhythmias or palpitations that have a nervous origin. (Infusion of one teaspoon of dried flowers per cup of water. Take a couple of cups a day)
These same properties can be used to relax muscles and decrease involuntary spasms.
EXTERNAL USE REMEDIES WITH HONEYSUCKLE
Honeysuckle for injuries and skin problems
Chlorogenic acid, tannins and zinc provide honeysuckle with vulnerary properties that make the honeysuckle a very suitable plant in the treatment of external conditions of the skin. It can be used for the treatment of:
Is the medicinal use of honeysuckle dangerous?
The use of flowers and leaves in appropriate doses does not present side effects, although it is recommended NOT to use it in case of pregnancy or lactation, because there are few studies with respect to it.
Although no poisonings have been described in the medicinal use of flowers and leaves, you have to be extremely cautious in the preparations since this plant contains toxic principles.
All honeysuckles are very rich in saponins and principles similar to nicotine. These principles attack the digestive system causing vomiting, diarrhea, convulsions, heart alterations and even death.

More information on honeysuckle.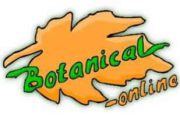 Written by
Editorial
Botanical-online team in charge of content writing