What is honeysuckle?
Characteristics of honeysuckle (Lonicera caprifolium)

Common English name: Honeysuckle, Italian honeysuckle, perfoliate honeysuckle, goat-leaf honeysuckle, Italian woodbine,, perfoliate woodbine
Common name in other languages:
– Spanish /Español:Madreselva, lonicera, madreselva perfoliada.
– Catalan / Català: Dolçamel, Dolçamel de jardí, Lligabosc de jardí
– Galician / Galego: Herba salgueira. Madreselva perfoliada.
– Portuguese / Português: Madreselva
– Basque / Euskara: Argan
– Italian / Italiano: Caprifoglio comune
– Romanian / Română: Caprifoi
– French / Français: Chèvrefeuille des jardins
– German / Deutsch: Gartengeißblatt , Echtes Geißblatt , Wohlriechendes Geißblatt, Jelängerjelieber
– Polish/ Polski: Wiciokrzew przewiercień
– Dutch /Nederlands: Tuinkamperfoelie
– Norwegian /Norsk bokmål: Kaprifol
– Swedish /Svenska: Kaprifol
– Turkish / Türkçe: Hanımeli
– Русский / Russian: Каприфо́ль
Scientific name: Lonicera caprifolium L.
Family. Caprifoliaceae
Habitat. Where to find honeysuckle?
Species native to southern Europe where it can be found on walls, hedges, woods or ditches.
It has been introduced in many countries as a cultivated species and, in many cases, it may be naturalized.
Description of honeysuckle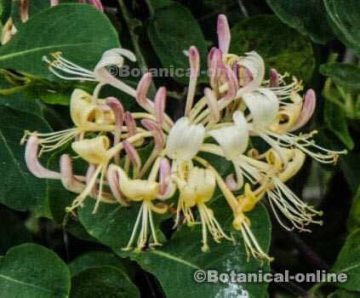 Honeysuckle is a shrub of the Caprifoliaceae family, up to 2 m (6 m when cultivated).
Stems woody, climbing and voluble, reddish.
Leaves opposite, oval, till 10 cm in length, light green color on the underside, darker above, pointed; The upper ones, united at their base; The lower ones, with petiole.
Flowers grouped in tops without floral peduncles, sitting directly on a kind of cup that is formed by the upper leaves (what distinguishes it mainly of the rest of honeysuckles).
Very fragrant and non-sticky flowers; Cream yellow with pink tones on the outside. Corolla 4 -5 cm. With very long tube; Upper lip with four teeth; Lower lip without split, narrower and curved inward; Very prominent stamens.
It blooms between May and June and the fruits are formed in autumn. It is pollinated mainly by moths that come at night attracted by the fragrance of its flowers.
Collection and conservation of honeysuckle
Honeysuckle flowers are collected in spring and early summer.
The leaves are also collected while the plant has flowers.
Flowers and leaves must be dried in the shade.
The flowers should be kept in airtight, opaque and dry containers, while the leaves are best kept in cloth bags.
Components of honeysuckle
Uses of honeysuckle
This plant is used in gardening and as a medicinal plant.




More information on honeysuckle medicinal properties, toxicity, cultivation, etc.
This article was endorsed by
Julián Masats
- Technical agricultural engineer specialized in horticulture and gardening.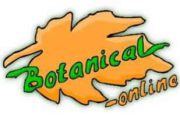 Written by
Editorial
Botanical-online team in charge of content writing