Amount, dose and  most indicated type of supplement
How to take evening primrose oil supplements
Evening primrose oil supplements are taken in pearl format because they are better preserved and their dosage is easier. Among its main indications are:
Cardiocirculatory system
Alterations of menstruation
Hair loss, skin health and nail care
The dose or amount of evening primrose oil depends on the type of affectation to be treated and the concentration of active substance (GLA) contained in the supplement. It is recommended to consult with your doctor.
What dose of evening primrose oil pearls do you have to take?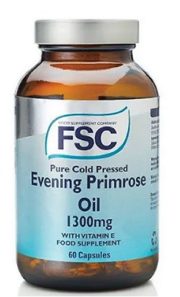 According to official vademecum, the following amount of evening primrose oil (calculated for supplements containing 8% GLA) is recommended:
Skin diseases (atopic eczema, dermatitis, etc.): between 6-8 grams daily for adults and 2-4g in children.
Breast pain in premenstrual syndrome (cyclic mastalgia): between 3 and 4 g daily for adults.
These dosages are calculated for supplements with 8% GLA (gammalinolenic acid). If you buy supplements with a higher dose, consult the instructions on the package.
Must we take them before or after meals?
Evening primrose oil assimilates well on an empty stomach or with food, this second option being preferable. Generally food helps to better assimilate fatty acid supplements because they stimulate the digestive process.
How to take supplements evening primrose oil rich GLA
Print on how to take evening primrose oil supplements. The dose may vary depending on the extract. Check package directions
How long does treatments with evening primrose oil supplements take effect?
Evening primrose oil supplements have no immediate effects. It is estimated that these should be consumed for about 3 months so that a clinical response can be observed. This time is approximate, it depends on the individual response of each person.
Evening primrose oil supplements have no immediate effects. They have to be taken for 3 months so that a clinical response can be observed.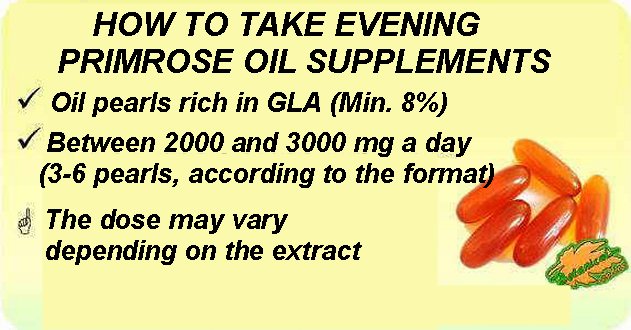 Importance of food on the effect of evening primrose
In addition, because they are a type of fat, to be effective it is recommended to consume good quality fats and avoid excess bad fats from the diet (heated oils, bad oils, margarine, pastries, fried foods, fried nuts, etc. .).
Bad fats in the diet hinder the metabolism of evening primrose fatty acids and cause them to lose effect.
Should rest periods be left when taking primrose oil supplements?
It is not necessary to stop taking evening primrose or perform rest periods. In case of doubt, it is recommended to consult with your doctor for more personalized advice and adapted to the individual circumstances of each person.
Is there any danger in taking evening primrose supplements?
The main danger of this type of supplements is to use them improperly. This happens mainly when a health problem with self-supplementation is covered, without consulting a doctor or a duly qualified healthcare professional. In addition, if you want to use a natural treatment, it is recommended  a professional about medicinal plants  to prescribe these treatments.
It is not advisable to take nutritional supplements as a first option, instead of consulting with a doctor because, at best, it may be an inappropriate supplement and not be effective. In other cases, supplements may delay adequate treatment, or interact with certain medications causing adverse effects.
Therefore, we recommend using medicinal plant supplements (or vitamins, or minerals), under the supervision of your doctor, although these can be purchased without a prescription.


More information on evening primrose oil
This article was endorsed by
Vicente Martínez Centelles
- Founder of the web and director. Teacher of natural sciences, expert in plants, natural remedies and botanical photography.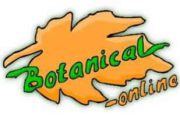 Written by
Editorial
Botanical-online team in charge of content writing