(Brassica oleracea var. capitata f. rubra)
NUTRITIONAL PROPERTIES OF RED CABBAGE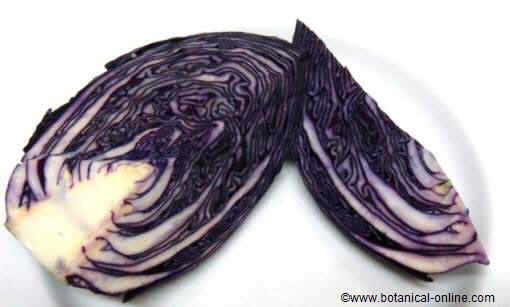 Photo of red cabbage
What is red cabbage?
Red cabbage, also called purple cabbage or red kraut, is a cabbage of the variety group "capitata", the same to which common cabbage or kale belong.
It is a leaf vegetable, compact, with a characteristic deep purple, and with a flavor similar to cabbage. In the composition it has got high content in anthocyanins, a pigment responsible for its coloration.
Benefits of red cabbage
Red cabbage to prevent cancer
As the rest of cruciferous, red cabbage components are very good to prevent cancer. (More information on Cruciferae against cancer)
Red cabbage for your sight
Anthocyanins presenting red cabbage present very outstanding properties for the eyes health. Its fundamental task is the protection of retinal capillaries, playing a key role in maintaining good eyesight. This vegetable should especially be good to people with eyestrain, glaucoma and diabetes.
Red cabbage is very suitable vegetable for your stomach
Red cabbage shares his stomachic properties with the other species of cabbage. Because of its content in glutamine, red cabbage is a natural antacid, ideal for the treatment of ulcers of the stomach or duodenum, and ulcerative colitis.
Red cabbage for all life stages
Cabbage and members of the cabbage family, Brussels sprouts, cauliflower, broccoli, turnips, etc.. are a very suitable food for all stages of life and should be taken each week:
These vegetables are the richest sources of dietary folic acid, which makes them particularly interesting during pregnancy, to meet the special needs of this vitamin during this period. Cabbage provides the protective benefit of capillaries that provides anthocyanins, which is especially beneficial for gestational diabetes.
The sulfur compounds of red cabbage are decomposed in indoles, which are involved in the regulation of estrogen and help prevent breast cancer.
For people who are under stress, or who are nervous, eating lots of red cabbage will help them relax and allow them to sleep better.
At menopause, red cabbage is also suitable for its richness in calcium. It also contains boron, a mineral that prevents loss of estrogen that help fix calcium in the bones, so, eating this food is effective in those people with osteoporosis.
Diuretic effects of red cabbage
It contains sulfur compounds and it is high in potassium, which gives this food diuretic properties, so it is well suited to help remove toxins, in cleansing diets, rheumatic diseases, and arthritis, but it is moderate it in gouty disease because of the ability of these vegetables (cabbage group) to absorb ground purines.
Equally interesting is the use of this food in other diseases in which fluid removal is critical: fluid retention with development of edema, etc..
Cabbage for obesity and weight loss diets
Red cabbage is suitable in obesity, since, because of its fiber content, it helps satisfy the appetite and also provides few calories to the diet with a high proportion of water. Individuals taking purple cabbage will benefit, in addition to its antioxidant benefits, of the laxative properties offered by this food.
For its protective role of blood vessels, cabbage flavonoids protect against cardiovascular disease and have antioxidant value.
Composition of red cabbage

Nutrient
Amount per 100g.

Calories (kcal.)

25

Carbohydrates (g.)

5,43

Proteins (g.)

1,44

Fats (g.)

0,27

Fiber (g.)

2,3

Vitamin C (mg.)

31

Vitamin B1 or thiamin (mg.)

0,05

Vitamin B2 or riboflavin (mg.)

0,04

Vitamin B3 or niacin (mg.)

0,3

Vitamin B6 o pyridoxine (mg.)

0,96

Vitamin A (UI)

133

Vitamin E (mg. de alfa-tocoferol)

0,11

Folates (mcg.)

43

Calcium (mg.)

47

Magnesium (mg.)

15

Phosphorus (mg.)

23

Sodium (mg.)

18

Potassium (mg.)

246

Iron (mg.)

0,6

Zinc (mg.)

0,18

Selenium (mcg.)

0,9
Main components of red cabbage
Precautions on cabbage consumption. Contraindications and side-efects of eating red cabbage
Gas Problems
– Some people may have problems with flatulence or slow digestion when consuming cabbage, in which case it is recommended to try different plants of the same family (cauliflower, broccoli, etc..), Or reduce the amount of food, but never completely eliminate these foods because they provide essential nutrients to our body.
To combat these problems Ayurveda recommends cooking the cabbage with a clove of garlic, onion and ginger to make it more digestible. Served with olive oil is healthier for the properties that it gives us, especially vitamin E and essential fatty acids.
– The cabbage should not be combined with other cruciferous vegetables in the same meal (arugula, cabbage, broccoli, cauliflower, etc..), Because the resulting combination can be very flatulent.
Hypothyroidism
The purple cabbage, like the rest of the cabbage family plants, is included within goitrogenic foods, whose consumption inhibits absorption of iodine, so it can be harmful for people with iodine deficiency manifested in form of hypothyroidism. These people can take these foods even moderately.
Uric acid
Sprouts and cruciferous plants also have a great capacity to absorb soil purines that turn into uric acid in the body. A high intake of this food could be harmful to people with kidney problems or have little ability to remove this component (too much uric acid or gout).


More information about red cabbage
This article was endorsed by
Elisenda Carballido
- Dietitian nutritionist. Postgraduate in Phytotherapy and master in Nutrition and Metabolism.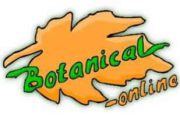 Written by
Editorial
Botanical-online team in charge of content writing