Vegetables as food
EDIBLE PROPERTIES OF VEGETABLES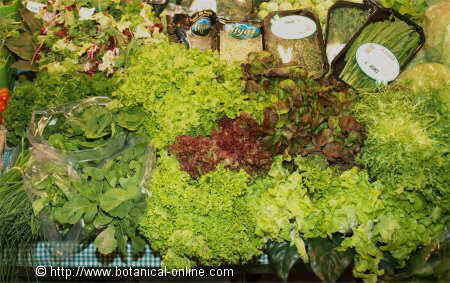 The wide availability of vegetables in the market today lets us eat a wide variety of these foods throughout the year.
Vegetables are light foods for a healthy diet
The first thing that draws attention in the composition of leafy vegetables or green stem is their high water content and their low fat and carbohydrates content. (See Table 1)
Vegetables contain more than 90% water and fat ranges only between 0.15 and 0.30%. Its carbohydrate content ranges from just over 3% to just over 5%, except Brussels sprouts and artichokes. This determines that this food group can be considered a very light food group.
This large amount of water and its low percentage of calories makes them ideal for dieting and for all those people with problems of obesity.
In addition to these properties, its high amount of water and richness in potassium (see Table 2, right) make them suitable to treat liquid retention. For some people it is very convenient to lose water, such as people with excessive weight, with fluid retention problems due to heart failure, rheumatoid arthritis, gout, renal failure, pregnancy, menopause, etc.
Vegetables are generally low in sodium and high in calcium and magnesium
Dietitians recommend a maximum sodium intake of about 2400 mg daily, both from food and from direct ingestion of salt. Most vegetables, except spinach, celery, artichokes and cardoons, have very low or low levels of sodium, so they are highly recommended for those who need to take a diet of foods low in sodium, especially people with hypertension, kidney disease or osteoporosis.
This does not mean that people with these problems can not eat vegetables with high levels of sodium, since those vegetables that have a high sodium level also possess a high level of potassium. In fact it is recommended to eat spinach or thistles to people with hypertension because it has been proven they help lower blood pressure. Artichokes are actually one of the main foods recommended for blood pressure control.
Equally interesting for bloodstream and for control of hypertension are the high proportions of magnesium and calcium in vegetables. It has been found that patients with hypertension also had low levels of magnesium. Calcium, in addition to its recognized value for bone development and prevention of osteoporosis, is important in preventing circulatory diseases and thrombus formation in arteries, as well as and hypertension.
The dark green leafy vegetables are those that contain a highest amount of calcium. These include especially dandelion, amaranth, purslane, borage, spinach and watercress although in the case of spinach, purslane and amaranth, its high content of oxalates are not allowed to absorb all the calcium, so they should not be considered as a good source of calcium.
(Table 1) Food composition of some leafy vegetables and stems, per 100 g of fresh vegetables

water
fats
Alfalfa sprouts

91,1 g

0,69 g

Chard

92,6 g

0,20 g

Artichokes

84,9 g

0,15 g

Amaranth (leaves)

91,6 g

0,33 g

Celery

94,6 g

0,14 g

Watercress (Nasturtium officinale)

95,1 g

0,10 g

Borage

93 g

0,70 g

Broccoli

90,6 g

0,35 g

Corn salad

92,8 g

0,40 g

Thistles

94 g

0,10 g

Cabbage

92,1 g

0,27 g

Brussels sprouts

86 g

0,30 g

Cauliflowers

91,9 g

0,21 g

Dandelion

85,6 g

0,70 g

Endives

93,7 g

0,20 g

Asparagus

92,4 gr.

0,17 g

Spinach

92, 2g

0,30 g

Lettuce

95,5 g

0,2 g

Garden cress (Lepidium sativum)

89,4 g

0,70 g

Purslane

93,92 g

0, 10 g
(Table 1) Food composition of some leafy vegetables and stems, per 100 g of fresh vegetables

Carbohydrates
Calories
Alfalfa sprouts

3,78 g

29 kcal

Chard

3,74 g

19 kcal

Artichokes

10,5 g

47 Kcal

Amaranth (leaves)

4, 03g

23 kcal

Celery

3,65 g

16 Kcal

Watercress (Nasturtium officinale)

1,29 g

11 kcal

Borage

3, 06 g

21 kcal

Broccoli

5,24 g

28 kcal

Corn salad

3,6 g

21 kcal

Thistles

4,8 g

20 Kcal

Cabbage

5,43 g

25 Kcal

Brussels sprouts

8,96 g

43 Kcal

Cauliflowers

5,20 g

25 kcal

Dandelion

9,20 g

45 kcal

Endives

3,3 g

17 Kcal

Asparagus

4,54 g

23 Kcal

Spinach

3, 90 g

22 Kcal

Lettuce

2,3 g

13 Kcal

Garden cress (Lepidium sativum)

5, 5 g

32 kcal

Purslane

3, 43 g

16 kcal
(Table 2) Food composition of some leafy vegetables and stems, per 100 g of fresh vegetables

potassium
sodium
Alfalfa sprouts

79 mg

6 mg

Chard

379 mg

213 mg

Artichokes

370 mg

94 mg

Amaranth (leaves)

611 mg

20 mg

Celery

287 mg

87 mg

Watercress (Nasturtium officinale)

325 mg

27 mg

Borage

330 mg

41 mg

Broccoli

470 mg

80 mg

Corn salad

459 mg

4 mg

Thistles

400 gr.

170 mg.

Cabbage

0,27 g

5,43 g

Brussels sprouts

389 mg

25 mg

Cauliflowers

246 mg

18 mg

Dandelion

397 mg

76 mg

Endives

314 mg

22 mg

Asparagus

273 mg

2 mg

Spinach

449 mg

21 mg

Lettuce

257 mg

5 mg g

Garden cress (Lepidium sativum)

606 mg

14 mg

Purslane

494 mg

45 mg
(Table 2) Food composition of some leafy vegetables and stems, per 100 g of fresh vegetables

magnesium
Calcium
Alfalfa sprouts

27 mg

32 mg

Chard

81 mg

51 mg

Artichokes

60 mg

44 mg

Amaranth (leaves)

55 mg

215 mg

Celery

11 mg

40 mg

Watercress (Nasturtium officinale)

25 mg

48 mg

Borage

21 mg

120 mg

Broccoli

52 mg

93 mg

Corn salad

13 mg

38 mg

Thistles

60 mg

44 mg

Cabbage

15 mg

47 mg

Brussels sprouts

23 mg

42 mg

Cauliflowers

15 mg

22 mg

Dandelion

36 mg

187 mg

Endives

15 mg

52 mg

Asparagus

18 mg

21 mg

Spinach

11 mg

210 mg

Lettuce

12 mg

32 mg

Garden cress (Lepidium sativum)

38 mg

81 mg

Purslane

68 mg

65 mg
Vegetables contain a lot of vitamins and fiber
Vegetables contain high amounts of vitamins, especially vitamin C, vitamin A and vitamin B. Vitamins C and A are two of the best antioxidants capable of neutralizing the negative effects of free radicals, which can cause many diseases of a degenerative nature, including cancer.
It has been proved that the ingestion of vegetable food with green leaves can dramatically reduce the appearance of colon cancer. This is due to the antioxidant properties of these vitamins as well as their richness in soluble fiber which increases intestinal transit and promotes a faster removal of feces from the bowel. This determines that toxins remain deposited in the intestines so they are less likely to act on the cells of the intestinal wall and develop tumors in them.
Vitamin A from vegetables is in the form of carotene. These, when ingested, is converted to vitamin A in the body. The properties of this vitamin are very broad. The lack of this element causes night blindness, fatigue, skin or teeth in poor condition, easier to get infections. Vitamin A is necessary for the proper formation of bones and good skin condition, for the formation of red blood cells and to repair injuries suffered by body tissues. Some vegetables such as spinach, besides vitamin A, contain other components such as lutein and zeaxanthin that protect the eyes from vision loss and macular degeneration.
The richness in fiber from vegetables also allows to protect us against colon cancer, prevents constipation and intestinal putrefaction.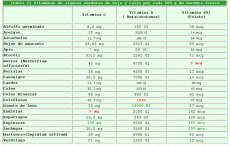 Vegetables have a well justified reputation for providing abundant vitamins. An adequate daily intake of these foods and can supply the specific needs of each person, without having to resort to vitamin supplements. (More information on "major vitamins of vegetables"
Vegetables are rich in phytochemicals
Vegetables contain high amounts of phytochemicals. These components, which are carotenoids, as mentioned above, are real "natural elixir of youth" so they help us stay younger for longer by preventing the degradation of our cells. For example, it has been demonstrated that the ingestion of many fruits and dark green leafy vegetables prevents the development of lung cancers. It has been shown that ingestion of plants of the cabbage family (cruciferous) which include the same cabbage, Brussels sprouts, broccoli, etc., help prevent colon cancer. It is known that people who eat plenty of foods rich in flavonoids are up to 30% less likely to suffer some form of cancer.
The main phytochemicals of vegetables are the following:
– Beta-carotenes: They inhibit the formation of cancerous tumors, especially lung cancer and breast cancer, help maintain good skin health, good vision state and protect against infection. The main vegetables that contain these principles are spinach, watercress and broccoli.
– Lutein: It helps preserve vision by preventing vision loss. The main foods with lutein are spinach or lettuce.
– Coumestans: Alfalfa sprouts, cabbage or clover leaves are rich in this phytochemical.
– Indoles: Among these the most important are sulforaphane and indole-3-carbinol. The latter helps reduce estrogen, preventing the development of breast cancer. Indoles generally neutralize toxic substances which may be responsible for the development of cancerous tumors. Among the foods rich in these components we have all the plants from the cruciferous family (cabbage and similar plants)
– Chlorophyll: All vegetables are rich in chlorophyll. Chlorophyll, from a food standpoint, has antioxidant properties, helps the liver and kidneys to eliminate toxins and promotes blood circulation by means of lowering cholesterol and triglycerides. It also protects the skin and helps heal wounds and infections. Although not scientifically proven, many people with arthritis and osteoarthritis say they help reduce joint inflammation. It is thought that it may also help fix calcium, so it might be useful in the treatment of osteoporosis. Chlorophyll appears in the green parts of plants, so it is imperative to keep our vegetables tender to prevent this degradation.
– Isothiocyanates: They are present mainly in the cabbage family that, according to studies conducted in France, seem to slow the growth of cancer cells in the lungs, both in smokers and in nonsmokers. Its antioxidant effects are responsible for this property. In another California study, people who ate a lot of Brussels sprouts or broccoli were less likely to develop lung cancer even in front of people who ate other vegetables. It was found that this protection was more effective for people who had a genetic predisposition to this disease, manifested by the inactivity of the genes GSTM1 and GSTT1, which are responsible for producing enzymes that neutralize cancer-causing toxins.
– Ferulic acid: It is a great antioxidant, able to inhibit the growth of cancerous tumors. It stimulates the defense system, protects the liver and prevents attacks of herpes. It is found in spinach.
– P-coumaric-acid: Found in cabbage, cauliflower and spinach, it is able to neutralize the negative effects of nitrosamines. Nitrosamines are components which are formed in our body under the influence of nitrates. Nitrates come from food preservatives added to food to avoid them to be spoilt. They can also come from contaminated food, including vegetables. It has been found that nitrosamines have a negative effect on the body, being able to produce numerous diseases, including cancer.


More information about vegetables.
This article was endorsed by
Elisenda Carballido
- Dietitian nutritionist. Postgraduate in Phytotherapy and master in Nutrition and Metabolism.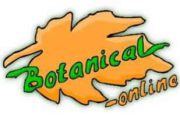 Written by
Editorial
Botanical-online team in charge of content writing