Vegetables as food
History of vegetables
The birth of vegetables is linked to the first sedentary civilizations. At first, Man was a hunter and gatherer. He fed on hunted animals and wild fruits, seeds, leaves of wild plants and roots of these plants.
Over time, he learned to cultivate the land, appearing later the great cultures of people living along rivers. They planted cereals, fruit trees and vegetables. Eating these foods that they grew themselves, made it possible to maintain a sedentary lifestyle and dispose of food throughout the year.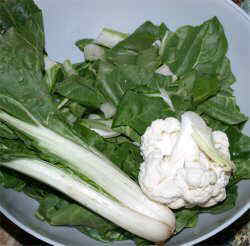 Photo of vegetables: Charts and cauliflower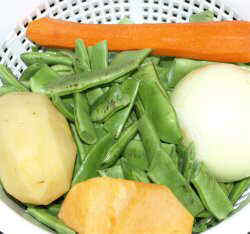 Other vegetables: Potatoes, green beans, squash and onion
Historical references of vegetables
The first references of vegetables have that name written in the ancient writings of gardens of Babylon. According to the drawings found in the tombs of the Egyptians, they ate vegetables in abundance and, among them, garlic and onions were the most consumed.
Most of the vegetables of Europe come from Asia and the Far East. They were introduced by the Arabs when they conquered the Mediterranean countries. Hence, vegetables are an essential food group in the Mediterranean area.
During the Middle Ages, growing fruits and vegetables was mainly intended to feed the poorer classes. The nobles ate mainly meat and were offered only "vegetable broth" when doctors prescribed them to cure a disease. During this time, in addition to farmers, clerics, who lived in convents, possessed orchards where, besides cultivating fruit trees and medicinal plants, had a section devoted to gardening where they planted vegetables.
Trips to America from the fifteenth century marked a contact between different civilizations that conveyed a great exchange of food between them. Upon arriving settlers to America, they realized the great wealth pre-Columbian civilizations had about grown vegetables. Tomatoes, potatoes, peppers, eggplants, beans, pumpkins, etc were not known in Europe and, gradually, were incorporated in the kitchens of this continent.
The main increase in consumption of vegetables took place in the first half of the twentieth century. It is believed that after the Second World War, consumption of vegetables rose by more than 30%. The reasons that led to the increase of these foods were the most demand from a growing population, the increased production due to fertilizer use, or the major conservation and better transportation of goods.
Vegetables at present
Current production of vegetables in the world is very important. Vegetables as a whole represent the second most produced food group in the world, after cereals. Within this food group, certain vegetables as potatoes are the third largest global food product.
Today we have a very large variety of vegetables. This variety should be sufficient reason to include them regularly in a healthy diet. Gradually, vegetables are being established along with fruits and grains as the pillars of a healthy diet.
The best vegetables: fresh and biological vegetables
The best vegetables are those eaten fresh, especially those from biological cultures in which no chemical fertilizers or pesticides have been used to produce them.
Today, especially in large cities, it is very difficult to buy vegetables directly to the producer so that, in most cases, the consumer is forced to buy frozen or canned vegetables. The modern quality controls ensure that these products meet the required health standards and appropriate food, but its flavor is less good than that of a freshly picked vegetable from the garden.
To get the best vegetables you can use small markets where farmers sell their own products directly without intermediaries. These should be cooked as soon as possible to keep all its qualities and flavor.
Even knowing that vegetables come from plants, it is important to wash them well with plenty of water, especially if we are to eat them raw. To do this, they should be introduced in a container in which some drops of bleach have been added. Thus, we ensure the removal of the germs which may be present in them.
Later, we will apply them an abundant rinsing, placing them under running tap water so that any residual drag organic or inorganic should be removed. One should take into account that many vegetables contain highly clustered leaves, so they must be separated and washed thoroughly. The presence of microorganisms in poorly washed vegetables and uncooked foods is responsible for the occurrence of many diseases such as intestinal worms, diarrhea, colitis, etc..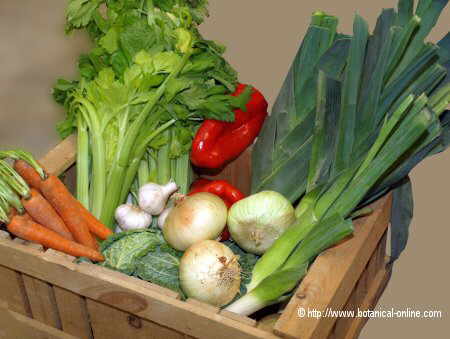 Organic vegetables
Canned vegetables
Preserving vegetables makes them available during the months of the year when these are not at hand.
The main types of conservation of vegetables are:
– Frozen vegetables.
– Tinned vegetables
– Pickled vegetables
– Fermented vegetables
– and vegetable of fourth generation.
(More information on how to preserve vegetables)


More information about vegetables.
This article was endorsed by
Elisenda Carballido
- Dietitian nutritionist. Postgraduate in Phytotherapy and master in Nutrition and Metabolism.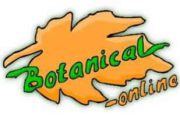 Written by
Editorial
Botanical-online team in charge of content writing