Natural treatment with herbal preparations for menopause
Natural remedies for menopause symptoms
Menopause is a stage in a woman's life characterized by the definitive natural loss of menstruation. We must avoid the current tendency to medicalize menopause as if it were a disease: it is not pathological, nor is it harmful to health, and it is not necessary to take medicines or preventive remedies.
The conventional treatment of menopause is symptomatic, and consists of pharmacologically treating those alterations related to menopause, or that appear with one's own age, such as depression, hot flushes, memory loss, or overweight.
Phytotherapy: Herbal remedies for menopause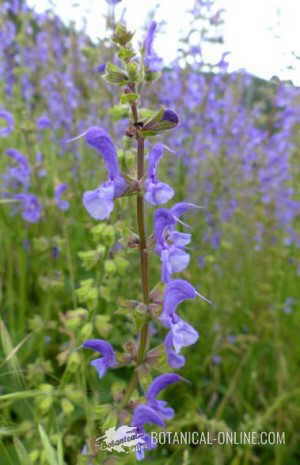 The role of phytotherapy in the treatment of the menopause will focus in using those plants which objective will be:
Plants for bleeding or bleeding that can occur during the climacteric (premenopause)
Plants to improve circulation and strengthen capillaries
Plants that reduce the symptoms that can occur during menopause (although in some women it is asymptomatic)
Plants rich in phytoestrogens that substitute or diminish the use of substitution hormones (TSH = hormone replacement therapy) of conventional treatment. This type of therapy consists of providing synthetic hormones to correct estrogen loss that occurs at this stage
Vitamins and minerals for menopause
Alternative therapies to face this new life cycle with joy and serenity
Natural cosmetics to care for and beautify the skin, against dryness
In general, they are plants that avoid or diminish the negative symptoms that the period of the menopause entails.
Medicinal plants for menopause
Many medicinal plants have traditionally been used as home remedies for some problems related to menopause or with one's own age, such as dry skin, hot flashes, irritability or restlessness.
Among all the plants used, we could mention the following as the most recommended for the natural treatment of menopause:
Sage (Salvia officinalis): Has some effect to compensate for the hormonal changes that occur during climacteric and menopause. It also has excellent antisudorific properties and is used as a remedy against hot flashes. A few hours after the intake of this infusion, sweating or excessive perspiration decreases. (Infusion of 1 tablespoon of dried leaves per cup, 2-3 times a day) (For sweating: wash the face with salvia water).
Melissa or lemon balm (Melissa officinalis): Melissa is one of the best remedies for nerves and restlessness. (Infusion for anxiety one spoonful per glass of water for 15 minutes, 3 or 4 glasses a day)
Herbs for the natural treatment of menopause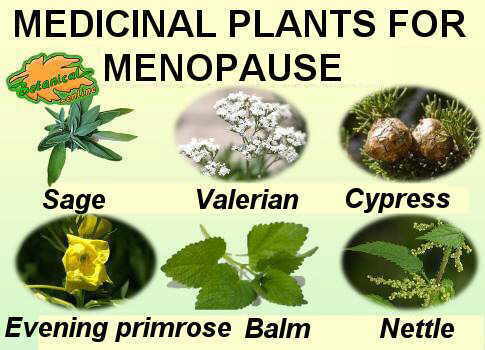 Main medicinal plants used in the natural treatment of menopause
Plants to stop bleeding in menopause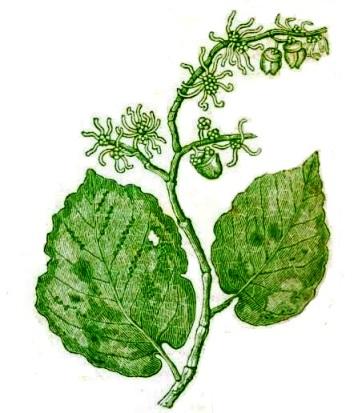 Cypress (Cupressus sempervirens): Due to its vasoconstrictive properties, it helps to avoid the bleeding or bleeding that occurs during the climacteric and menopause stage. (1 teaspoon of plant per cup, twice a day)
Witch-hazel: (Hamamelis virginiana) Internal use of this plant helps reduce hot flashes caused by menopause. (Infusion of a teaspoon of dried leaves per cup of water. Take a couple of cups a day)
More medicinal plants for menopause
Blackthorn: (Prunus spinosa) An infusion of half a teaspoon of dried flowers per cup of water for about 3 minutes is useful in disorders caused by menopause, both physical and mental, such as hot flushes, palpitations, or chills among the first, or depression, insomnia or general disinterest among the latter.

Photo of passionflower, a sedative plant

Passion flower (Passiflora caeurulea) Of particular interest to alleviate nerve problems associated with menopause or premenstrual syndrome that don't let you sleep at night or cause you bodily pain.
Infusion of a couple of tablespoons of dried plant per half liter of water. Drink a couple of small cups a day) (Maceration of the desired amount of dry plant with the same amount of alcohol for a week. Filter and take about 25 drops per day)
Parsley (Petroselinum crispum (Miller) A.W. Hill) It increases the production of estrogens which is particularly useful in menopause. (Soak for 45 minutes a couple of glasses of parsley in a litter of boiling water. Turn off the cooker and let it rest for one hour. Drink a glass before intercourse) See the contraindications in the complete information on this plant.
Red grapevine: (Vitis Vinifera L.)It is useful to treat excessive bleeding that sometimes occurs in menopause. (Mix 100 grams of red vine leaves with 50 grams of marjoram (Origanum majorana). Grind to a powder. Make an infusion for 10 minutes with a tablespoon of this mixture per cup of water. Drink 2 cups daily)
Plants with phytoestrogens for menopause
Phytoestrogen supplements are sold without a prescription as food supplements, but it is recommended to consult a doctor before taking them.
The infusions of plants with phytoestrogens have a content of isoflavones much lower than that of soy.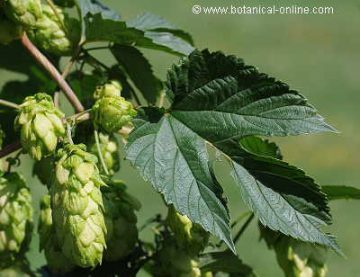 Hops (Humulus lupulus): Calming plant. Currently its use in menopause is being studied to reduce symptoms of this stage such as hot flashes and irritability due to the active ingredient 8PN.
Cardamom: (Elettaria cardamomum) cardamom contains stigmasterol and nerol, substances with estrogenic effect that can help to combat the symptoms of menopause. (A couple of cups per day of the infusion of 20 g of seeds sprayed per half liter of water) (Dye diluted in water before meals, according to the conditions of the leaflet).
Clover: (Trifolium pratense) Because of its content in formononetin, a phytoestrogen plant hormone that regulates the decompensation which occurs during menstruation and, especially in menopause, clover helps to alleviate the pains that normally accompany it, as well as other secondary factors that produce the loss of menstruation, such as vaginal dryness.
It also appears to influence the process of decalcification and heart problems that accompany menopause, as has been demonstrated in studies on the use of extracts of this plant. (Infusion of a teaspoon of dried leaves per cup of water. A couple of cups a day.)
Maca (Lepidium meyenii) Maca is a Peruvian plant with high calcium content and adequate properties for this period of the woman (Take 3g of maca daily for 60 days)
Alfalfa (Medicago sativa) It can be helpful to alleviate the shortage of hormones that occurs during this period. At the same time can help ease many of the symptoms that occur during menstruation. (Eat alfalfa sprouts a few days before menstruation) (Available on the market as preparations in powder or tablets that can be taken for the same purpose in accordance with the terms of the patient's leaflet)
Liquorice (Glycyrrhiza glabra) Glycyrrhizin has the ability to regulate estrogen in women. Its use during menopause may improve its negative symptoms. (Take some pure standard preparation according to the terms of patient's leaflet) (See more details on its use and its toxicity in the general study of the plant)
Fenugreek: (Trigonella foenum-graecum) It increases the production of estrogens which is particularly useful in menopause. (Decoction of half a teaspoon of seeds in 1 liter of water. Drink a glass in the evening)External use natural remedies for menopause
External plant remedies for menopause
Among them, we can mention:
Sesame (Sesamum indicum) Sesame oil can be used like lubricant to facilitate intercourse.
Nettle: (Urtica dioica) Against capillary weakness produced by the hormonal changes of menopause, one can test the regenerative effect of the nettle on the scalp and its ability to fight dandruff, seborrhea and other disorders related to hair loss.
For this reason, although nettle is not a miracle or an elixir for baldness, it can help prevent or delay its onset. (100 gr maceration. Nettle and dried rosemary in 1 liter of anise for 15 days. Rub on the scalp in the morning and before bedtime) (More information on hair loss)
(Make a mask with avocado pulp and keep it before going to sleep for half an hour on the face). Avocado, due to its vegetal fat content, is ideal for the treatment of normal skins, or dry ones, but it should not be applied on greasy skins. (More information on the care of dry skin)
Essential oil from plants for menopause
The use of essential oil for massages before sex helps to relieve tension, reduce stress, allowing greater communication between the partners and increases their sexual desire.
Among others, we can use the following plants: rose, dog rose, mint, ilang-ilang, jasmine, sandalwood, orange blossom, lavender or clary sage. (More information on plants to increase sexual desire)
* Related information:
– Remedies for bad circulation during menopause
– Importance of eating soy during menopause


More information on menopause.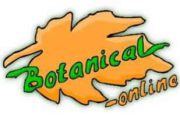 Written by
Editorial
Botanical-online team in charge of content writing