What is fenugreek used for?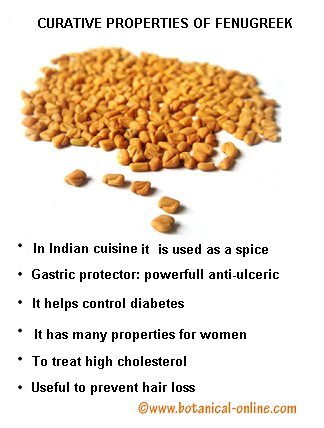 Main curative properties of fenugreek
Internal uses of fenugreek – fenugreek in food or supplements.
Diabetes: This is one of the most interesting fields of study that fenugreek may have in herbal medicine and pharmacology. This supplement has been shown to present suitable properties to reduce blood sugar.
The hypoglycemic activity of fenugreek is effective in animals and in people with diabetes mellitus type I and II. Also, fenugreek reduces "bad" cholesterol (LDL) and increases the "good" cholesterol (HDL), helping to reduce the cardiovascular risk of these patients.
* More information: Fenugreek in Diabetes.
External uses of fenugreek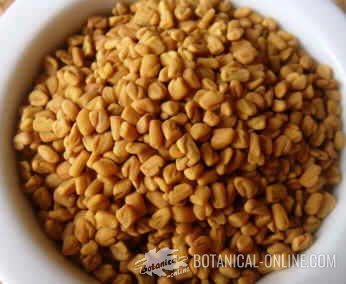 Fenugreek grains
The composition contains a type of fiber (mucilage) capable of absorbing large quantities of water, which hydrates and cleanses the skin when applied as a plaster or poultice.
It also has a high content of nicotinamide, a substance derived from nicotinic acid that can be transformed to niacin (vitamin B3).
This vitamin has properties important for skin health.
We can not forget its anti-inflammatory components (saponins, flavonoids and minerals).
Fenugreek, can be used, for example, for the following ailments:
– Joint pain: arthritis, osteoarthritis, carpal tunnel syndrome, uric acid or affected joints or pain in the toes (gouty disease).
Hemorrhoids: applying a cold sitz bath to shrink is a good remedy that can soothe the painful area by hemorrhoids.
Skin Conditions : applied on cracked skin areas (cracked nipples or lips) difficult to heal wounds, abscesses and eczema.
Acne: A poultice of fenugreek powder cleanses the skin and promotes the elimination of pus and acne scarring.
Cellulite: The poultice of fenugreek is used to clean and drain cellulite.
FENUGREEK FOR BALDNESS The external application of fenugreek on hair is used to prevent and treat baldness or hair loss. Fenugreek contains substances with anti-inflammatory and vasodilating properties favoring capillaries irrigation and hair nutrition: flavonoids (luteolin, kaempferol, quercetin, rutin), acetylcholine, arginine and minerals (potassium, calcium).

A fenugreek and oil mask will nourish your hair and will provide you a better looking shiny hair.
Fenugreek medicinal preparations – Dosage
All fenugreek preparations are made from crushed fenugreek grain or flour . Only when we grind fenugreek grain, all nutrients can be profited and its fiber mucilages released.
PREPARATIONS FOR INTERNAL USE – FENUGREEK AS FOOD
Fenugreek flour (ground seeds): take before each meal, ½ teaspoon of seeds powder with a glass of water or milk. Start treatment with low amounts (13 grams daily) and increase gradually. It can also be consumed as a condiment. Up to 25 grams per day (maximum allowed).
Decoction: preparing a slurry with 1 tablespoon of fenugreek flour (15g.), 1 cup water, 1 teaspoon olive oil and 1 tablespoon honey or brown sugar. You can add a few seeds of anise or caraway for flavoring. Fenugreek is very bittering. In case you do not tolerate its taste, take in capsules.
Infusion or tisane: Fenugreek bags are sold in 80 100g.. From 13 infusions per day as prescribed by the professional.
Dry capsules: They usually contain 2mg of trigonelline per capsule. Take 1 capsule before each meal, with a glass of water or milk. Up to 3 capsules daily. In case of having the whole seeds, you can buy empty capsules at the pharmacy and filled them with ground grains at home.
Fenugreek extract: extracts containing 1.3 mg standards. of trigonelline by 1ml. extract. Effective daily dose of such supplement is 3.9 mg. trigonelline daily. In this case, the dosage is as follows: 1ml. (approx. 20 drops) of extract three times daily. Do not exceed 4ml daily . Children under 6 years old should not exceed 1 ml. day (5 drops, 3 times a day). Children under 12 should take half the adult dosage.
PREPARATIONS FOR EXTERNAL USE- TOPICAL PRODUCTS
Plaster: 50 grams of powder or crushed seeds in decoction with 250ml. water for 5 minutes. Drain the remaining water and apply the drained product to the desired area with a gauze. It is applied directly to wounds difficult to heal, chapped or irritated areas.
Poultice: decoction (boiling from cold) of 150g of fenugreek flour in 1 liter of water. Leave it boil for 15 minutes until it forms a pulp. Let it cool for 5 minutes and apply to the desired area.
Sitz bath: decoction (boiling from cold) of 100g of fenugreek flour in 1 liter of water. Leave it boil for 15 minutes until a pulp is formed. Let it cool for 15 minutes, until cool, and do a sitz bath for 10 minutes. It is used to treat hemorrhoids.
Related information:
Fenugreek medicinal properties
Fenugreek uses and preparations


More information on fenugreek
This article was endorsed by
Elisenda Carballido
- Dietitian nutritionist. Postgraduate in Phytotherapy and master in Nutrition and Metabolism.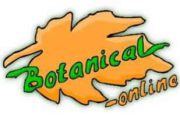 Written by
Editorial
Botanical-online team in charge of content writing