PROPERTIES OF SUNFLOWER OIL
What is sunflower oil good for?
Sunflower oil is a great source of linoleic acid, omega 6, which is a polyunsaturated fatty acid, with a preventive effect against heart disease and vascular affectations.
Sunflower oil prevents the development of atherosclerosis, lowers LDL cholesterol and increases HDL cholesterol, preventing the onset of dyslipidemia and other diseases associated with increased blood cholesterol.
As it is low in saturated fat, it is credited with another more benefit, because sunflower oil will not only increase cholesterol levels, but it will help reduce it, by the joint action of polyunsaturated and monounsaturated fatty acids it contains.
It also has a positive effect in both prevention and treatment of some central nervous system diseases, such as neuropathy, Alzheimer's, multiple sclerosis, but its consumption is also beneficial in other less serious anomalies.
Depending on whether the levels of monounsaturated fatty acids, such as oleic acid, are much or less high, it will have more or less beneficial effect on our body, but even then, it will not fail to give us its attributes, albeit to a lesser extent.
Because of its high content of vitamin E in the form of tocopherols, and therefore, because of its high antioxidant effect, provided that it is consumed crude, it is preferred in both coronary pathologies and in circulatory ones (heart attacks, angina pectoris, arteriosclerosis, etc) in dyslipidemias and as a protector of central nervous system.
How to consume sunflower oil?
It is best to consume it raw and not to subject it to high temperatures. If sunflower oil is submitted to high temperatures (for example, when using it in fried culinary preparations) the vitamin E content is volatilized by heat application.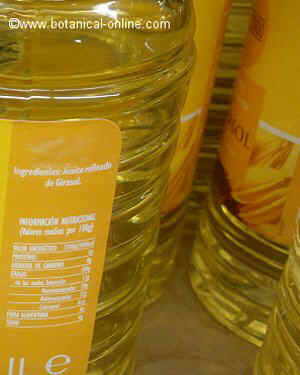 Sunflower oil
Sunflower oil for frying?
Sunflower oil is rich in polyunsaturated fatty acids, so it is not very resistant to high heat. When subjected to hot, it degenerates producing toxins that are harmful to the body.
With this, we will lose the vast majority of their content and, therefore, also lose their antioxidants and preservatives benefits.
If we fry with oil, it is best to do it with olive oil or high oleic sunflower oil, because it contains a greater proportion of oleic acid which is more resistant to frying.
Conservation of sunflower oil
Obviously, oils containing high doses of vitamin E have a more lasting conservation than those with less of this antioxidant vitamin, as vitamin E will prevent them to become rancid prematurely.
This is the reason that an oil which is stored in a raw state it is maintained longer without much changes since it does not oxidize so much as when having applied temperature and having lost its vitamin E.
However, although sunflower oil contains high vitamin E, keep in mind that it is mostly a polyunsaturated fat (with more than 65% of linoleic acid which is more readily oxidisable than one having high levels of saturated fatty acids, which are less likely to become rancid. Therefore, sunflower oil can be kept less time than olive oil, which is much more durable.
Disadvantages of sunflower oil
Sunflower oil can be pro inflammatory by overconsumption. The levels of omega 3 and omega 6 should maintain a balance on a 3-1 (3, omega 6 and omega 3 1).
If we increase the consumption of one of them, without increasing the consumption of others, we can break this balance.
Excessive consumption of sunflower oil may increase too much omega 6 levels.
* Related information:
Differences between olive oil and sunflower


More information on sunflower and sunflower oil
This article was endorsed by
Elisenda Carballido
- Dietitian nutritionist. Postgraduate in Phytotherapy and master in Nutrition and Metabolism.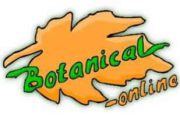 Written by
Editorial
Botanical-online team in charge of content writing