PROPERTIES OF SUNFLOWER
Curative properties of sunflower
Sunflower for the eyes.
Sunflower seeds and oil are especially rich in vitamin E, an antioxidant and protector of all body cells, and also beneficial for eye health.
It also contains two important vitamins for the eyes: thiamine, which has a role in the nutrition of the nervous system and riboflavin, which stimulates the antioxidant activity of vitamin E, thus enhancing its effect.
Sunflower seeds are the richest plant food in cysteine, nonessential amino acid with antioxidant and protector of your sight.
Sunflower for the nervous system.
Sunflower seeds are recommended to introduce into your diet in circumstances of stress, anxiety or exam periods. Its high content in lecithin, vitamin E, thiamin, and essential fatty acids to the body, make them ideal food for the proper performance of the body and brain.
Therefore, sunflower seeds and sunflower oil are on the diet for Parkinson's, multiple sclerosis diet, dementia and Alzheimer's diet.
Sunflower for cardiovascular health
Studies show that a diet rich in sunflower decreases the levels of total cholesterol and LDL cholesterol ("bad cholesterol"). This action is associated with its content in essential fatty acids, vitamin E, lecithin.
The minerals present in the fruit also help to improve cardiovascular health: potassium, magnesium, making it ideal in diets for hypertension.
Sunflower flowers are rich in carotenoids, which act in the prevention of heart disease.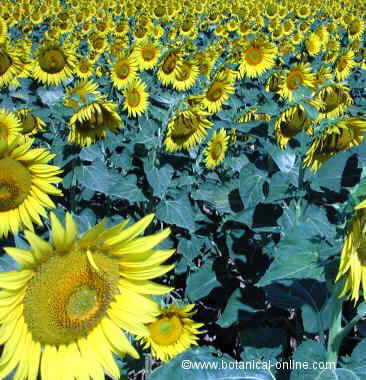 Photo of sunflowers field
Sun flower oil is anti-inflammatory
The chemical quality of sunflower seeds and sunflower oil, because it contains essential fatty acids, has anti-inflammatory action.
Thus its use is appropriate in inflammatory processes. Also triperpenic glycosides extracted from sunflower oil, are equipped with anti-inflammatory action.
An alternative to milk
Sunflower seeds and oleaginous fruits generally, for its calcium content are on dairy free diets. Moreover, sunflower seeds, leaves and stem of the plant contain magnesium, bone mineral constituent together with calcium.
This property makes of sunflower seeds in a very suitable food diets with high requirements of calcium, magnesium and vitamins, such as during pregnancy or lactation.
Curiosities about sunflower
– Native to North America, the history of the sunflower plant is extraordinary, since it has traveled thousands of kilometers from its discovery, to its importation, to be marketed in Russia, and returned to their habitat some years later.
– In the language of the Aztecs, the nathual, the word "acahual" is used to name the sunflower and other similar plants. We could say then that this is the first recorded name for sunflower.
– the Native American Cherokee Tribe used the the infusion of sunflower leaves for the treatment of kidneys.
– The Dakota tribe used sunflowers infusion for chest pains and lung problems.
– The Ventres Gros tribes, the Rees and the Mandan used sunflowers in ceremonies, and its oil to lubricate or paint the face and body.
– The Hopi, another American tribe, used the sunflower plant as medicine for spider bites.
– The Navajo Indian region eat sunflower seeds to stimulate appetite.
– The Paiute Tribe used a decoction of the root of sunflower to relieve rheumatism.


More information on sunflower
This article was endorsed by
Vicente Martínez Centelles
- Founder of the web and director. Teacher of natural sciences, expert in plants, natural remedies and botanical photography.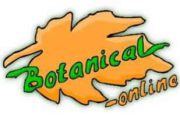 Written by
Editorial
Botanical-online team in charge of content writing