The easiest garlic recipe: garlic soup with bread and olive oil
How to make a healthy and easy garlic recipe
GARLIC SOUP
Ingredients for four people
4 cloves of garlic.

1 liter of water.

Four tablespoons of olive oil.

1 teaspoon salt

Half a kilo of bread
How to prepare a garlic soup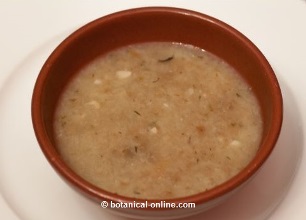 Garlic soup
Put the water in a pot to boil with salt.

Cut the bread into small and thin pieces.

When the water boils, add the oil.

Add the bread into the water, stirring for 5 minutes.

Remove pan from heat.
Method of serving
Eat hot. (While water is boiling, additionaly you can add couple of eggs that must dissolve in this soup)

More information on garlic and nutrition
*Related information: More information about garlics
Other interesting articles
This material is for informational purposes only. In case of doubt, consult the doctor.
"Botanical" is not responsible for damages caused by self-medication.