Narcissus requienii Roemer / Narcisuss assoanus
Wild daffodil
In february of 1999 it was presented this photograph for being identified: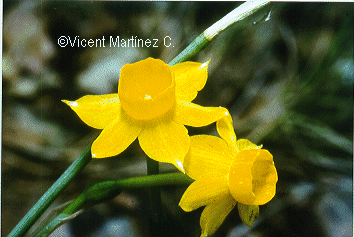 The correct answer was:
Narcissus requienii Roemer / Narcisuss assoanus
Known colloquially as:
Wild daffodil
Among the qualified ones, the winner came out:
Elena Angulo Cánoves!
Congratulations!
Winner's diploma of february 1999
See the entire contest history.

More information about plants.
Other interesting articles
This material is for informational purposes only. In case of doubt, consult the doctor.
"Botanical" is not responsible for damages caused by self-medication.