Classes of chocolate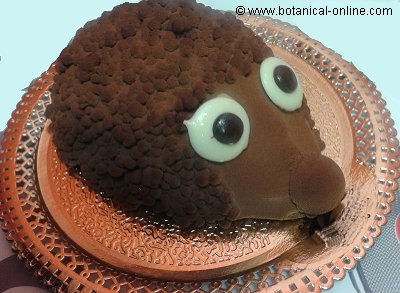 Chocolate hedgehog cake with milk chocolate (body); white chocolate (the whites of the eyes); Dark chocolate (the pupil of the eyes) and pastry chocolate coating (the outside of the hedgehog)
How many kinds of chocolate are there?
There are many kinds or types of chocolate. According to the proportion of the components, we have the following best known classes of chocolate:
What is dark chocolate?
It results from the combination of the cocoa paste with the cocoa butter or the exclusive use of the cocoa paste with more sugar. Although, theoretically, it should contain at least 45% cocoa paste, in practice, there are many chocolates containing a much higher proportion.
How many kinds of black chocolate are there?
The following combinations are very common:
50% Chocolate: Contains 50% cocoa paste and 50% sugar. It is a type of chocolate that, if it is allowed to melt in the mouth, it tastes like coffee, although it does not have any, and it also tastes to roasted almonds, neither having any.
70% Chocolate: It is darker than the previous one and has a more intense and acidic flavor. Contains 70% cocoa paste. When we break it, it has a crunchy texture. It continues to manifest a certain taste to roasted almonds, although the coffee taste has disappeared.
Chocolate 85%: It is dark black color and very acid and rough taste. It is usually used in combination with cava, a type of wine, because, marinated with it, it loses acidity.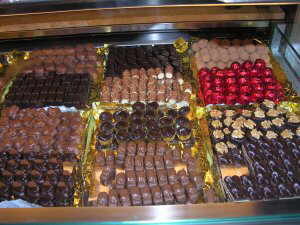 Photo of chocolates (chocolate bonbons or chocolate treats)
Other types of chocolate
White chocolate: It is one that does not use cocoa paste in its manufacture but only the cocoa butter combined with powdered sugar and milk. It is a type of chocolate that melts easily in contact with the tongue and is very attractive, especially for children.
Milk chocolate: It usually contains about 35% cocoa paste. The greater proportion is the milk that is added in the form of milk powder or condensed milk. Sugar is usually added, sometimes caramelized, and vanilla. It is softer in texture than black chocolate and has a slightly bitter taste reminiscent of roasted hazelnut.
Fruit chocolate: It is made with 25% cocoa paste, sugar and fruits. Many times milk is added or filled with fruit jams or liqueurs. In the market is also known as "filled chocolate". It is smooth, it melts easily with the heat of the mouth and the flavor of cocoa is mixed with that of nuts (hazelnuts, almonds, peanuts, pistachios, etc.)


Photo of different types of chocolate
It is often known as "Chocolate for diabetics", although it is not really recommended for people with this disease. It is also known as "diet chocolate"

(More information in "Properties of chocolate" in the top list)
Chocolate powder: It is a type of chocolate powder with a content of about 30% of cocoa that is obtained by pressing the cocoa paste to extract part of the fat it contains. It contains sugars or sweeteners.
Pastry chocolate: It is a type of chocolate very rich in cocoa butter (about 32%) so it is easily undone.
It is used for making the top of many cakes given that it can be worked with ease. Once cooled, it forms very resistant layers in a solid state. The construction of chocolate figures is made from this type of chocolate. It can be white or black chocolate.
Hot chocolate, hot cocoa or drinking chocolate : It is characterized by being made from the cocoa paste and some thickener that is usually some starch like corn flour, rice flour or wheat.


More information on cocoa and chocolate
This article was endorsed by
Elisenda Carballido
- Dietitian nutritionist. Postgraduate in Phytotherapy and master in Nutrition and Metabolism.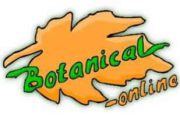 Written by
Editorial
Botanical-online team in charge of content writing