Different methods of drying fruit
What are the ideal conditions for preserving fruit?
Fruits are foods that are easily degraded, so the best option is to buy fresh fruits and eat them as soon as possible. In case you can not eat the fruit or vegetable in the same day or soon, fruit should be stored in a cool place or in the fridge, except bananas.
We do not have all the fruits during all times of the year, so we'll have to dispose of a number of resources to preserve the fruit in the best possible conditions, so as to use it in those times when there is not such a piece of fruit to eat.
HOW TO DRY FRUITS
To dry fruits, the most interesting methods are:
Sun drying
An old method is to use solar energy to remove water and keep all food properties. This method has many advantages over other methods of artificial drying in ovens which are used to dehydrate, which results in the disappearance of many nutrients.
It is a very cheap method, but it requires time and dedication and can not be done if weather is not stable, when warm and sunny days are followed by cloudy days that could propitiate mould to appear.
To dry fruits to the sun, you need hot weather to be present (above 30 º C.) and a low relative humidity. Of course, you will need a place where the air is not contaminated and fine nets to cover the fruits so that they not to be eaten by worms, flies or other insects. Among the most used fruit drying processes, we have the following:
Dried figs: How to dry figs in the sun?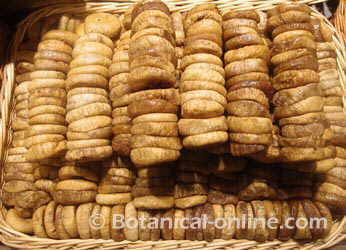 Dry figs in a basket
Figs must be harvested and crushed with your own hands. Place the figs on a reed bed in the sun to remain there all day. Turn the reed beds a few times. Take them back home before night to prevent moisture to spoil them. When they are dry, something that can take place between 8 and 10 days, they must be saved. There are different methods to save your dry figs:
In wooden boxes. After cleaning the boxes and dry them well. Place a layer of figs, then wet them with a little salty water, to stop them from going moldy. Place a layer of green fennel and tighten everything. In this way, different layers can be made to fill the box. Cover the box and wait for winter to come to eat your dried figs. This process takes place in September and you can start eating on November. These figs can be used to make cakes, such as the typical cakes of flour and figs.

In baskets: Another way is to put them directly into baskets without salt. This form can be used when they have to be eaten before, so you don't need to add them any salt. In the past, people used to prepare figs in this way to feed the animals. Pigs and horses were fed with figs. Also chickens, in which case figs should be cut in small pieces.

In cloth bags: Another way is to place the figs in cloth bags with a little fennel. This way of preparing the figs produces a very typical meal. This process is called " putting the figs to sweat".
Heat Drying:
This process can be done with a special oven, called a dehydrator, or in the home oven. The first is much faster. To do this in the oven at home, you should keep the oven at a constant temperature of 130 º C. Higher temperatures will burn the fruits and lower temperatures will not dry them properly, so they will become spoiled.
Although the oven or dehydrator is more comfortable than sun drying, it produce less fruit flavor and darker color. One option is to buy a very popular solar dryer that can produce high quality dried fruit, in a faster way than sun drying.
Plums: How plums can be dried?
Collect plums ripe. Place them in a basket and immerse them in hot water for 20 minutes. Cut in half, remove dry bones and place them in an oven.
How long does it take to dry fruit?
The drying time depends on whether it is performed in one way or another. It also depends on the type of fruit. In the box below you can see the way, the time and the appearance of some fruits to be considered well dried
Guide to the drying of some fruits (Made with the oven or dehydrator)
Fruit
Preparation
Previous treatment
Drying: appearance and time

Apricots

Clean well, remove the bone and cut in half

Ascorbic acid, syrup or honey.

elastic, no moisture in the center. (23 – 35 hours)

Apples

Scrub, peel or not, remove the core and cut into slices.

None or some of the above.

Crispy without humidity (6-12 hours)

Grapes

Use seedless grapes

Place in boiling water for half a minute. Remove and place in ice water. Dry with paper

Flexible (12- 20 hours)

Peaches

Peel, cut into pieces and remove the elongated seed

None, ascorbic acid, syrup or honey

Flexible (24 -35 hours)

Plums

Split in half and remove the bone

None

Flexible (24-35 hours)

Bananas

Peel and cut into 1 or 2 cm

None, ascorbic acid

Flexible or crunchy(8- 10 hours)

Cherries

Remove the little tails and cut in half, remove the bones

None

Flexible o crunchy (25 – 36 hours)
* Related information: dry food


More information on fruit.
This article was endorsed by
Elisenda Carballido
- Dietitian nutritionist. Postgraduate in Phytotherapy and master in Nutrition and Metabolism.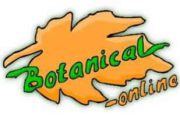 Written by
Editorial
Botanical-online team in charge of content writing